Summery Sips Perfect for Pitchers
Make these crisp cocktails in a pitcher so everyone (of legal drinking age) can enjoy them.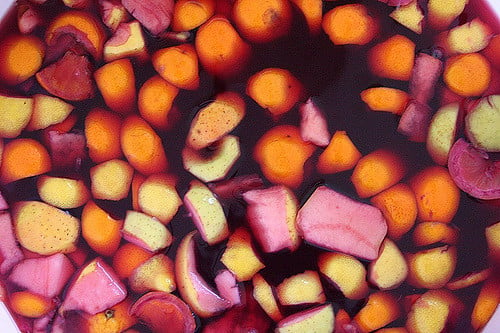 Summertime is no stranger to pool parties, boat days, and backyard barbecues. With plenty of reasons to celebrate this season, there surely won't be a shortage of parties taking place in the Queen City. And that's where we come in. If there's going to be pool splashing involved, there might as well be some alcohol on site, too.
For your next party or festive get-together, ditch the wide variety of drink choices, and make it simple on yourself. Having a "drink of the party" is not only a fun way to pay homage to a theme, but it's also the smartest thing you can do for yourself. If you want to keep your sanity this summer, heed our advice and make one of these simple but delicious summer sips. Mix these drinks and serve them in pitchers—all your work is done beforehand and you'll be free to enjoy yourself.
Yep. We knew you'd be on board.
Snackable Strawberry-Peach Sangria
You really can't do summertime without sangria—the two are made for each other. But you can take your sangria to the next level by loading it up with (what seems like) way too much fruit. As it soaks in the juice, the fruit becomes a tasty and boozy snack. Pro tip: Make your ice cubes out of wine if you want to avoid watering down the drink. Find this recipe here.
Watermelon Margaritas
Watermelon is made up of mostly water, so we wouldn't berate you if you wanted to count this tequila cocktail as hydration. In fact, we'd encourage it. The recipe for this drink (here) serves four, so be sure to multiply it as necessary.
Hibiscus Arnold Palmers
A fun twist on a summer staple, this version of an Arnold Palmer turns out to be a bright peach-orange hue thanks to the hibiscus tea. Though one of the ingredients requires a little simmering on the stove, this drink definitely sounds worth it. Here's the recipe.
Ruben's Cooler No. 2
Alright, gin groupies—this one's for you. Combining cucumbers (these need to be frozen beforehand, so allow ample prep time), gin, St-Germain, lemon juice, salt, and good 'ole club soda, this cocktail is satisfyingly simple. Get the full how-to here.
Pineapple Mint Punch
Almost any cocktail involving fresh mint is a winner in our books (especially if you've been growing that mint since we introduced you to the cocktail garden idea). This rum drink is another simple one, mixing together the sweetness of pineapple and a little lime tartness. Make it here.