Super Salads Around Town
The best combinations of greens we could find in Charlotte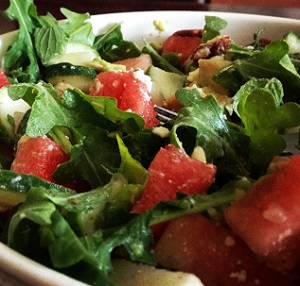 Sometimes for lunch, a salad will suffice; but there's no reason to suffer through your bowl of greens. Lots of places around Charlotte are dishing up the opposite of boring when it comes to this (relatively) healthy choice. Whether you crave arugula, kale, or a classic Caesar, here are some of our favs when it comes to the humble salad:
Luna's Living Kitchen: If you're craving arugula, head to Luna's. Their arugula salad features maple-mustard vinaigrette which brings the perfect blend of sweet and savory. Red cabbage, spiralized root vegetables, avocado, pear, caramelized pecans, pumpkin seeds, raisins, and homemade cashew-basil "cheese."
Peculiar Rabbit: Kale can be a bit polarizing; so if you're going to go the route of the leafy green, best do it via Peculiar Rabbit. The Plaza restaurant dresses up their greens with spiced pecans, lemon-scented cranberries, and zesty raspberry vinaigrette.
The Liberty: A big Greek salad is sometimes the key to getting through a Monday. The Liberty adds a healthy dose of beef to theirs, which features classic kalamata olives, feta cheese (barrel-aged, of course), romaine, cucumbers, red onions, dill, peppers, and red wine dressing.
Libretto's: A salad that may hold you over through dinner is worth a gander. The Sicilian Chopped salad is huge and offerings everything from roasted peppers to chickpeas to olives. If that isn't enough, the Tuscan Chopped Salad offers a healthy scoop of ditalini pasta tossed into the concoction of bacon, blue cheese, romaine, and tomatoes.
Bad Daddy's Burger Bar: Maybe you were leaning toward Chinese food for lunch today, but craved a healthier option. Bad Daddy's Asian Salad brings together grilled chicken, mandarin orange segments, cilantro, peanuts, wontons, red bell peppers, and green onions, all tossed with a peanut soy dressing.