Support Global Cooling… at Wet Willie's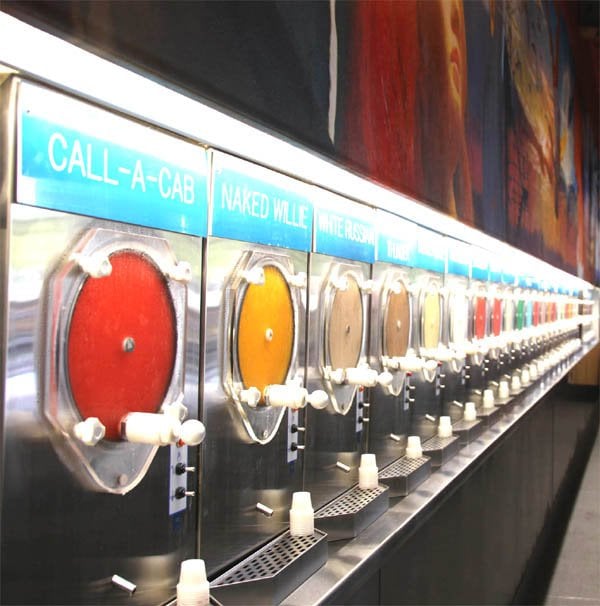 Today is going to reach 98 degrees. I'm not talking about that boy band from the late-90s. It's the forecasted high temperature for today. All week, the temperature is forecasted to flirt around 95 degrees. WTH? Tomorrow is just the first day of June, and summer is still officially three weeks away. When it gets this hot this soon, I can't take it. I don't even want to go outside while the sun's up. We all have our own methods of beating the heat, but today I want to pay tribute to Wet Willie's and its trademarked slogan that's just so appropriate right now: Support Global Cooling.
I have to admit, I wasn't one of those people who was all hyped up when Wet Willie's opened a little over a year ago at NC Music Factory. I'd never been to one before, unlike several of my friends and peers who raved about going to Wet Willie's at the beaches of Florida (there are now 14 locations, mostly on the East Coast, including in Fayetteville, Charleston, Columbia, and Myrtle Beach). So when the location opened here, I looked at it more like one more venue Charlotte now has that's been popular elsewhere for years—like Ruth's Chris Steak House, IKEA, Neiman Marcus, Trader Joe's, and others have done in recent years.
But hot days like today makes one appreciate Wet Willie's, particularly for its "world famous daiquiris." An Attitude Improvement would be great—the name of one of the nearly twenty daiquiris on the menu. The Call a Cab is the most well-known and one of the strongest drinks, so if you have more than two of those make sure you do what the name says. Any of these frozen drinks could be just the cooling mechanism you need this week.
Wet Willie's is open Monday-Thursday, 4 p.m.-1:30 a.m.; Friday and Saturday, 11 a.m.-2 a.m.; and Sunday noon-1 a.m. The after-work crowd isn't too big, so that means your drinks should get served quicker. Thursday nights through the weekend, the place fills up and sometimes the crowd can get a little rough. People often come to relive their drunken days from spring break on South Beach.
Wet Willie's Charlotte, at NC Music Factory, 900 Seaboard St., 704-716-5650. wetwillies.com/locations/Charlotte.