Sweet Suite Fridays, 'Gangster Squad' Screening, 'The Art of War' Brunch Event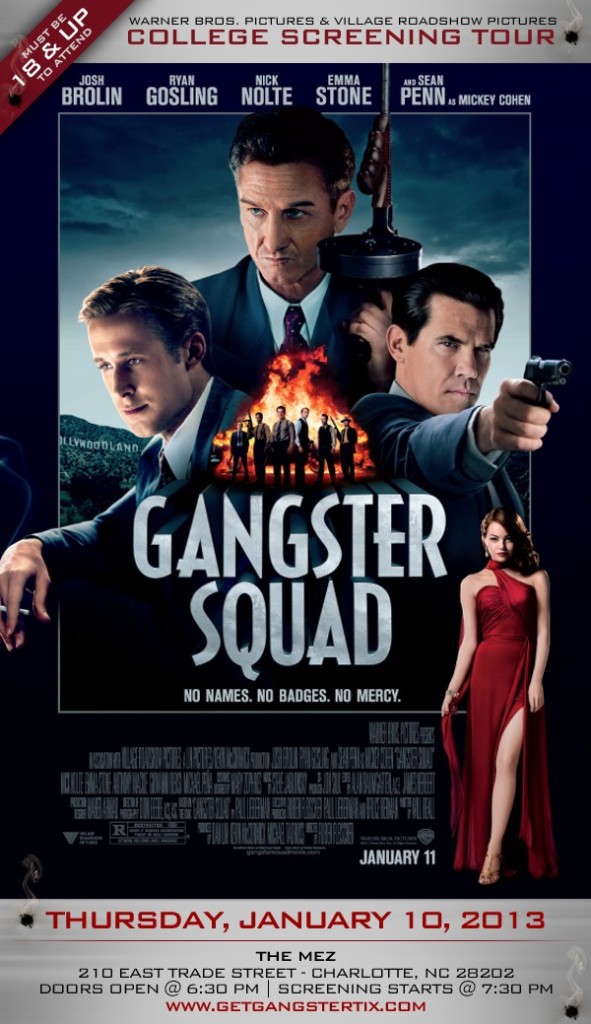 Here are a few upcoming events that should interest you as you resolve to improve your social life in the new year.
That's Gangster
You've probably seen the trailer for the upcoming crime film Gangster Squad, starring Sean Penn, Ryan Gosling, Emma Stone, Nick Nolte, and Josh Brolin. That's an impressive lineup, and hopefully the movie lives up to the hype. It's set in Los Angeles in 1949 and is described by Warner Bros. Pictures as "a colorful retelling of events surrounding the LAPD's efforts to take back their nascent city from one of the most dangerous mafia bosses of all time." Gangster Squad premieres on January 11, but if you're a current college student or faculty member you can see it a day early on Thursday, January 10 during a special screening at Mez/EpiCentre Theaters (210 E. Trade St.). Charlotte is one of seven cities hosting college tour screenings for the film. Doors open at 6:30 p.m.; screening begins at 7:30 p.m. Register at getgangstertix-char.eventbrite.com.
Suite Night with Your Sweetie
Is one of your New Year's resolutions to put the romance back in your relationship? Well, here's an option that will be sure to leave your significant other feeling romanced. The Ritz-Carlton, Charlotte (201 E. Trade St.) is kicking off Sweet Suite Friday, with three special weekends this month: January 11, 18, and 25. The package features a Friday check-in into a luxury suite, a Saturday morning cooking class at the hotel's Cocoa Lab, where couples will create incredible desserts and receive a special take-home gift, and there's a late checkout at 3 p.m. And, of course, while you're at the hotel that Friday night, you'll want to visit the hotel's Lobby Lounge (featuring live jazz) on the first floor and the Urban Sip Wine and Scotch Bar on the 15th floor, among other great amenities (click here to read my recap of an evening out at The Ritz). The package begins at $459, and must be booked seven days in advance. Click here to make reservations for Sweet Suite Friday, or call 800-241-3333.
Book a Brunch
If you've dined or enjoyed drinks at 5Church since it opened last spring, then you've certainly seen the awe-inspiring, hand-painted text of Sun Tzu's The Art of War on the ceiling. So it's only fitting that on Saturday, January 12, 1-4 p.m., this Uptown hotspot is hosting a book signing and brunch for The Art of War: A Graphic Novel, the recently released adaptation. This special event will be hosted by author Kelly Roman and illustrator Michael DeWeese, who will be signing copies of their book, and original artwork from the graphic novel will be on display. Guests will be able to order brunch and cocktails from the menu, while also enjoying live jazz by bassist Justin Powell and guitarist Charlie Trexler. The first five attendees will receive a complimentary autographed copy of the book. 5Church, 127 N. Tryon St. (corner of W. Fifth and N. Church streets), 704-919-1322, 5church.com, Facebook invite.
Verify dates, times, prices, and other info at the web addresses listed for each event. Be sure to bookmark www.charlottemagazine.com/Blogs/Dusk-Till-Dawn to stay plugged into Charlotte nightlife. Follow me on Twitter @HollidayInk; email me at jarvish@grownpeopletalking.com.