Sweet Talker
Notes on cake budgeting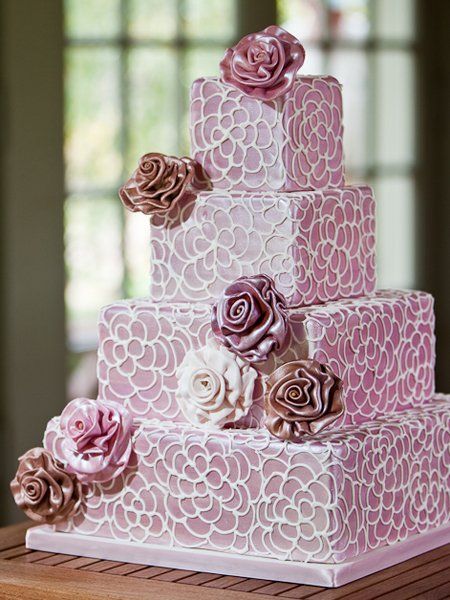 Having witnessed the ins and outs of wedding planning, I've definitely gained my fair share of tricks and knowledge when it comes to cutting costs. Because, let's be honest, anyone who is in the business has a hypersensitive eye for I do-related costs. That said I'm always more than happy to dole out random tidbits of budgeting knowledge for my favorite brides to-be. So let's talk cake. While there are obviously many alternatives to the traditional tiered version to be discussed below, for all intents and purposes, we'll stick strictly to precisely that today.
Little Things Are Big Things. When it comes to wedding cake costs, all those ornate details you fell head over heels with in the fantasy Pinterest world–those are where the big bucks lie. Any heavily detailed wedding cake is going to be labor intensive, thus increasing the price. However: you've got two options here: 1) Go smaller. Even the most basic cake can be pricey when it's oversized. 2) Improvise. For instance, line the cake with your bridesmaids' bouquets post-ceremony. Et voila! Instant visual interest.
The Break-Up. Should your guest list necessitate lots and lots of cake, rather than stacking all the tiers together on one cake, have your bakery create varying heights of multiple smaller cakes. Use mismatched platters in pretty patterns for added appeal. The act of stacking and decorating multiple tiers will increase your cost. This allows you to bypass that.
Be Square. Obscure shapes and even round cakes will always surpass square ones in price. Cutting a square-shaped cake is a cinch and must more cost-effective. And while the round cakes are more often seen, it's refreshing for guests to see a confection that breaks away from convention.
Butter Is Better. Opt for buttercream frosting rather than fondont. Fondont is more expensive, simply given the amount of time and labor it takes to smooth out fondont on the cake.
Pyramid Effect. Should you be crazy about a particular flavor and or filling that's a bit pricey, use it only for the small top tiers. Then have your bakery help you decide on cheaper flavors that will complement the taste for the lower tiers.