Swoon-Worthy Rooms
Lusting over three of our favorite rooms from past features.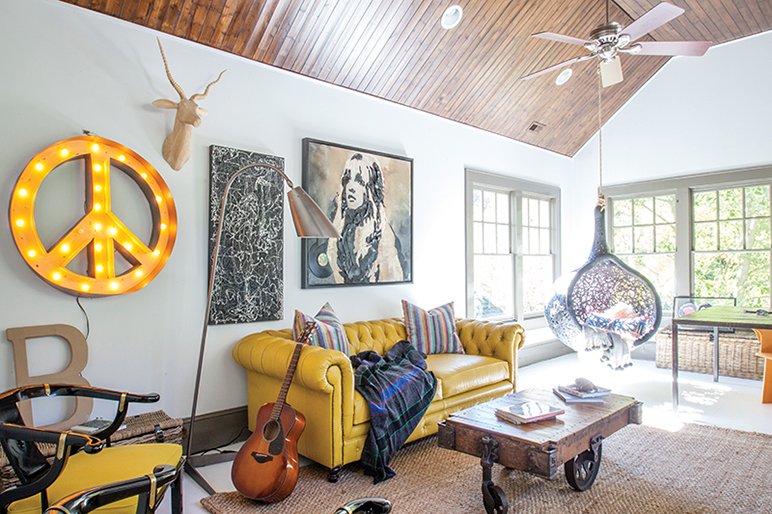 When you come across a beautiful home, the images don't erase from your mind so easily. You might spend weeks, months, dreaming about that one room that stole your heart. House envy is a real emotion. And just in case you were lacking some gush-worthy houses to drool over lately, we decided to bring back three of our favorite rooms that are hard to forget about.
Instead of calling it house envy, though, let's go with house inspo.
Room 1: The upstairs living room in owner of Lucy and Company Beth Keim's Plaza Midwood home
Why we love it: Peace, love, and rock n' roll! Since the space is a third living room in the house, it's allowed a bit more funk and whimsy. Eyes jolt to the marquee peace sign and the mixed media portrait of Stevie Nicks (titled "Gypsy") by Lori Love, a local artist Keim commissioned for the piece.
Classic yet fresh, the living room looks like an ideal place to kick back on a Sunday afternoon. With stained pine vaulted ceilings and plenty of natural light, we can't pass up these down-to-earth digs.
Room 2: One of the children's bedrooms in the home of designer Ashley Walker DeLapp of Evaru Design
Why we love it: Decorating a kid's room can seem like a daunting task when trying to balance between age-appropriate and design-focused. Crisp with contemporary design, this child's room avoids seeming cold with because of the busy accent wall and book and toy display shelves.
Using primary colors to break up the black-and-white palette is a great age indicator without completely isolating the design from the rest of the home's theme. We're willing to bet lots of kids beg for a room like this!
Room 3: The master bathroom in Holly Disser's South Charlotte home
Why we love it: A bathroom can serve as a haven if you design it right – and that's why Holly Disser's master bathroom is one of her favorite retreats. With a luxurious, double-door shower and a tub waiting for suds, the space is calm with a touch of glam – a place for pampering, no doubt.
Especially eye-catching is the light fixture above the tub, made of cascading globes at varying lengths, which look like giant water droplets.