Sycamore Brewing launches new cans, redesign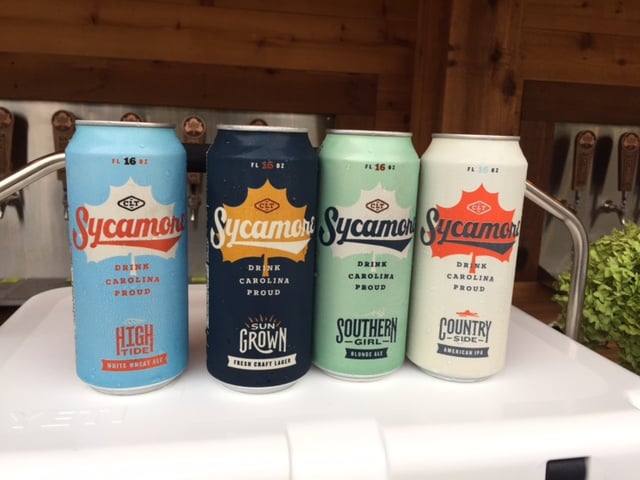 Demand has always been high for Sycamore Brewing ever since it opened in the South End neighborhood three years ago. It's cliché to say this is a good problem to have, but in actuality co-owners Sarah and Justin Brigham knew they could do more to satisfy their customers.
So last year Sycamore broke ground on a new production facility with one major purpose in mind – make more beer, and can more beer. In fact, the North End production brewery is even named the Sycamore Brewing Cannery.
The first wave of newly designed cans is set to be released over the next week in stores and bottle shops, and it all will culminate July 7 at the original brewery with CANtopia, which will celebrate the four new cans along with live music and the weekly Food Truck Friday event at Sycamore.
"This all felt like it was a fresh start for us," Sarah says. "We had only really dipped our toes into getting our cans out and we've had a hard time keeping up with demand in our taproom and this space. Here and there we would release cans but we couldn't consistently get our product out to market. And so this felt like the perfect opportunity to hit reset; we're at this new facility with fantastic equipment now."
Sarah adds that the first four cans in this relaunch were by design – they were the ones that have sold the best in the taproom: Countryside IPA, High Tide White Wheat, Southern Girl Blonde and Sun Grown Lager (formerly Southern Girl Lager, which won a bronze medal at the 2015 Great American Beer Festival).
"We really built (Sycamore Brewing Cannery) specifically to make more beer and can beer and for quality," Justin says. "We have a full quality control lab in place with a team making sure the beer comes out the same way every single time."
Kendrick Kidd, who has worked with Sycamore on designs since it first opened, was charged with bringing a fresh perspective to the cans. Each new design is clean in its presentation with a primary color that is eye-catching.
"We wanted something that was bold but also had a quiet confidence to it," Sarah says. "I really loved the use of negative space, and then putting the brand, the leaf, front and center."
And with a new canning line and labeler, this is just the beginning at the Sycamore Brewing Cannery, located at 401 West 24th St. Looking ahead, expect seasonals such as Christmas Cookie and Gourd Have Mercy to be canned, along with one of the favorites of many (including this writer) from the brewery, Salty Coconut Red Ale.
"We try to stay flexible on every level when it comes to cans," Justin says. "With the labeler, it allows us to can small batch, specialty one-offs and experimental beers."
The canning line is just a piece of the massive facility in North End. Right now Sycamore is using 31,000 square feet of the production brewery, and will eventually utilize the entire 54,000-square-foot. The 42-barrel brewhouse provides Sycamore with the confidence to fulfill that demand from customers and expand however they want in future markets moving forward.
"We've definitely maxed (the original brewery) out – tanks touching tanks touching tanks – where we couldn't even fit them in anymore," Justin says. "The new facility has much more capacity in a fantastic location and exciting space … and what we want in a packaging brewery."
And, he adds with a smile, "At some point we'll put a taproom in – probably sooner than we think."