Tabor Makes Shopping Accessible for Guys
New men's store plans monthly brunches and other treats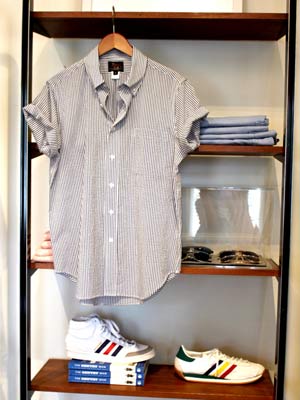 Tabor, Laura Vinroot Poole's month-old men's store in Myers Park, will host a casual Sunday brunch once a month as a way to ease guys into the boutique. The details aren't quite settled, but Tabor's Meredith Carter says the idea is to take advantage of the shop's clean, open floor plan and beachy vibe.
Photographs—primarily a '60s and '70s surfer theme—hang on the walls of one room, which is an art gallery owned by Chandra Johnson. A room full of shelves displaying coffee table books with bold covers connects the gallery to the shopping area.
Shirts and pants hang on small racks against white walls, and small items sit under glass boxes. Tabor carries a wide range of styles, from edgy Mark McNairy to preppy Jack Spade. Shoppers will also find denim from APC and comfortable weekend clothes from Cuisse de Grenouille. "Most of these brands have never been in North Carolina," Carter says.
In the back of the store, adjacent to the fitting rooms, is a small lounge space, painted a deep blue and decorated with mid-century furniture and wood stools.
A sideboard houses belts, vintage cufflinks, and grooming products, as well as equipment to hem pants on site. "It's really about getting guys in and out quickly, making them feel comfortable while they're here," Carter says. Tabor's customers are who you think they are—men in khakis and polos, some a little apprehensive about boutique shopping. "It's a lot of our clients' husbands, frankly," Carter says. "That and lots of women buying for the men in their lives."
Tabor's first Sunday brunch will likely happen in mid-July. It will eventually serve coffee to customers who can linger over tables to be installed near the bookshelves. Look for an official grand opening party sometime this fall.