Take Me Back to Baklava
The Greek sweet treat is a favorite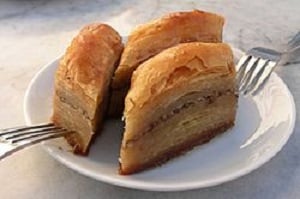 With the temperatures making a dip this weekend, I couldn't help but think about all the desserts that remind me of fall. Pecan pie, sticky buns, pumpkin pie, apple everything … all special and festive in their own right. But the Greek dessert, baklava, has always reminded me of the onset of autumn. This is likely due to the Greek festivals usually set in September, Charlotte's own included. Today, I wanted to take a look at the honey-syrup sweet treat and where to find it in the Queen City.
If you aren't familiar, baklava is a sweet pastry made from layer after layer of flaky phyllo (filo) dough filled with a mixture of chopped nuts and honey. If you've ever tried to make it, you know how painstakingly difficult it can be. You start with several (usually about 5-6) very thin and very tearable layers of phyllo dough. A careful brushing of melted butter is applied, then the mixture of nuts, sugar, and spices– usually pistachios or walnuts — is layered on top and spread evenly over. Then more layers of phyllo, more nuts, etc. until there are about 3-4 layers of dough and filling. After baking, a syrup with of honey, sugar, and spices is poured over the dough, creating a rich, dense, and super sweet pastry. For the full recipe, click here.
If you're like me, you'd rather leave the creation of this pastry to the professionals. Here's a list of some of the best places to find baklava in Charlotte:
Greek Isles: I've written about this place before, and for me, they may have the best baklava in Charlotte. Judge for yourself.
Kabob Grill: With two locations in Stonecrest Shopping Center and on East Blvd., the baklava here is Lebanese style and made with pistachios!
Yiasou Greek Festival: You have to wait for this to roll around once a year, but being able to snag $20 worth of the pastry was worth it for this writer.
The Mad Greek Cafe: The name says it all and this gem on South Blvd. is worth a visit for their rendition of the pastry.
Ilios Noche Restaurant: Owned by the same group operating Big View Diner, this Greek family serves their baklava with a side of pistachio ice cream.