Taking Community Policing to the Communities
Putney, CMPD try to expand what policing means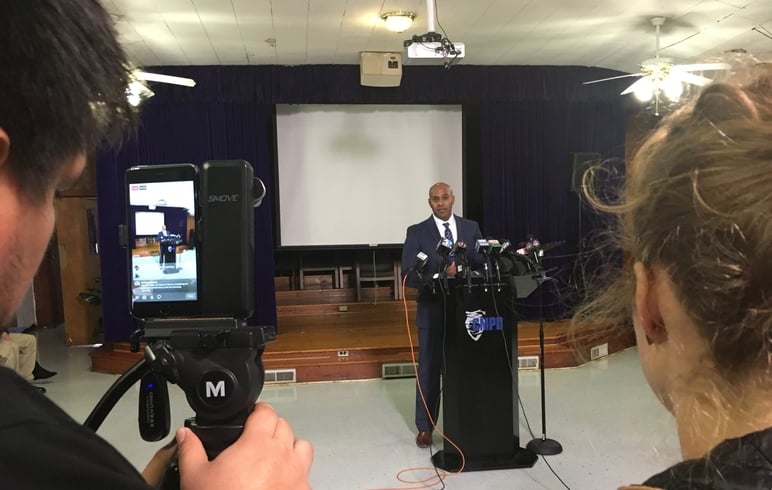 If it was raw data you sought from the Charlotte-Mecklenburg Police Department's briefing Wednesday on 2017 crime trends, the department had the numbers crunched and collated: Despite a much-discussed rise in murders, both violent and property crime rates dropped last year, including a 13 percent drop in arson and an 11 percent decrease in residential burglary. Of the 85 homicides reported, the most since 2005, 69 of the victims were men, and 63—three-quarters—were black. (Read the report here and here.) During the briefing, Chief Kerr Putney observed that if the number of black homicide victims was proportional to the black percentage of the city's overall population, "we'd be talking about 50 (homicides) right now, not 85. I'll let that sink in."
Putney's intent wasn't to blame or castigate Charlotte's black community but to underscore the unusual lengths his department is taking to fight crime, especially in those neighborhoods that need it most. Since his appointment as chief in 2015, the chief has emphasized a brand of community policing that goes beyond having officers walk the beat and make friends with people on their stoops. Recently, and especially since the post-Keith Lamont Scott shooting demonstrations in 2016, he's positioned CMPD as an institution that seeks to prevent crime through community action as much as fight it once it happens.
Law enforcement agencies usually pay lip service to the idea of community policing. But it's unusual for a police chief to greenlight the idea of an officer like Rick Zoerb of the Westover Division, who worked with businesses in his area to set up an emergency needs fund to help people pay their power bills and buy clothes when needed. Zoerb related his efforts during the briefing, and Putney made it plain that the department's support wasn't just charitable but practical; the less desperate people are, his thinking goes, the less likely they'll be to commit crimes, and the more likely they'll be to report crimes to police if they sense they can trust officers on the beat. Zoerb, the chief said, "exemplifies community policing."
Another sign of CMPD outreach: The department held its briefing not at headquarters but Faith Memorial Baptist Church in Lakewood, a west side neighborhood off Rozzelles Ferry Road where 83 percent of the population is African-American and the median household income is less than half the county average. CMPD is launching a version of its Community Empowerment Initiative in Lakewood after a pilot project in Hidden Valley in the fall.
The initiative is a loosely defined effort to connect community organizations and resources to residents in neighborhoods; each neighborhood decides how best to do that, which makes it hard to define. But Jamall Kinard, president of the Lakewood Neighborhood Alliance, said Wednesday that his primary concerns were trust between citizens and police, youth education, and access to resources. "I appreciate CMPD being more present here in the community," Kinard said.
It's impossible to say how successful any of CMPD's efforts will be, or to what extent residents who distrust police can be persuaded that the department is acting in good faith. But even skeptics, people who suspect police of being all talk, have to admit that the talk is coming at them straight. "We're not perfect," Putney said. "We do have people who should not be in this profession. But I can tell you that at CMPD, they're few and far between … Anyone who wants to challenge us to do the work, step up. Step up, lean in, put your back into it, and let's go."