Tale of Two Cities
Over two decades of booming expansion, Charlotte has grown into two separate cities -- one urban, one suburban. So Over two decades of booming expansion, Charlotte has grown into two separate cities -- one urban, one suburban. So what happens now?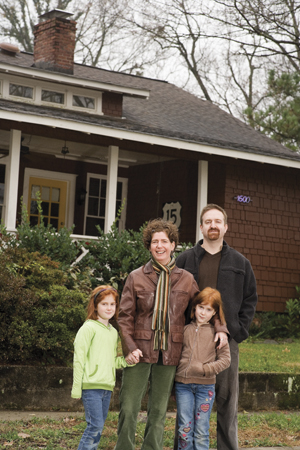 When Matt and Julie Cincera moved their family to Charlotte from Arizona five years ago, their home-buying excursion started with one basic decision: whether they would live north or south of the city.
For Bob and Laurie Smithwick, who in 2006 returned to Laurie's hometown after several years living in New York and Durham, the choice was which of Charlotte's central neighborhoods they would inhabit.
The Cinceras landed in the south, in a $400,000, 3,700-square-foot full brick transitional on an acre of land abutting the Mecklenburg-Union county line, in a subdivision off Providence Road that's a short drive away from all the upscale shopping, schooling, and entertainment the family could ever need.
For just a slightly higher price, the Smithwicks ended up in Plaza Midwood, a two-block walk from the funky Central Avenue business district, in a 2,000-square-foot bungalow with purple neon house numbers that would be unthinkable in the Cinceras' neighborhood of identical black mailboxes.
Two families, similarly situated, making radically different choices. Over the last two decades, the cumulative effect of thousands of decisions made by people like them have created two different worlds in the Charlotte region: one, largely urban, starting uptown and emanating outward; the other solidly suburban, starting at the city fringes and heading north into Mecklenburg and east and south into Cabarrus and Union counties.
Much of the time, the two worlds are largely indifferent toward one another. Much of the suburban set is apathetic about the city, with many suburbanites rarely if ever visiting uptown unless they work there. Urban dwellers see the 'burbs as too far away, too rural, too cookie-cutter. But tensions bubble up in public spats fought primarily by activists and elected officials. Now that development in both urban and suburban Charlotte has slowed to a crawl, it's a good time to consider how these two worlds came to be, what they look like today, and how the outcome of such conflict will define our future as we emerge from the recession. Our city's conflict narrative used to be native Southerner versus Northern transplant. No longer—it's now an urban/suburban divide.
"The story of what has happened in Charlotte is what has happened in cities across the country," says David Walters, who heads UNC-Charlotte's urban design program. "It's textbook. It's the paradigm of American growth."
A cultural backlash against the suburbs emerged nationally in the 1970s, notes Walters. In Charlotte, the back-to-the-city movement was led by Hugh McColl Jr., former CEO of Bank of America, which was then still known as NCNB. In 1977, the bank launched a massive effort to revitalize Fourth Ward, which was then crime ridden and dilapidated, and in the ensuing decades the gentrification trend spread to other older neighborhoods near uptown, such as Plaza Midwood.
Laurie Smithwick, a 1987 graduate of Charlotte Country Day School, says when she was growing up in Lansdowne in southeast Charlotte that Plaza Midwood was just a bad neighborhood you might have to drive through to get somewhere else. But when she returned to her hometown after marrying and having twin daughters, she wanted to live there.
"It was so exciting to see that Charlotte had gotten really cool while I was gone," says Laurie, forty, who co-owns a graphic design firm with her husband, Bob.
Meanwhile, an influx of suburban newcomers far outnumbering urban pioneers began in the 1990s, and the population of towns surrounding Charlotte surged, especially when the first leg of Interstate 485 opened along the city's southern edge in 1990.
Matt Cincera, a forty-one-year-old bank IT executive, jokes that when he meets people at work he can tell where they live by when they moved here: if it was the 1990s, it would probably be the SouthPark area. If they arrived in the early 2000s, then a good guess might be a bit south of there, in the area along Providence Road between N.C. 51 and Union County. And there's a solid chance that people who came here after 2005 live even farther out, in Union County, he says.
The observation is keen. The Union County town of Indian Trail, just over the Mecklenburg border, had a population of 1,942 in 1990, and it now stands at around 26,000. A recent town survey showed that half of Indian Trail residents have lived there for less than five years.
To the north, the town of Cornelius is one of a cluster that have seen comparable growth—jumping from 2,581 in 1990 to more than 24,000 today. Cornelius Mayor Jeff Tarte says many newcomers work in downtown Charlotte or north Mecklenburg office parks, but a good chunk of the growth there has been fueled by businesspeople like himself—who telecommute and need access to Charlotte's airport but want that golf-and-lake lifestyle.
"You can live up here, take advantage of some of the amenities that Charlotte has to offer, but not have to put up with Charlotte every single day," says Tarte. The city, it seems, is expendable.
Though demographers point out that the suburbs are less homogeneous than they were in their Ozzie and Harriet beginnings in the 1950s, the statistics bear out what you probably suspect—the suburbs are still whiter, wealthier, and more conservative than Charlotte's central core.
In the Smithwicks' census tract, the population is one-quarter African American, according to Mecklenburg County estimates. In the Cinceras' it's about 10 percent. The median household income where the Smithwicks live is $45,961; for the Cinceras it's $135,198. Politically, they are nearly opposites: three quarters of the Smithwicks' precinct went for Barack Obama in 2008. Two-thirds of the Cinceras' neighbors voted for John McCain.
But nowhere is Charlotte's urban/suburban divide more evident—or more emotionally charged—than in our schools. The number-one reason the Cinceras picked their suburban south Charlotte home was because it ensured strong schools for their four daughters.
"We would love to live closer in," says Julie, forty-one and like her husband a Wisconsin native. "But I just can't imagine we could afford private school."
In fact, the Cinceras' home school—Polo Ridge Elementary—seems like a private school when compared to Shamrock Gardens, the Smithwicks' home school. Julie Cincera is co-chairing a Polo Ridge PTA campaign to collect $40,000 in parent and company donations, and the group raises tens of thousands more through an annual festival and other programs. Shamrock Gardens' PTA scrapes together a total of about $8,000 annually, mostly through grants and corporate donations.
At Polo Ridge, built two years ago on land that had been used for farming and polo playing, kids can see the vinyl backsides of recently built brick-front houses from the playground. Shamrock Gardens is surrounded mostly by small houses and stores that, like the core of the school building itself, are of late-1950s vintage.
Less than 7 percent of Polo Ridge's students are eligible for the free and reduced-price lunch program; more than 93 percent of Shamrock Gardens' are. At Polo Ridge, nearly 94 percent of students tested at or above grade level on standardized tests; at Shamrock Gardens, less than two-thirds did.
Like almost all Plaza Midwood parents, the Smithwicks decided not to send their children to Shamrock Gardens, but they also avoided private school. After researching eight different magnet programs, the Smithwicks got two spots at Chantilly Montessori elementary school.
"You have to be a very diligent, focused parent," Laurie says of the magnet selection process. "You don't just end up in a magnet program by accident."
The economic and achievement gap between Charlotte's urban and suburban schools is reflective of a national condition that has persisted for decades. What's different here is that our urban and suburban schools exist within the same school system, rather than being walled off — as they are in many cities, such as Atlanta.
As a result, it seems every few years a group of suburban parents—sometimes from north Mecklenburg, sometimes from the south—proposes breaking up the district. They never get very far, because there's little chance the state would approve such a plan, but Ken Gjertsen, who just finished two terms representing the southern suburbs on the school board, says he's sympathetic to those efforts.
He says suburban parents are frustrated with chronic overcrowding—which has 20,000 students learning in mobile classrooms. They feel like they do their part—creating strong school communities by supporting teachers and the PTA—only to see those communities torn apart when the district redraws school boundary lines in ways that draw suburban students into urban schools.
"We always feel like we're being asked to give," says Gjertsen.
School board member Tom Tate, who represents the east side's largely urban District 4, says suburban newcomers who come here from school systems that are chiefly suburban in nature may see splitting up CMS as a solution to Charlotte-Mecklenburg's problems. But they should remember that in the long run, it's in everyone's interest to see that all students—urban and suburban—are well educated.
"It's always tempting to first think of ourselves," says Tate. "But our system gives us the opportunity to think bigger than that."
Bob and Laurie Smithwick have a third-of-a-mile walk to their office. In the afternoons and on weekends, they can walk or bike to restaurants, shops, and parks, and their favorite family dinner outing includes stops at two of Plaza Midwood's retro landmarks: Fuel Pizza and Dairy Queen. Of course, like most Plaza Midwood residents they have no garage, so their daughters have to remember to always lock up their bikes — lest they get stolen off the front porch.
Matt Cincera's fifteen-mile daily commute to his Tryon Street office tower can take as long as an hour each way. Fifteen minutes of that is spent traversing the one-mile stretch on Providence Road between his subdivision entrance and the bridge over I-485 — a reviled bottleneck for southern suburbanites that should be alleviated when an expansion project is finished later this year. Matt fills the time listening to financial-planning podcasts and books on tape in one of his family's two minivans. Julie shuttles the girls to dance and tennis lessons.
Used to be, the chief urban/suburban schism when it came to transportation was Road versus Rail, as rail opponents argued that train building would take away money from road-widening projects. In 2002, Pineville officials turned down the chance to have the south rail run through their historic downtown, citing fears that development along the lines would ruin the area's small-town suburban feel.
Now that the south line has been built—stopping just north of Pineville—it has been fulfilling supporters' predictions that it would spur economic development in its path. So it seems the battle has become Rail versus Rail—as in, which corridor gets built next: a commuter line to the suburban north Mecklenburg towns or a light-rail line that would run northeast along Charlotte's highly urban North Davidson and North Tryon streets on its way to UNC-Charlotte.
Originally, the two lines were supposed to be built simultaneously, but falling tax revenue led the Charlotte Area Transit System to focus on just one. And CATS chose the UNC-Charlotte route. That shift led the northern towns of Davidson, Cornelius, and Huntersville to hire their own representative to lobby for federal money for their line.
"It feels like the northern line has been thrown under a bus," said a frustrated Tarte, the Cornelius mayor, in November. Later, he says that the legislation has changed, and dual lines are once again a possibility.
Mary Hopper, executive director of University City Partners, which advocates for the northeast line, says funding shortfalls caused by the recession have exposed urban/suburban rifts.
"We're all like crabs in a barrel, fighting for the last crumbs."
Julie Cincera has ventured uptown a few times in the last several months — twice to see a big-name play at the Blumenthal Performing Arts Center and once to meet her husband for dinner. But for the most part, the world south of N.C. 51 has all she needs. Contrary to the stereotype of isolated suburbanites, the Cinceras have formed close relationships with many of their neighbors — most of whom are newcomers, too. They have even vacationed with several of them.
Laurie Smithwick journeyed to suburbia in October, to drive one of her daughters to a birthday party — an optional sleepover — for a suburban friend whom her daughter had met at summer camp. Rather than risk having to make the thirty-minute drive back out there if her daughter decided not to spend the night, she lingered at the gleaming new Blakeney shopping center, just north of the Union County line. She shopped at big box stores, one thing Plaza Midwood does not have, and she liked it.
"I get it," says Laurie. "I have no antipathy for people who want to live in the suburbs."
But there is a growing chorus of urban planners who do condemn the country's pattern of suburban growth. Urbanites, they point out, emit 70 percent less carbon emissions in transit than suburbanites. The car-oriented suburban lifestyle is at the root of America's rising rates of obesity and diabetes, they say. They predict that in the future, gas prices will soar, making suburban commutes unaffordable.
"If you live in a cul-de-sac subdivision out in the middle of the suburbs, and you can't afford gas to drive a car, there will literally be nowhere to go," says Walters, the UNC-Charlotte professor.
To avoid decline, Walters and others say, the suburbs are going to have to become more urban — with denser development, better access to mass transit, and more sidewalks and bike lanes.
In other words: more Smithwick, less Cincera.
John Quinn, mayor of Indian Trail, says becoming more urbanized is what planners in his town have in mind. Most residents, he says, aren't aware of it, and he doesn't think they'd like it if they were.
He doesn't.
"I think people moved out here because they wanted the big house and the big yard in a nice, friendly neighborhood," says Quinn, an empty-nester who left Charlotte in 2004 so he and his wife could get more square footage for their money. "That's the American dream."
Quinn says it's fine with him if some people want to live in an urban environment, but it's not a lifestyle that should be pushed on everyone. Urbanists such as Walters, however, say continuing to offer traditional suburban choices will ultimately cost society as a whole.
Those two positions — pitting individual freedom against societal good — are at the root of the urban/suburban divide, and they inevitably lead to the conflicts over schools and roads and other resources.
Parks Helms, who served as a Mecklenburg County commissioner for sixteen years before stepping down in 2008, says the current economic crisis provides an opportunity for area leaders to create a vision for the region's future that both sides can buy into.
He offers an analogy that seems apt for this business-minded community: just as leaders of two companies that merge into one larger entity must meld their respective corporate cultures or face crippling dysfunction, community leaders have to find a way to bring together Charlotte's urban and suburban worlds. While it's not clear that we have leaders capable of succeeding at doing that, Helms says it's clear what the consequences of failure would be.
"It won't happen tomorrow," says Helms, "but very gradually we will lose the healthy economic and social momentum that is necessary to succeed in the future."
E-mail: editor@charlottemagazine, or comment online
Jen Pilla Taylor is a frequent contributor to this magazine.