Talking Tomatoes
Renfrow Farms in Matthews tells us which varieties are best for sandwiches, sauces, snacks, and salads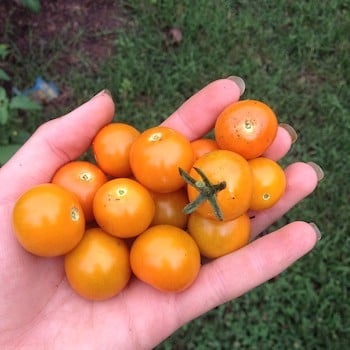 In the middle of downtown Matthews, Pressly Blackley Williams grows fruits, vegetables, and herbs on about nine acres at Renfrow Farms. She took over the farm in December 2013 after graduating from N.C. State University. The farm is an extension of the longtime Renfrow Hardware Store, also in downtown Matthews. Williams' father, David Blackley, owns the store. Learn more about the farm here.
One of Williams' favorite parts of managing the farm is experimenting with different plant varieties. This year, she has about 20 varieties of tomatoes. She shares some details about a few of her favorite varieties.
Better Boy — Known for its high yield, better boy tomatoes are one of the most popular varieties in the country. The color is a classic tomato red. These tomatoes are good for slicing.
Mountain Merit — Williams planted these tomatoes for the first time this year. This hybrid was developed by N.C. State. It's designed for high production and disease resistance.
Cherokee Purple — "This is my No. 1 favorite food of all time," Williams says. This heirloom variety (pictured at left) has a purple tint to the red color. Williams likes its rich flavor. More gardeners are experimenting with different varieties of tomatoes, Williams says. Cherokee purple was in the top 3 of the most popular plant varieties sold at Renfrow Hardware this past spring. "This year was an explosion in popularity," Williams says. She enjoys slicing her Cherokee purples for tomato-cheese toast, one of her go-to meals in the summertime.
Sun Gold — Cherry tomatoes are appropriately named; their size is similar to a cherry. Orange sun golds are Williams' favorite cherry variety. The sweet, bite-size tomatoes are a great snack, or cut half them and throw them on a salad.
San Marzano — These red plum tomatoes are meaty and good for cooking. They are often used in Italian tomato sauces for pasta and pizza. Last summer, Williams made homemade ketchup with San Marzanos. "It was a lot of work and time," Williams says, "but it was completely worth it."
Green Zebra — The green zebra has bright yellow and green stripes. It's not quite the size of a tennis ball with a mild, tangy flavor. Williams likes incorporating it into salsa.
Long Keeper — If you haven't planted any tomatoes this season, here is your chance. The long keeper is good to plant in mid-June or early July. It will produce tomatoes until frost. Just before frost, the green tomatoes can be picked, wrapped in newspaper, and stored in a single layer. It takes a while, but they will ripen. Many tomato gardeners have a tradition of growing long keepers to eat on Christmas and New Year's, Williams says. She usually puts her last tomato plants of the season in the ground on the Fourth of July.
To purchase tomatoes and other produce from Renfrow Farms, visit the Renfrow Farms Market on Tuesdays from 10 a.m. to 2 p.m. Williams also offers a weekly Produce Box Program.