Talking Trellising
This technique works well to maximize space and add interest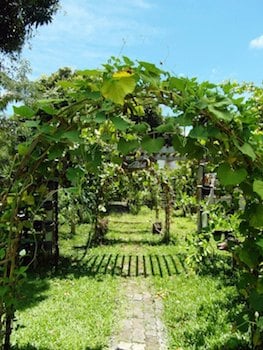 Whether you have an unsightly structure that needs covering, such as a well or gas tank, or need to make the most of your small space, training a plant onto a trellis is a good option.
Mark Malaguerra, a buyer with Pike Nurseries, recommends you start a trellising project like any other project: Consider your conditions.
Is the area shaded or sunny? What are the soil conditions? What do you want the plant to do—hide something or accent something? What else do you want from the plant—fragrance, blooms, fruits, vegetables?
One of Malaguerra's favorites for an arbor, wall, or piece of lattice is Madison jasmine, which is a cold-hardier version of star jasmine. The plant isn't finicky; it will tolerate most soils and full sun to lots of shade. It also grows quickly and produces fragrant blooms for a long stretch of the spring.
Roses are another option, Malaguerra says. Newer varieties are more disease and insect resistant than roses of the past, but they still require spraying and pruning.
Plants well suited to a trellis can also produce fruits and vegetables. Grape arbors are both functional and produce fruit. Malaguerra is growing all of his tomatoes on trellises this year. Beans and cucumbers also work well on trellises; these self-climbers will wrap themselves around any pole or string. The technique makes good use of small spaces, taking the plants up instead of out. The fruits and vegetables have good air circulation and are at a convenient height for picking.
Trellising, like gardening of any sort, requires some attention. For jasmine, Malaguerra recommends pruning right after the blooming period in the spring and again in late summer or fall. But these plants actually need more tucking than trimming. Take any stray tendrils and weave them back into the plant and structure to keep it looking full and lush.
For plants, supplies, and additional information on trellising and other general gardening topics, visit Pike Nurseries, 12630 N. Community House Road, Charlotte, NC 28277.