Tanner Than You'll Ever Be
A very bronzed George Hamilton is coming to town for "La Cage aux Folles"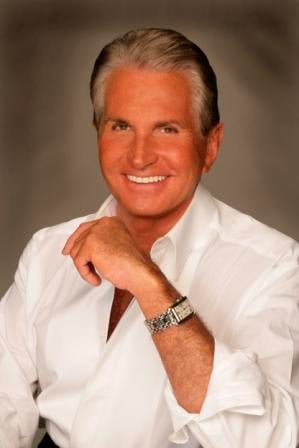 Before there was the Robin Williams/Nathan Lane movie (The Birdcage), there was the play, La Cage aux Folles. It's the outrageous story of Georges, a nightclub owner, and his partner, Albin, who moonlights as the club's cross-dressing hostess. When Georges' son brings his fiancée's conservative parents home to meet the flamboyant pair, hilarity ensues. The fact that George Hamilton stars in the touring version, as Georges, is just one reason it's worth seeing. It will be in town as part of Blumenthal's Broadway Lights series from May 29 through June 3. Details.
Hamilton is as cordial and generous with his time as he is debonair. We chatted — at length, really — about the show, his Hollywood history, and, of course, his famous tan.
Revue: Let's talk about the tan. It's especially pertinent because tans have been in the news recently, thanks to the woman who singed herself at the tanning bed and was charged with a child abuse, I think, for taking her young daughter to the tanning bed. Your tan is perfect. How has it been so well-maintained?
George Hamilton: Well, it's possible to overdo anything. But the reason I originally got tan was because, after being a gangly, Jerry Lewis type, I went to Florida one spring break. Girls started hitting on me, and I assumed it was because of the tan. I kept it going …
I started my career in Westerns, and the make-up people were always spooking the horses, which bothered me. Glenn Ford told me one day on the set, "You could save a lot of time in the make-up chair if you just got a little sun. You don't need make-up when you've got some color." Then, I saw Cary Grant on the [studio] lot sitting out in the sun. I started joining him. And I started telling the make-up people not to come around. I didn't need them.
I found a way to keep my tan all year long. I've used bronzers and things like that over the years, but mostly, I just like spending time out by the pool. Of course these days, we all have limited time to do anything. And especially when you're in a traveling show. The schedule can start to dictate your life, if you let it. But I feel it's my inalienable right to have a suntan and to have my hair and nails done.
I'm 72. I like to go at my own pace. I've earned the right to do it. The hard part is getting everyone else in the saddle. We're expected to do two hours and 40 minutes on stage, travel on our day off to get to the next town, oh and, maybe some sleep would be a good idea at some point. It's very hard to balance it all …
There have been over 200 shows [with La Cage] since I started with the show, and I've only missed three. My very talented co-star, Christopher Siebert, has likewise only missed three — but he's in his late 30s or early 40s. I'm very proud of that. It's easy to call in sick. It's hard to do it all, but that's the way I want to do it.
When my son [Ashley] was young, he and I traveled across the world together.
Revue: How old is your son?
GH: He's 37 now, and he's starring with Robert Downey, Jr. in Iron Man — he's an actor — but this was when he was about 12. We had traveled the old-fashioned way — by train and by boat — and toward the end of the trip he said, "Dad, I miss home." I told him we'd be back the next day. We took the Concorde from Paris to New York to L.A. When we were back, I told him, "You can speed through your life like that, or you can take your time." I like to take my time.
Revue: You talked about the grueling schedule inherent in being part of a traveling show like this. Why work so hard at this point in your career? You don't have to.
GH: Well, if you don't keep at it, you'll rust out. We only get stronger by using the muscles we're not used to using … I always try to do things that are a little harder for me.
I once saw Fred Astaire on a lot. He rehearsed the same little dance step for two hours. He tried on different shoes to see what difference they might make. It was amazing, and he was a genius. He was a genius because he made it look easy. That's what people want to see. Audiences don't come to see you perspire.
Revue: Oh, you don't perspire. I can't imagine.
GH: Oh, I do. I once did a movie about Evel Knievel [Evel Knievel, 1971] and I got to meet him. I asked why he always wore white, and he said, "Because people don't come to see dirt." And they don't …
Sometimes [in show business] there can be too many cooks in the kitchen. Again, I'm 72. I know a few things. Don't tell me how to dine or dress or date a beautiful girl. I already know how to do those things. Tell me something I don't already know …
One of the wonderful things about getting to this point in your career is that you don't realize how much good will you've put away in the bank. You look down at the [La Cage] audience, and you think you know who's going to be there. You think it's going to be a very edgy crowd and mostly gay. And then you see 85- and 90-year-old women there, and they are throwing their panties at you. And [the panties] are bloomers! I love it.
I just got a note from someone that said, "I traveled 500 miles last night to see you, and you did not disappoint." That's what you draw from. That's why you do this.
I have never not done an interview or not signed an autograph. My image was something that was created by a studio, but it's not who I am. I am deeply appreciative of any interest people take in me. I'm embarrassed by [celebrities] who don't accept their fame graciously. It hurts me.
Revue: You mentioned your image. Let's discuss it. Because you are the very definition of suave. Do you ever just sit around in your boxers and eat Doritos?
GH: My nickname is actually "Messy." But the image I've been given is such that people wouldn't believe I could be messy. But it's just that — an image.
It is one I've worked to maintain, though. Years ago, I was living the life of a Hollywood star. I had a closet arranged like a dry cleaner. You pushed a button, and the clothes came around to you. There were numbers on everything; it was so coordinated. There were numbers on my shoes, ties, shirts, everything. I knew them all. When I was out of town and needed outfits, I just called my staff and told them, "Send me 9, 18, 22 and 27." It worked beautifully. One night, I had Tony Curtis and Sammy Davis over to my house. I was very proud to show them how I lived my life. I showed my closet off to them. I had no idea, but they rearranged all the numbers that night. I didn't find out until I was out of town and called my staff to order certain numbers. When the clothes arrived, they were completely mismatched. One shoe, one sock. Nothing went together …
Revue: So much for sartorial splendor. You know, we probably should get around to talking about your musical since that is the purpose of this interview. The play, La Cage, existed before the movie, but I'll bet most people who will see the show in Charlotte have only seen the film. How are they similar, and how are they different?
GH: Birdcage was a fine, wonderful comedy. But this show has been mutated and truncated from what was originally a French film into a different musical … It's become a much more intimate show. And while it feels intimate, there will suddenly be these moments where it feels like a huge musical. So no one leaves feeling cheated. Our director, Terry [Johnson] has done a wonderful job of really getting to the heart of the matter. This show has gotten rid of all the excess …
My character is the straight man, as it were. But Alban couldn't exist without my character. We have to be a couple, and we have to be believable as a couple. I've not had roles like this in my career, so it's been a real gift …
Revue: The book for this musical was written by the brilliant Harvey Fierstein. Are there any lines or scenes your character gets that are particular favorites?
GH: There are many, but I don't want to give any of them away. There are also small moments where we get to be extemporaneous, which keeps it fun. You don't ever want to fall into a rut where the character becomes routine.
Revue: And it has never become routine?
GH: Well, I've done 200 shows, but I keep up this pace because I don't ever want to rust out. It's tiring, but I do recover fast.
Revue: You've been so generous to give me so much time and share such great stories. Thank you.
GH: It's been my pleasure. Thank you.