Tap to Table: Beer-Braised Ribs
Chefs are taking cues from our newly suds-soaked city, using beer—like they've long done with wine and liquor—to add a hint of depth and flavor to menu items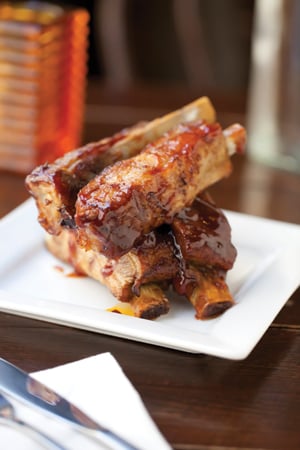 Beer halls in Germany typically offer two options: a light brew and a dark brew. But at VBGB, thirty taps flow with crafty options. Thankfully, some of those super suds make it to the dinner menu, like in the beer-marinated filet cheesesteak. But it's the beer cheese sauce served alongside an oversize grilled soft pretzel that steals the show. The chef sautés onions, adds a generous splash of whatever lager or pilsner is on hand, and then melts cheese into the mix. 920 Hamilton St., 704-333-4111, vbgbuptown.com
Chef Anthony Berin often takes culinary inspiration from the beer dinners hosted at Dandelion Market—he even once made a salad dressing out of a Belgian Lambic. On the nightly dinner menu, you'll find lager-braised ribs and ale-simmered sausage bites, for which smoky chunks of meat are gently heated in a bath of bubbling brew and served with the spicy house mustard for dipping. 118 West 5th St., 704-333-7989, dandelionmarketcharlotte.com
It might not be advertised, but beer is the flavor base for many of the dishes on the menu at Mac's Speed Shop. Chef Kevin Kuruc uses Pabst Blue Ribbon in the brined beer-can chicken and in slow cooking the pork wings—the steam keeps the pieces of shank moist and tender underneath the BBQ sauce. One killer sandwich you'll often find on the specials menu: cooked brisket ends steeped in Olde Mecklenburg Brewery's Copper Ale, then layered on bread with queso sauce, tomato, and fried onions. 2511 South Blvd., 704-522-6227, macspeedshop.com. Read more info on Mac's Speed Shop here.
RECIPE: Beer-braised St. Louis-style Ribs
From Chef Anthony Berin at Dandelion Market
Makes 4-6 servings
1 cup paprika
1 cup chili powder
1/2 cup light brown sugar
1/2 tablespoon cayenne pepper
1/4 cup onion powder
1/8 cup garlic powder
2 racks St. Louis–style ribs
2 bottles premium lager
1 cup water
Preheat oven to 300 degrees. Combine spices in a bowl. Place ribs in a container and pat dry. Rub spice blend into the ribs, cover, and refrigerate for 3 hours. Double wrap each rack of ribs in large pieces of foil, creating a seal so the liquid can't escape, but leaving enough room for air circulation and liquid. Create a venting chimney on each side of the package. Pour 1 bottle of beer and 1/2 cup water into each package of ribs. Place on sheet tray, and roast ribs for 2-2 1/2 hours until tender. Baste with barbecue sauce. When ready to serve, crisp ribs on a grill or under a broiler.
Dandelion Market Barbecue Sauce
Makes about 2 1/2 cups

2 slices smoked bacon, finely chopped
1/2 onion, minced
4 garlic cloves, minced
1/2 cup bourbon whiskey
2 cups ketchup
1/4 cup tomato paste
1/3 cup white wine vinegar
1/4 cup Worcestershire sauce
1/2 cup brown sugar
1/3 teaspoon Tabasco sauce
1/2 teaspoon ground black pepper
1/2 tablespoon salt
Sauté bacon, onion, and garlic for 1 minute in a medium saucepan over medium-high heat. Add bourbon and let the liquid reduce by half. Add remaining ingredients and stir. Reduce heat to low and simmer, covered, for one hour, stirring often.