Tastes of Spring, Part 1
A Charlotte chef shares his favorite ingredient for spring, plus a recipe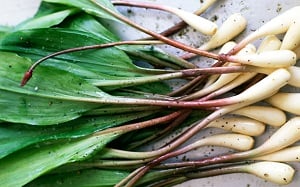 Chef Ashley Quick of Stagioni loves a spring ingredient that gets quite a bit of love from chefs all over. The ramp is a "baby wild leek that's only around for a very short time in early spring," says Quick. "They have a pretty garlicky taste and lend themselves great to pickling so you can keep them around when their short season is over!"
Ramps grow naturally from South Carolina all the way to Canada; their short span of availability even prompting festivals in towns across the U.S. celebrating the arrival of spring (which, I think, we can all sign on for about now). They can be cooked traditionally or added raw into any recipe calling for scallions. Of course, Quick has shared his own recipe for pickled ramps below. It may even grace the Stagioni menu as the weather starts to warm!
Ashley Quick's Recipe for Pickled Ramps
1 part cider vinegar
1 part sugar
1 part water
Any sort of pickling spice you like (Quick likes coriander, cardamom, star anise, mustard seeds and fresh bay leaves)
Clean about 2 pounds of ramps and save the leafy tops for Kim chi or braising later! In a large pot, bring water, vinegar, sugar, and spices to boil. Add cleaned ramps then cover, place in the refrigerator, and reserve for at least a week before using.
Now you can add them to anything: hot dog topping, ranch dressing, pickled eggs, etc.!