Tastes of Spring, Part 2
The chef holding down the fort at Good Food on Montford weighs in on his favorite spring vegetable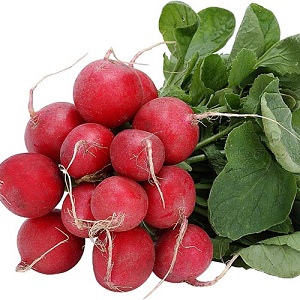 Chef Larry Schreiber of Good Food on Montford has weighed in on the favorite spring vegetable debate and the chef's answer may surprise you. "Baby root vegetables are my spring favorite because they're so versatile. They can be eaten raw or cooked."
Most people think of winter as the time for root vegetables, but baby beets, radishes, and carrots start to grow in the warming soil come spring. As a "happy Monday" to you, Chef Schreiber has provided us with a recipe for shaved baby vegetables with spring greens, goat cheese, and beet vinaigrette. Enjoy!
For the vinaigrette:
1 bunch baby beets
1/2 c red wine vinegar
1 c blended olive oil
Salt and pepper to taste
Cut the tops off of the beets and place in a pot, covering with water and adding a few pinches of salt. Simmer over medium heat until the beet skins are tender. Drain the beets and peel them – you may want to wear gloves to prevent red staining on your hands! Place in blender with the vinegar and blend until smooth. If necessary, you can add a bit of water to help the process. Once the combination is smooth, add salt, pepper, and oil and blend until the mixture comes together completely.
For the salad:
5 each baby beets
5 each baby carrots
5 each radishes
2 heads of spring lettuces (try radicchio, Bibb lettuce, Escarole, baby spinach, or other combinations)
1/4 cup of goat cheese
Beet vinaigrette
Wash all vegetables. Peel the beets, then thinly slice with a mandolin or very sharp knife then place the beets in a container and run under water till the water comes out clear. Set aside.
Shave, thinly slice, or peel the remaining vegetables with a mandolin, knife, or peeler. Place all of the vegetables in ice water for 20 minutes till crisp. Drain the vegetables and toss with the beets, greens, goat cheese, and beet vinaigrette. Season with salt and pepper just before serving.
Here's to spring!