Tavis Smiley Brings America I AM Exhibit to Charlotte's Gantt Center
This month, a blockbuster exhibition created by Tavis Smiley takes over the Gantt Center. You won't want to miss it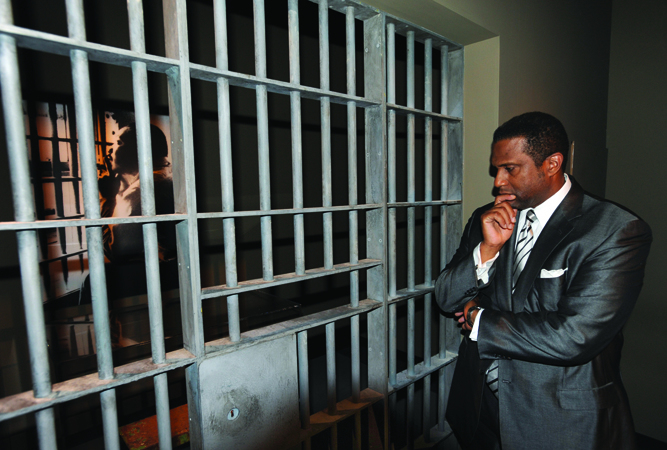 As Tavis Smiley participated in the four hundredth anniversary celebration of the settlement of Jamestown, the first permanent English colony in America, an idea struck him.
"I wondered why this story—of African Americans landing in the New World—wasn't told more broadly," Smiley says. "We all know the story of immigrants coming to Ellis Island, and that story of the founding of our nation is a powerful narrative. But I wondered how I could tell the story of African Americans coming to America and tell it beyond this one-time ceremony in Virginia."
Smiley, host of the eponymous shows on PBS and public radio and best-selling author, decided to tell that story by way of a massive collection of African American historical and cultural artifacts in an exhibition that he hoped would be the "biggest, baddest, boldest exhibit ever."
America I AM: The African American Imprint is so massive, in fact, that the Harvey B. Gantt Center for African-American Arts + Culture must be retrofitted in order to accommodate the more than 200 objects that are featured in the exhibition, according to David Taylor, the Gantt Center's president and CEO. The Center will be closed for nearly a month to prepare for the June 30 opening.
Smiley says America I AM answers the question posed by W.E.B. Du Bois: "Would America be America without her Negro people?" What's more, Smiley says, "It answers the question in a way that doesn't demonize other people. It tells the story of what African Americans have achieved in conjunction with, and in collaboration with, others."
The exhibition showcases four centuries worth of objects celebrating African American contributions—economic, cultural, political, academic, athletic, and spiritual—to the United States, blending uncomfortable history and pop culture. This comprehensive collection is sure to draw more than the typical museumgoer.
Artifacts from the slavery era are painful but important reminders of a brutal history. Visitors will see shackles used in the slave trade and abolitionist material that helped in the movement to end slavery.
One object that Smiley finds to be particularly profound is the "Door of No Return" from the Cape Coast Castle, a slave-trading fort on the coast of Ghana. Built in the early 1653, the fort was transformed from a gold-and-timber trading post into a center for slave trade. The doors represent a brutal finality. "Africans were captured in the fields and shackled together," Smiley says. "They were taken to the water's edge and kept in the dungeon of a castle where they waited, for days or weeks, for the slave ships that would take them to America. They were then marched through those doors, and they were never coming home."
The exhibition traces the journey of African American history out of slavery, including some of Frederick Douglass's clothing and the letter from President Lincoln that allowed him to move among Union lines recruiting black soldiers. It offers poignant reminders of the early civil rights struggles, including the door key and stool from the cell where Dr. Martin Luther King Jr. was imprisoned when he wrote Letter from a Birmingham Jail, Malcolm X's journal and Koran, the jail fingerprint card from Rosa Parks's arrest, and the typewriter Alex Haley used to write Roots.
From there, America I AM dives into the rich contributions by African Americans to modern American culture. Look for Jimi Hendrix's iconic purple shirt, black bell-bottoms, and headscarf, the tux that Ray Charles wore during his final public appearance, and Prince's infamous purple guitar that he played during the halftime show of Super Bowl XLI (one of Smiley's favorite objects in the exhibition).
Sports get their due, too—visitors will get to see the robe that Muhammad Ali wore while training for the notorious "Rumble in the Jungle," where he defeated world heavyweight champion George Foreman, and Michael Jordan's Chicago Bulls jersey and shorts that he wore during game six of the 1992 NBA finals (the Bulls went on to win the championship and Jordan earned MVP honors).
Charlotte is the eighth city to host America I AM on the exhibition's ten-city, four-year tour. America I AM is unprecedented in its sheer number and breadth of objects significant to African American history. Never before has such a collection been assembled, and it will most likely be a long time before it happens again—if ever. The items are on loan and will return to their original owners after the exhibition closes.
The Gantt Center, one-fourth of the Levine Center for the Arts in Uptown, has had more than 150,000 visitors since it opened in late 2009. Taylor expects a big increase in those numbers thanks to America I AM. The show drew more than 100,000 when it was in Atlanta.
For his part, Smiley is proud to remind the city just how big a "win" this exhibition really is. "Charlotte made the cut," he says.
"Harvey B. Gantt is an icon in the state of North Carolina and the city of Charlotte," he says. "It is an honor for us to be in a building that bears his name and to be in Charlotte during the Democratic National Convention."
The opportunity to see and feel the spirit of these great African Americans, past and present, is too big, bad, and bold to miss.