Tea For Two: DIY of the Week
An exquisite table setting fit for the elegant bride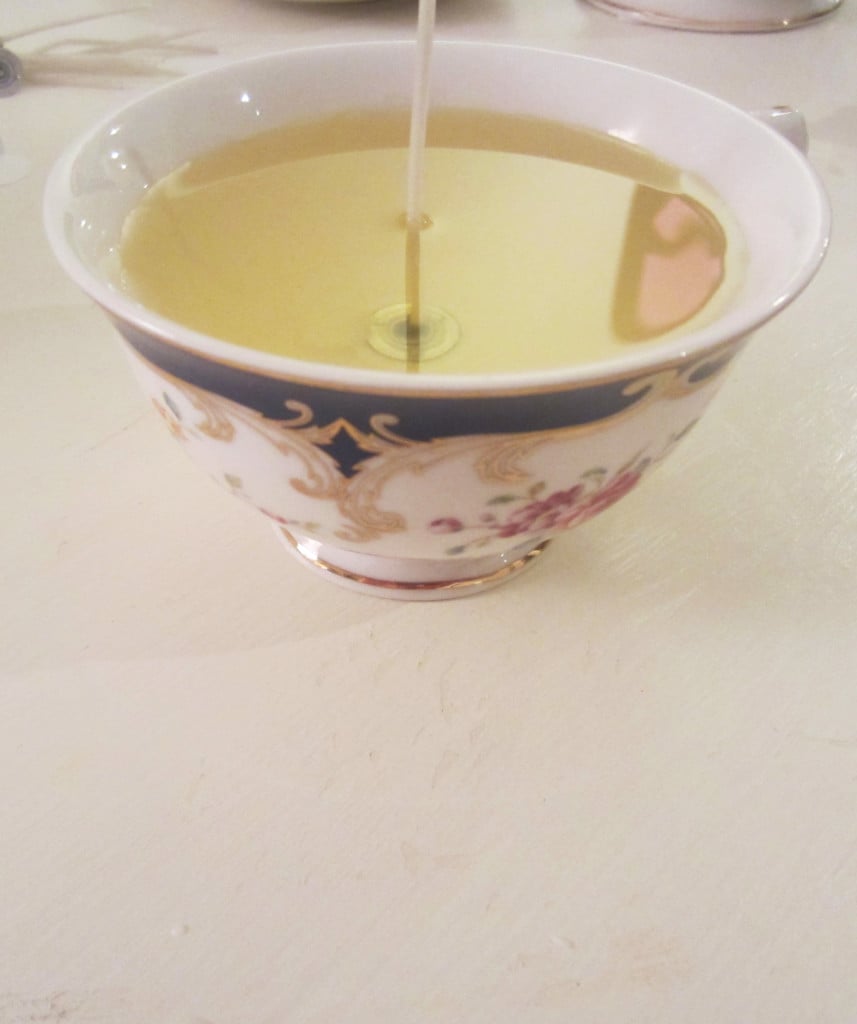 There is something so idyllic about a cup of tea. Reminiscent of a classic British romance novel or an elegant white glove affair, a splash of steaming tea in a dainty china cup exudes serenity and finesse. With such sophisticated associations, one can hardly think of a more fitting focal point for a wedding reception table setting. For this week's DIY, the china from which no one is drinking will steal the show. From teapots filled with flowers to china cup-turned candles, we've created a centerpiece perfect for the old-world romantic at heart.
To start, collect an assortment of teacups, saucers and pots. Feel free to mix and match patterns, but stay within the same color palette. For my creation, I unearthed a regal blue and white patterned set at the Sleepy Poet. Each piece was only $3.00. You can keep sets matching per table, or include an assortment within one centerpiece arrangement. The beauty of this display is in the effortlessness.
Next, you'll need a hefty helping of wax shavings. I purchased a small bag at Michael's and used about 1/4 of it for my teacups. (They have blocks available in bulk as well). Choose an unscented option, so as not to compete with the aroma of the food or flowers at the table. Additionally, you'll need packets of wicks and double-stick adhesive circles. These items are all found in the candle aisle.
I chose to use hydrangeas in green and blue, as they complimented the colors in my china pattern. Peonies would be equally lovely. I also chose to add in crystal stemware, candelabras and bleached coral, making the arrangement ideal for a summer soiree. Though you'll have the variations in height from the teacups and pots, the addition of these extra pieces adds a bit more dimension.
It's important to do this one candle at a time, as each one requires multiple steps and full attention. So first you'll take one of your double-stick circles and place it in the bottom center of your teacup. Then you'll stick the metal disk base of a wick to the circle. Be sure to straighten the wick by smoothing it out with your fingers. Push the disk down firmly onto the circle to ensure it sticks.
Next, you'll pour a cup of wax flakes into a microwave-safe container. (I used a measuring cup). Then you'll microwave each cup for about 45 seconds to 1 minute, or until all the flakes have dissolved. Once the wax is completely melted, pour it into your teacup, making sure to leave a bit of space at the top. Now you'll just need something to keep the wick propped up in a straight position while the wax hardens. I used a few pieces of stationery paper I cut and folded, but you could use anything from chopsticks to silverware.
While waiting for the wax to harden in each cup, I assembled my table. For the purposes of the final look at a reception however, this would not be the case. I put down a burlap-hued runner with lace trim, white china and white linens, keeping the rest of the table simple. Then I took the excess flowers and arranged them as accent pieces on my saucers. I chose to use antique crystal champagne glasses for stemware.
Once the wax hardened, I trimmed the wicks down to the standard length using a sharp pair of scissors. Then I simply placed each teacup onto its saucer, lit all my wicks and the look was complete!