Tepper Takes Over
MLS soccer will probably benefit Charlotte. It certainly clarifies who's in charge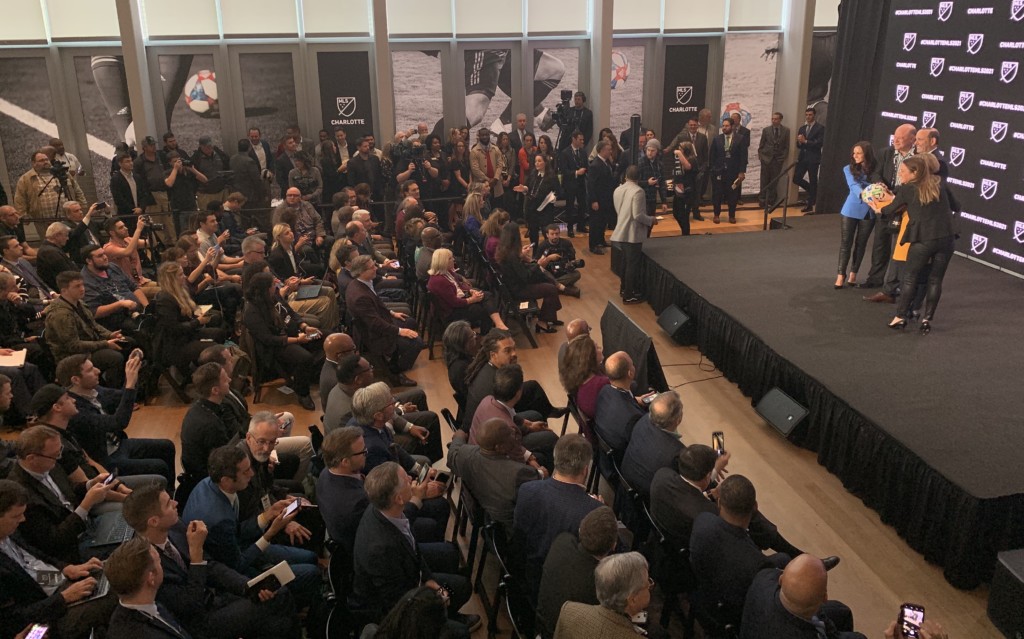 So, Charlotte's getting a professional soccer team. Who'll benefit? Who'll pay? Is it worth the investment?
Hard to say. Discussions of issues like whether professional sports actually enhance cities' cultures and economies can drag on interminably, arguments kicked around the midfield forever without resolution. (Couldn't resist, sorry.) From here, it looks like a mix of periods and question marks, a "good deal" depending on what you compare it against. A Major League Soccer team that plays in Bank of America Stadium and practices on the old Eastland Mall site may produce genuine benefits—especially for east Charlotte, home to a vacant, 80-acre concrete slab at its hub since 2013—but underlines some uneasy questions about who holds power in this runaway city and who's first in line to cash in on it.
"For downtown, for summer nights in Charlotte, to make this city live on weekends … This sport, with all the new arrivals in this city, can tie the city together," Carolina Panthers owner—and new MLS team owner—David Tepper said during the formal announcement Tuesday at the uptown Mint Museum. Tepper, who hasn't decided on a team name, apparently hasn't grasped the downtown/uptown distinction, and he kicked off his comments Tuesday with a tacky (and revealing) joke in reference to Mayor Vi Lyles, seated to his left: "I think it's the most expensive present I ever gave a woman in my life."
Even with more life brought to uptown and a pricy "gift" to a mayor who happens to be female, the strongest reason to cheer the MLS news is its potential to resurrect the Eastland site and surrounding east Charlotte neighborhoods. Residents of neighborhoods like Winterfield, Sheffield Park, and Wilora Lake have listened patiently to one idea after another for the city-owned property, some sillier than others: A series of small markets, a warren of film production studios, and most recently a mixed-use and sports entertainment complex.
What's planned now—the MLS team's headquarters and practice fields—could finally drop an anchor for east Charlotte that's been missing since Eastland closed in 2010. The Central Avenue corridor has been Charlotte's most underappreciated quarter, and home to much of its Latino population, for years; if the team can work out promotions with the many Latino-owned restaurants and other small businesses in the area, and perhaps host soccer tournaments and other youth programs on the practice fields, the old Eastland site could emerge simultaneously as an economic engine and community asset. Lyles, in a letter last month to MLS Commissioner Don Garber, also on hand for the announcement Tuesday, referred vaguely to "(s)ignificant and meaningful community benefits that will connect this new franchise with our residents across Charlotte and lift up youth sports in our communities and schools." East side neighborhoods ought to be served a healthy portion of whatever those are.
The prospect of East Charlotte's rejuvenation is the main reason why Tepper's MLS bid is so much better for the city than the insulting mess that Speedway Motorsports' Marcus Smith floated back in 2017, and which City Council members and Mecklenburg County commissioners wisely rejected. Tepper's been more diplomatic with his proposal, too, meeting with east side business and community leaders ahead of the announcement Tuesday.
Then again, Tepper, a billionaire who'll reportedly pay a record $325 million just for the MLS expansion fee, can afford to. Charlotte will look back at December 2019 as the month when Tepper did his hedge fund founder's version of a post-touchdown flex by one of his Panthers players. Having already convinced the state of South Carolina to commit $115 million to a new Panthers practice complex in Rock Hill; arranged for Bank of America Stadium to regularly host big-name concerts for the first time; and floated the idea of a new, retractable-roof stadium for football and soccer paid for in part by taxpayers, Tepper within a couple of weeks dismissed the most successful coach in Panthers history and landed a new MLS team. "He came here with a big vision," Lyles said Tuesday, "and he followed through on it."
Along the way, and without a public hearing or council vote on the expenditure, he secured a $110 million commitment in city hospitality funds, which come from an assortment of taxes on hotel and motel rooms, car rentals, and food and beverage sales at events—a pledge that, WBTV reported last week, almost exhausts the fund's debt capacity. The size of the public investment far outstrips what other recently minted MLS cities like St. Louis, Miami, and Nashville—which have relied mainly on private investment or public bonds repayable with interest—have agreed to, the Observer reported Friday. Unlike Charlotte, all three of those cities are directing that money mainly toward new stadium construction.
Even if you support the idea of pro soccer in Charlotte, it's hard not to view the city's eagerness to open its coffers as a companion to its willingness to host the 2020 Republican National Convention when no other city would submit a bid. Charlotte's been so fervent—at times to the point of desperation—to join the roster of Major Players that it's repeatedly done what no Major Player would need to: cave early at the negotiating table. Tepper knows what buttons to push in that arena. "People here in Charlotte have to realize: This is a really major, growing, important city, and it needs that sort of presence," Tepper told Street & Smith's Sports Business Journal this summer. "Charlotte, in my mind, for these two states, should be the sports and entertainment capital. That's what it's meant to be." Cash register bells, especially when they signal invitations to exclusive clubs, have always been the sweetest music to this city's ears. That hasn't changed a bit.
The Queen City has another favorite tune: A favorable comparison between itself and That City Down I-85. "We're the hot city," Tepper said from the dais Tuesday. "Screw that other city!" Urban rivalries are fun, and Charlotte's MLS team will probably turn out to be a boon for most of us. But let's not pretend after this month that we don't know who, in a city with a pronounced leadership vacuum for a decade or so, has filled the space.