Thanksgiving Eve 2016 Parties in Charlotte
The last day before a long holiday weekend with family beckons for a few parties.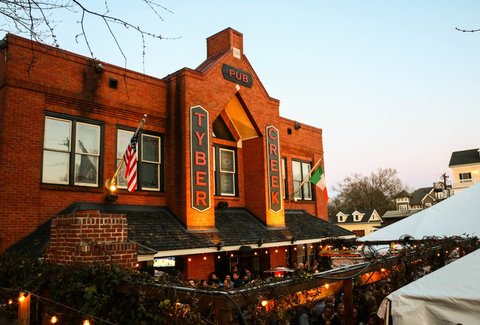 You have New Year's Eve, Super Bowl Sunday, sure. You have St. Patrick's Day and Halloween, too. But lest we all forget one of the budding party days of the year: Thanksgiving Eve. It's the end of a work week for many and the last reprieve before spending a long holiday weekend with out-of-town family and guests. No need to make excuses. Enjoy your last bit of freedom with this list of parties, Charlotte. See y'all out there and happy Thanksgiving Eve!
Wednesday, Nov. 23
Wild Turkey The Night Before
Shockingly, there are no specials on Wild Turkey bourbon tonight at On The Roxx, 1 Norman Blvd., in Cornelius. The Thanksgiving Eve party does feature $3 Corona, Corona Light and Modelo specials along with $5 Fireball shots. The party starts at 9 p.m., and there's no admission fee.
Tommy T.'s Turkey Spree
We'll let "Tommy T." describe this event, as he does a pretty good job. "Come party one last time before spending the long weekend with relatives, in-laws and people you pretended to like in high school." It's, apparently, the 10th annual party of its kind, so celebrate a decade of faking a smile around old high school friends tonight. The party meets at Tyber Creek Pub, 1933 South Blvd., at 7 p.m. Tickets cost $15 and include entrance into the five participating bars (Tyber Creek, Pub, Workman's Friend, Dandelion Market, Connolly's on Fifth and Prohibition), drink specials at each locale, transportation to and from the bars, giveaways and a few complimentary drinks along the way. Buy your ticket here.
Thanksgiving Eve Party
If your idea of Thanksgiving Eve is dancing it our one final time before the relatives come, this is your spot. Label, 900 Music Factory Blvd., is throwing this party with three DJs and free entry before 11 p.m. RSVP here.
Flee the Family Party
This is exactly what it says it is. Prohibition, 200 N. Tryon St., is giving you one last shot of freedom with $2 Pabst Blue Ribbon, $4.50 well drinks and $6 vodka-Red Bulls. Prohibition opens at 4 p.m.
Verify dates, times, prices, and other info at the web addresses listed for each event.
Be sure to bookmark www.charlottemagazine.com/Blogs/Dusk-Till-Dawn to stay plugged into Charlotte's nightlife and social scene. Click here to sign up to receive the weekly Dusk Till Dawn e-newsletter.
Want your event featured in Dusk Till Dawn? Follow me on Twitter @Jared_misner and let me know about your event, or send me an email at dusktilldawnblog@gmail.com.