The 2 Woke Babies of the Women's March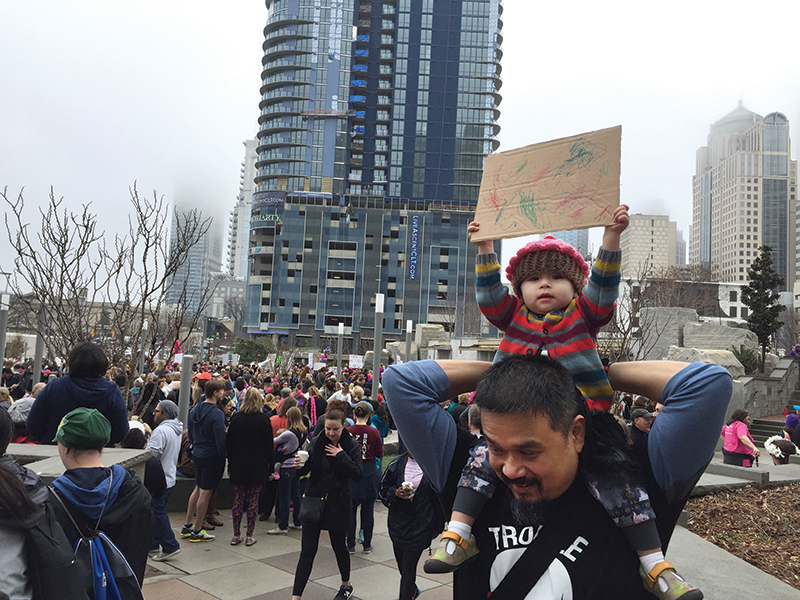 AMONG THE MILLIONS of people around the world who participated in the Women's March on January 21, two babies from our region gained as much fame as anyone. JJ Kim, who lives with his family in Charlotte, wore the sign "I love naps but I stay woke," referencing the phrase that means staying aware of injustice. That day, social media erupted with the hashtag #wokebaby. Jenny Sowry's daughter, who created a sign with scribbles herself, was included in the hashtag. The photos went viral almost simultaneously. Sowry's friend posted the scribbles photo and got 22,000 shares, and Kim's photo was shared by the likes of Ariana Grande.
The two mothers connected the following week, and they realized they have a lot in common. Prisca Kim, whose parents emigrated from Korea just before she was born, has spent the past 10 years working for an organization that helps refugee families. Sowry's husband, Sam's, parents were Vietnamese refugees who came here in 1975. Here's a little more about each child and the families, in the words of their mothers. (Edited for clarity and space. Jenny's children's names—she and Sam also have a nine-year-old son—are withheld at Jenny's request.)
JJ Kim, 20 months old
Interests other than staying woke: "Music. He rocks out on his little guitar every day. His favorite things also include T-Rex, dogs, high-fives, numbers, and screaming out the letter 'W' whenever he spots it."
Why he came to the rally: Prisca planned to go to the Washington march, but decided that women can't be the only people participating. So she stayed in Charlotte and took her husband, Jeff, and son. "I went primarily with refugees and immigrants on my heart. It's personal to me being a daughter of immigrants. … As an Asian-American woman, my experience ranges from being called 'oriental flower' to watching men touch themselves inappropriately while staring at me. … If JJ were older, I'd fully expect him to stand up for me and others in those situations. If I expect it then, why shouldn't I have him practice it now? I want JJ to develop a masculinity that fully embraces women as strong, able, equal."
How his family responded to the comments and shares: Prisca posted on Twitter: "A viral picture lasts for a day, but I hope JJ's fight for human rights will last a lifetime."
Fun facts about the sign: Prisca's sister had the idea for the words. And Prisca re-used duct tape from paper rockets she made with her family at Discovery Place the previous weekend.
Why people connected with the photo: "Many people wrote that it gave them hope for the future of the country. … And a lot of people just connected with JJ's love for naps!"
---
Jenny Sowry's daughter, 22 months old
Interests other than staying woke: "Books and music and climbing. She is mostly interested in doing anything and everything herself. … We live just up the road in Mooresville, but we spend quite a bit of time in Charlotte. Our favorite place by far is the Children's Theatre of Charlotte. And no trip uptown is ever complete without a stop at 7th Street Public Market since our son is a huge fan of Bonsai Fusion. He'd also like to give a shout-out to Smelly Cat Coffeehouse."
Why she came to the rally: "Whether or not our children grow up to share our political beliefs, we want them to feel empowered to stand up for what they think is right."
How her family responded to the comments and shares: "We were lucky, we had a small buffer. It was (my friend's) post of the image that went viral, not mine. And I am quite happy to let her handle that headache."
Fun fact about the sign: "My son and I had the markers and cardboard out on the dining room floor. As we were finishing up, he asked if his sister would have a sign. We were tossing around ideas when I looked over and saw her drawing on a piece of cardboard. We decided that she clearly had something to share and whatever it was meant more to her than anything we might choose on her behalf."
Why people connected with the photo: "It's a photo of a young girl proudly sharing her ideas. We may lack the skills to decipher those ideas, but they are hers and she's proud of them."