The 2015 Best of the Best Awards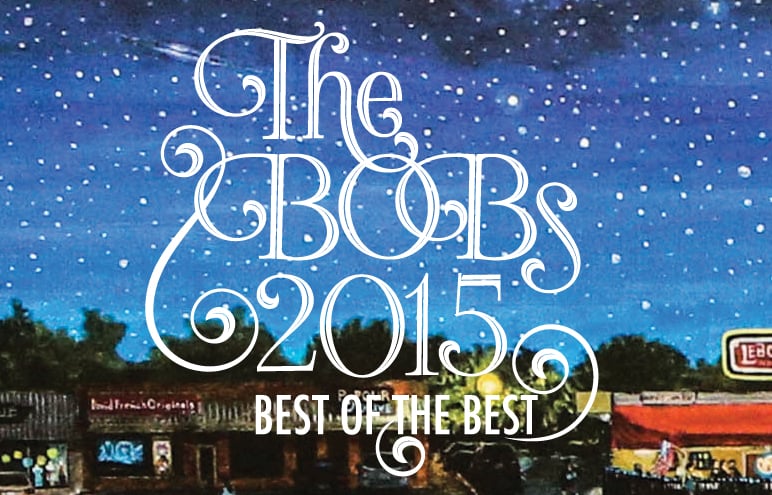 WAKE UP, SLEEPY POET.
The BOBs are back in town, here to celebrate Charlotte, here to introduce you to the best things our city has to offer. Want to meet them? Of course you do. Carpe Diem, and all.
They want to meet you, too.
You've already met one Bob, last name Peters, on our cover. But this issue is about more than just him.
BOBs have many faces. Some of them are new—there's Alyssa's and Earl's and J.Sam's. And some of them are old—Who can forget Bill Spoon's friendly mug, or our old pal Alexander Michael's pearly grin?
Latta and McDowell and McMillan, they're all BOBs, too.
A refresher, if this is your first time meeting the BOBs. They stand for the Best of the Best, and yes they know that as an acronym they're missing a letter, but they aren't ashamed.
What are you laughing at, BB&T Ballpark? Or you, Pasta & Provisions? Wipe the grins off your ampersands; you're BOBs like the rest of them. Yes, even you, McCormick & Schmick's.
No need to be angry, Fury 325. Or to make that sound, Craft Growler Shop. Keep your wheels on, Roller Girls: You all are BOBs, too. It's OK to assume this new identity for a bit. You'll love it. Just ask ReStore. Or Label.
Where are you headed, Map Shop? Leaving so soon, Sharon Luggage? Take your shoes off, Charlotte Running Company. Things are just getting good.
The BOBs are the people and places and things that make our city great. And once again, they are hundreds deep because, well, there's so much to love. Right, Matrimony? Agree, Mert's Heart & Soul?
Don't be jealous, Green With Envy. The BOBs want you, too.
—Don't miss our BOB Award Party Friday, May 29
They include places that make you think of living here in a different way, from the Flipside Café to the Learning Society, and places that are good in any kind of weather, from Fahrenheit to Icehouse, no matter what Brad Panovich forecasts.
That brings the BOBs to their next point. For the first time, they opened up to include a new category: Personalities. Their names are Michael, Jason, Dan, Thomas, Brad, and Patricia. Welcome them. They're all fairly famous, but not quite royalty. Yes, we're getting to you, The King's Kitchen.
Oh, and we should mention, as we do every year: there are two types of BOBs: editors' choice and voters' choice. Nearly 20 editors, writers, photographers, and designers worked for eight weeks to brainstorm and choose and craft the editors' choice category. In the voters' choice, online ballots were up on this site for more than a month, and more than 55,000 votes were cast. Yes, Gracious Interiors, this is where we say thank you.
Mostly, though, this issue and these BOBs are here for you, our readers, to give you not just something to do but something to be proud of. In fact, when you count them up, you'll have 315 somethings to be proud of—141 winners chosen by our editorial staff, and 174 chosen by the voters. These are your neighbors, and in the case of some, they might even be family (looking at you, Your Mom's Donuts and Bad Daddy's Burgers).
So on behalf of our BOBs, here's to you, Charlotte.
READ THE VOTERS' CHOICE WINNERS HERE.
Check out the trailer for the 2015 BOB Awards below: