The Affordable Housing Solution?
Community land trusts gain momentum in American cities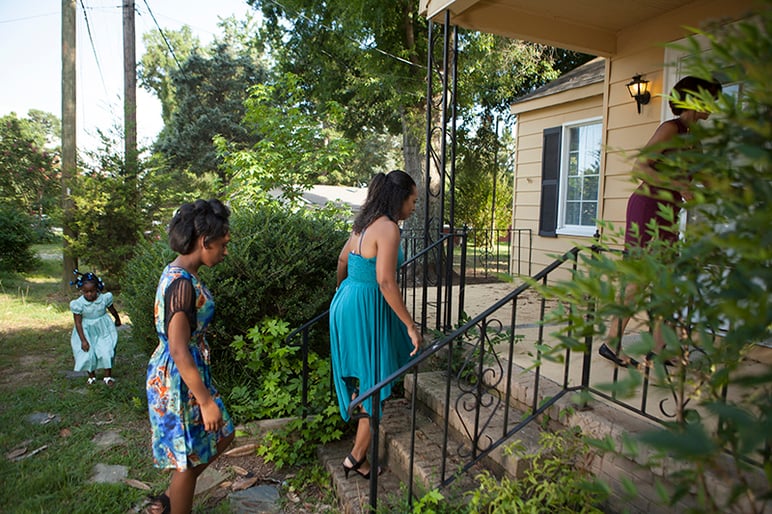 We spent a couple of hours at the last #discussCLT event, "Navigating Nonprofits," discussing the many problems charitable organizations can't be expected to solve alone. One that went unmentioned—one that nonprofits may hold the key to solving—is affordable housing.
I'll be writing about this for a future issue, but a trio of residents and activists is working on establishing a community land trust—a CLT; how's that for kismet?—on Charlotte's west side, the quarter of the city that's populated mostly by low-income, mostly African-American residents and is most in danger of a wave of gentrification. You can already see it in and near Wesley Heights, where Freedom Drive and Morehead Street intersect and high-end condominiums have arisen in the last few years. It's not hard to see the buyers and flippers of cheap houses winding their way up Freedom and Tuckaseegee Road, bouncing out people who've lived there for years, decades.
But the three men have a different, more sustainable idea, and a nonprofit lies at the heart of it. It's called the West Side Community Land Trust, and it's a 501(c)(3) organization designed to allow residents to own homes on trust-owned land, leasing the lots for 98 years and building equity in the meantime. The trust, founded in December 2016, is controlled entirely by the community, and they can set restrictions to keep homes affordable and prevent the sale of land to developers. Residents and activists Darryl Gaston, Rickey Hall, and Greg Jarrell were on WFAE's "Charlotte Talks" a few months ago, talking about their project. Acquiring land is obviously the hard part; Jarrell told me Tuesday that the trust is pursuing "a couple of avenues" but hasn't purchased anything yet. Of course, they're just getting started.
The brilliance of a community land trust is that it neatly sidesteps the boulder that blocks the road toward any market-based solution to an affordable housing crisis: If you don't own the land, you're at the mercy of whomever does. Trusts have met with some notable success in other cities such as Boston, where just such an arrangement transformed a once-blighted section of town called North Dorchester (from Next City):
Through their land trust, Dudley Neighbors Incorporated, DSNI took possession of most of the dozens of vacant lots that pocked the area, either by purchasing them from private owners using foundation money or obtaining them for almost nothing from the city. DSNI then removed the properties from the private market, leasing them out to developers under Dudley Neighbors, with the caveat that properties remain permanently affordable. (Resident Evelyn) Correa's house belongs to her, but the land beneath it belongs to Dudley Neighbors, which will ensure that if she ever sells, it will be to someone of a similar income …
Dudley Neighbors is the largest big city housing land trust, by number of housing units, in the United States. The group owns over half the acreage in a 62-acre corner once rife with neglect; today vacant lots can be counted on one hand. Two hundred and twenty-five permanently affordable homeownership and rental housing units now sit where weeds once grew tall and trash piled high. The most notoriously blighted parcels in the area were transferred to the land trust and have been transformed into a beautiful park. A large greenhouse and an urban farm also sit on its land.
Correa's neighborhood is not the only part of Boston to transform over the last few decades. The city as a whole is a far more prosperous place than it was in 1987. One of the big city winners of the postindustrial economy, Boston has experienced record growth in recent years, sending rents skyrocketing across the city, even in working-class enclaves like Dorchester and Roxbury. A report released earlier this year found that 38 percent of Boston homeowners spend over a third of their income on housing, while the average rent is $1,857 per month. By contrast, Correa, who owns a three-bedroom home in the land trust, makes $940 in mortgage payments every month.
It's only been recently that Charlotte city leaders have begun to talk urgently about solutions to the city's 21,000-plus-unit affordable housing gap. Mayor Pro Tem Vi Lyles, the Democratic candidate for mayor, was the source of the city's decision last year to fast-track construction or repair of 5,000 affordable units in three years rather than five. Council member Kenny Smith, the Republican in the race, has suggested a large-scale land trust funded by a marriage of the business, faith, and secular nonprofit sectors.
Maybe a combination of government investment, collaboration, and community action can plug or at least lessen the gap. But in the absence of any better ideas, the nonprofit land trust route seems like one avenue with the great benefit of being open, just waiting for the traffic to come.