The Airport's New Market
1897 Market will officially open next week at Charlotte Douglas International Airport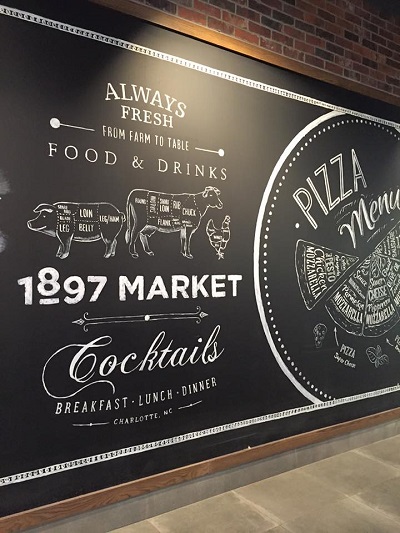 Next week, Charlotte Douglas International Airport will step up its food game yet again. 1897 Market will officially open on June 16 with a ribbon cutting event. The restaurant, operated by HMSHost, focuses on integrating the feel of a specialty goods market with chef-driven dining in an urban setting.
1897 Market promises cocktails, breakfast, lunch, and dinner, along with a pizza menu (pizzas made possible by a woodstone oven) artfully illustrated on a large blackboard wall. We spy a slice with onion, arugula, pesto, chicken, and mozzarella. Although, for purists, we also spot a more classic sauce, cheese, pepperoni, and mozzarella combination.
There's also word of a raw bar and carvery for deli fresh and seafood fresh options. Craft beers, cocktails, and classic drinks are also available.
A few more culinary highlights include:
Shrimp and grits featuring Adluh stone ground grits from Columbia, SC, finished with white cheddar, a tomato, onion and white wine ragout, and all topped off with a simple arugula salad.
Need a steak? The steak frites is a salt and peppered 8oz Coulotte served with whiskey peppercorn cream sauce and a healthy portion of parmesan herb fries.
The farmhouse salad features salt-roasted beets tossed with greens in a honey walnut vinaigrette, all finished with goat cheese and shaved radish.
We're always happy to welcome another restaurant to help us forgot about long lines at security, delayed flights, or general chaos at the airport. Cheers, 1897 Market!