The American Apple Pie
Indulge in Crave's all-American apple pie—without the guilt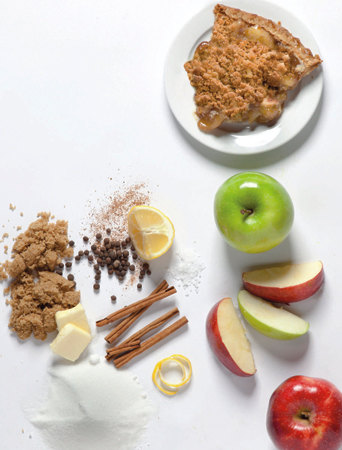 North Carolina is the seventh largest apple- producing state in the nation—and there's no better way to take advantage of the state's bounty than with a gorgeous apple pie.
In this version of the classic dish, from Executive Chef Jason Lee at Crave, a few minor substitutions reduce the calories by half. The result tastes just as indulgent as the conventional version, so you can feel a little less guilty about topping it off with a big scoop of your favorite ice cream (or frozen yogurt).
For the crust: whisk flour with sugar and salt. Cut butter into small pieces and rub into flour mixture with your hand. Add sour cream, oil, and water, and then mix until combined. On a clean surface, knead mixture until dough forms. Divide dough in half, wrap, and refrigerate for at least one hour.
For the filling: combine apples, brown sugar, lemon juice, and spices in large bowl. Remove 4 cups of the apple mixture and set aside. Cook remaining apples over medium heat until tender, about 10 to 15 minutes. Remove from heat, add uncooked apple mix and flour, and let cool for 30 minutes.
Preheat oven to 425 degrees. Remove dough from refrigerator and let stand 5 minutes. Roll dough into a 12-to-13-inch circle between parchment or wax paper. Place pie in a 9 1⁄2 inch pie pan and place filling into crust. Flatten remaining dough into 12-13 inch circle for topping. Using fingers, seal edges of pie with dough.
For topping: combine sugar and cinnamon. Whisk egg white to coat topping of pie. Sprinkle with sugar mixture.
Cut vents into top of pie for ventilation. Bake on bottom rack for 20 minutes. Reduce heat to 375 degrees and bake until golden brown, about 20 to 30 minutes. Let cool for about 1 hour before serving.
Tip: If you want to make a traditional apple pie with a top crust, double the dough recipe and cover the pie with foil for the first 15 minutes of baking.
Tip: Let the dough come to room temperature before rolling it out—if you work with it when it's too cold, the dough will crumble.
Tip: Pre-cooking some of the apples decreases the baking time for the pie and creates a nice texture filling.
Tip: Choose cooking apples, such as Granny Smith, Gala, or Jonagold (or even a combination), which stay firm during the baking process.