The Art of Drinking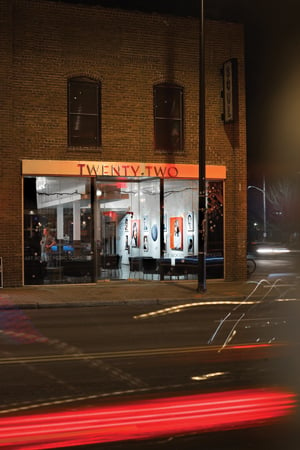 What: Twenty-Two
The 411: Bars and lounges displaying art on their walls is nothing new, but an art gallery that doubles as a bar and lounge is a new concept for Charlotte. Open since November in Plaza Midwood (on the first floor of the building that also houses Soul Gastro Lounge), Twenty-Two's motto is "Art, booze, music, schmooze."
Vibe: It has all the trappings of a fine art gallery — white walls, track lighting, and shiny floors. While dozens of pieces of art for sale hang on the left and right walls, the center of the space is filled with black leather chairs grouped in fours around coffee tables. The bar at the back of the room completes the modern décor with wide, rectangular stools (sans cushions) lined up at the stone and metallic bar.
Who's There: Art lovers and trendy Plaza Midwood types sip drinks like pink sparkling sake as they peruse the works. A recent group show called Facets included pieces from more than thirty local artists.
What Sets It Apart: The fact that it's an art gallery where people hang past midnight. While the bar doesn't sell liquor, the carefully selected wine list more than makes up for it. Choose from about thirty wines sold by the glass or bottle. The drink menu also includes about thirty beers, with eight of those on tap, and nearly a dozen sakes.
Hours: Wed.-Sun., noon until late (most nights until 2 a.m.).
Where: 1500 Central Ave., 704-334-0122, gallerytwentytwo.com.