The Avetts' Arrival
On the cover of the October 2005 issue, this magazine proclaimed the Avett Brothers as the local music scene's best hope. This month, the band starts making good on that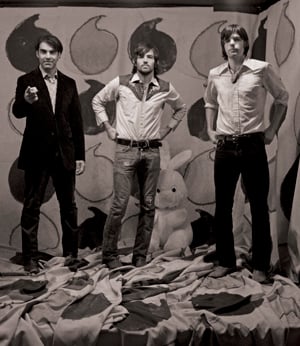 It's the night before New Year's Eve 2008. More than two thousand fans dance, stomp, slosh beer, and sing along as the Avett Brothers, dressed in denim street clothes, ignite the normally staid Belk Theater floor. It's a familiar scene, chaotic and organic, evoking the kind of dedication heaped on better-known rock-and-roll veterans. It's the end of a banner year that found the Avetts headlining Merlefest, performing for more than 7,000 fans in Cary, announcing a spring 2009 opening slot with the Dave Matthews Band, and, oh yeah, signing a contract with Columbia/American Recordings (Neil Diamond, ZZ Top).
As if that weren't enough, Grammy-winning production guru Rick Rubin (who heads up the American label) would produce the follow-up to the band's breakthrough Emotionalism. Rubin has a knack for not so much reinventing artists as refashioning them. He introduced the ultracool Johnny Cash, then in his sixties, to a new generation with the Man in Black's versions of alternative classics like Nine Inch Nails' "Hurt." He took a postcontroversy Dixie Chicks, who had been ostracized by the country disc jockeys that made them stars, and crafted a multiple-Grammy-winning pop crossover that served as a middle finger to conservative critics. He engineered comebacks for Metallica, Neil Diamond, and the Red Hot Chili Peppers. But with nothing to come back from, what would the result of the collaboration be?
"The goal was to get the listener as close to the artist as possible through listening to the new album," Rubin says via e-mail, adding that it was the "sincerity of their songs" that attracted him to the project.
That sincerity is evident on the song "January Wedding," about Seth Avett's 2008 nuptials. Songs like it are as personal as most of us will get with the band. Although you may run into Seth grabbing a cup of coffee at Amelie's French Bakery or in the audience when friend Jessica Lea Mayfield plays Visulite, you don't see the band members bellied up to the bar at Snug Harbor ("I'd rather be watching 20/20 at home," says new father Scott Avett).
Other tracks on the new CD are broader, addressing the changes that may be ahead for the band. Many, however, predate the record deal. "You write these types of songs because you kind of fantasize about [popularity]," Scott says. "I've been hesitant with those kinds of songs. You hear interviewers say when a band starts writing about the music business that means it's over or if a band starts wearing leather pants. … This is where we're at [in our lives]. Although when [bassist] Bob Crawford starts wearing leather pants, we're in trouble," he adds, laughing.
Fans need not worry that Rubin's hip-hop and metal background will somehow alter the Avetts' sound, at least not much. No amount of production could erase Scott and Seth's rich brotherly vocals, the scuttle of ragged banjo and furiously strummed acoustic guitar, or Bob Crawford's thumping upright bass. I and Love and You sounds like the Avetts with fewer whoops and stomps, but what may throw fans is its favoring of piano over banjo. Rubin didn't expect that either.
"I don't think he expected we were going to come in with piano songs. I think he expected to make a record with stringed instruments," Scott says. The group wasn't trying to go Grey's Anatomy on the audience, though. "When we went to studio [to do the demos] we found piano and drums were most appropriate to get these basic tracks down."
Less banjo may mean the Avetts can finally shake those inaccurate bluegrass labels that have haunted them since the band's inception. "If [David Bowie's piano-heavy] Hunky Dory is a rock record then this is a rock record," says Scott.
Classifying the Avetts has always been a struggle for reviewers who've tagged them as grungegrass and folk-punk. Scott wavers between country and rock. "As we grow older, we're country musicians. We're country songwriters. We grew up in the country. That's what we listen to most," he says. But then again, "if Neil Young is rock, we're probably rock."
The Avett Brothers play August 8 at Bojangles Coliseum. When the show was announced, the band promised to make available I and Love and You. Since then, the CD release date has been pushed back to September 29, but the Avetts promise "something special" for fans at the show.
What's Next for Ramseur?
The Avett Brothers' graduation to the majors means its Concord-based independent label, Ramseur Records, has lost its flagship act. Label owner Dolph Ramseur remains the band's manager. Ramseur continues to put his money where his heart is—with artists whose songwriting and live performances come first. And he hopes some of his artists can follow the Avetts' example. "I think the days of being a great band and sending in a demo tape to a major label and the label then signing you and putting millions of dollars behind you [is over]. Major labels want bands that are up and running and that have a fan base."
Ones to Watch
Samantha Crain and the Midnight Shivers: This petite alt-country songstress may be Ramseur's next breakout star. Her latest, Songs in the Night, has garnered glowing reviews in Rolling Stone, The New York Times, and The Washington Post.
Frontier Ruckus: Ramseur's latest signing is a rootsy Michigan outfit that punctuates its harmonies, matter-of-fact singing style, and traditional instrumentation with less-common singing saw, melodica, and trumpet. Expect its Ramseur debut in early 2010.
The Duke and the King: Felice Brothers drummer Simone Felice and Robert "Chicken" Burke make up this late 1960s folk/AM radio singer-songwriter-oriented throwback whose debut is being heralded for its songwriting.