The Baker Mitchell Charter Scheme
Repeat after me: 'I pledge to be obedient and loyal to those in authority ...'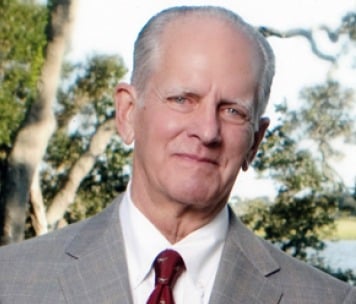 Try to forget for a minute the outrage of wealthy businessman Baker Mitchell using North Carolina's nascent charter school system to funnel millions of public dollars through four Wilmington-area charter schools he runs to private companies he controls, as detailed in an outstanding piece of reporting by ProPublica this week.
Set aside the obvious conflict of interest in that arrangement, and Mitchell's none-of-your-damn-business attitude about it: "It's so silly. Undue influence, blah blah blah." (He actually said that.)
Look past his service with Art Pope on the John Locke Foundation board, and the world of symbolism in this paragraph:
To Mitchell, his schools are simply an example of the triumph of the free market. "People here think it's unholy if you make a profit" from schools, he said in July, while attending a country-club luncheon to celebrate the legacy of free-market sage Milton Friedman.
Turn your attention to the pledge that students, faculty, and staff at his schools are required to recite every morning just after the Pledge of Allegiance. The pledge contains these lines:
I pledge to be truthful in all my works,
guarding against the stains of falsehood from
the fascination with experts,
the temptation of vanity,
the comfort of popular opinion and custom,
the ease of equivocation and compromise, and
from over-reliance on rational argument …
I pledge to be obedient and loyal to those in authority,
in my family,
in my school, and
in my community and country,
So long as I shall live.
"The stains of falsehood … from over-reliance on rational argument"? What? The philosophical basis for this bizarre statement—which, again, adults and children are required to recite every day—is the example of Roger Bacon, the medieval scholar and Franciscan friar who lends his name to the company that manages Mitchell's charter schools.
You can read here about Bacon's extensive study of the science of alchemy, and here about his view of the relationship between insight and science: "Of all kinds of experience, the best, he thought, was interior illumination, which teaches many things about Nature which the external senses could never discover, such as the transubstantiation of bread."
Students are being taught this superstitious garbage, with taxpayer money, which then lines the pocket of the provider. What the hell have we let happen to education in this state?