The Batchmaker Set October Opening Date for New Batch House
After a flash flood destroyed her beloved bakery, Cristina Rojas-Agurcia, a.k.a. "The Batchmaker," is back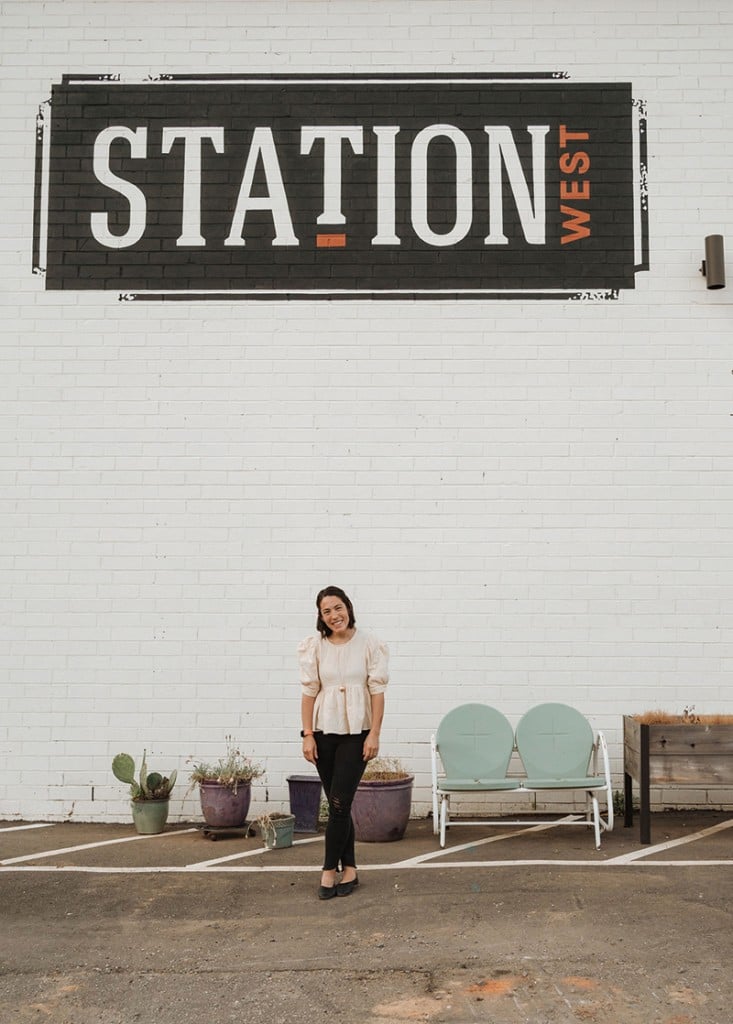 FROM THE DAY the Batch House opened in Wesley Heights in October 2019, a line of customers usually wrapped around the red brick building, hoping to get a Caramel-Stuffed Brownie or Dirty Oreo Truffle before they sold out. Cristina Rojas-Agurcia—Cris, as her regulars call her—was often behind the counter, chatting with them about the puppy they'd rescued or the baby shower they'd hosted. If she mentioned she'd run out of cream cheese, customers would show up with a fresh supply. The 34-year-old mom of two hosted monthly Saturday-morning story times and made treats to go with the week's book selection.
In November 2020, after an already crushing year for the food and beverage industry, a flash flood destroyed the Batch House. The kitchen was submerged in four feet of water that ruined the coffee machine, freezer, cash register, and countless ingredients. An army of friends and neighbors helped with the cleanup, and Venmo donations poured in. The #strongasabatch hashtag followed Rojas-Agurcia on social media. But she was shattered. "I gave it all my energy, my time, and my love," she says, "and what nearly broke me was that I had nothing physical to show for it."
***
SEVEN YEARS AGO, Rojas-Agurcia pursued her master's degree in clinical mental health as she baked oatmeal crème pies, s'mores brownies, and snickerdoodle cakes and sold them from her Highland Creek home. Baking was always a hobby for the Honduras native, who is self-taught and says everything she makes is something she's craved and thought through while she runs. She made elaborate layer cakes for weddings and birthday parties and sold "batch boxes" with assorted seasonal treats through her Facebook page, but by 2017 she couldn't keep up with demand. Her husband, Pablo, a creative director and designer, set up a website for "The Batchmaker," the name he coined for his wife in 2013.
Rojas-Agurcia put her clinical hours on hold and started looking at spaces to expand the business. When she stumbled upon a vacant coffee shop next to LaCa Projects, a contemporary art gallery, the Batchmaker knew she'd found her place. She decorated it with botanical wallpaper, hanging plants, velvet couches, and a wall of vintage china plates so it "felt like walking into your grandma's house," she says. The Golden Girls-themed bathroom was a nod to her favorite TV show.
***
AFTER THE FLOOD, Rojas-Agurcia moved to The City Kitch, a nearby commercial kitchen, to finish her holiday orders and keep her "girls" employed through Christmas, but she stopped all production in January. She stepped away from social media and "tried to disappear for a bit," she says, "and I logged back in only to read hundreds of messages from people saying what the Batch House meant to them and how much they missed me or my girls. I realized it was never about just the treats."
She began looking at new spaces. In March, she announced she'd reopen in Station West, a mixed-use project at 901 Berryhill Road in west Charlotte. The 1,500-square-foot space was a "gray shell" in need of a full commercial kitchen. She installed a coffee bar that will serve drip coffee and a rotation of draft flavors like her popular Tres Leches. A glass pastry case will display signature treats and quirky confections like Peanut Butter and Jelly Pop Tarts and Batcheroos, her homemade spin on Dunkaroos. And the exterior, she's decided, will be pink. "It will be 'granny chic' times a million," she says.
As she rebuilt the Batch House, Rojas-Agurcia knew she wanted to give back to the community that pegged her #strongasabatch, so she's unrolling a charitable initiative called Cookies for Counseling. "We'll donate a percentage of all cookie sales to people who can't afford counseling," she says. "It's a way to tie both of my worlds together." She'll also cover counseling costs for any staff members who need help.
***
WITH HER GRAND OPENING set for Oct. 9, Rojas-Agurcia can't wait to bring back the girls she had to furlough and catch up with her regulars over oatmeal crème pies. The kitchen will once again smell of Chocolate Puddle Cookies fresh from the oven, the bathroom will have a new collection of Golden Girls trinkets and décor, and Cris will reclaim her spot behind the counter to greet her customers—and thank each one for being a friend.