The Best Non-Surgical Solutions Plastic Surgeons Can't Stop Talking About
Solutions that fight cellulite, define your jawline, and melt off the fat with minimal downtime? Yes, please. According to the experts, here are the non-surgical devices that are worth the investment.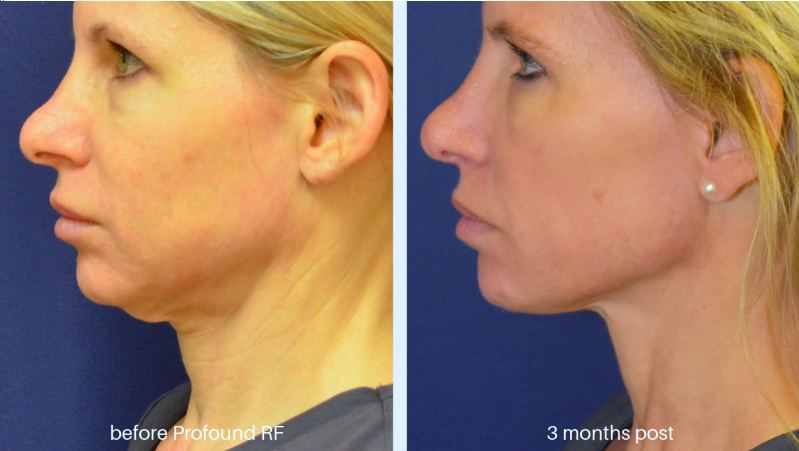 From creams that claim to smooth out cellulite to skin rollers that promise flawless skin—there are dozens of non-surgical devices on the market today that promote physical results. However, according to the experts in aesthetics at The Skin Center by Charlotte Plastic Surgery, very few of these "solutions" are actually able to deliver on their claims.
A Charlotte mag BOB Winner for "Best Plastic Surgery Practice" four years in a row, Charlotte Plastic Surgery (CPS) is a local leader in cosmetic skincare. We asked CPS's experts what non-surgical devices really work and which ones are a waste of money, and we were surprised to hear the truth.
For real results that are worth the investment, here are what the experts consider to be the best non-surgical solutions on the market today.
If you want… Skin tightening and cellulite reduction
You should try… Profound® RF
"Profound is the most robust non-surgical skin-shrinker that we have," CPS's Dr. Kevin L. Smith says. "You receive 50 percent of the results of a facelift, so it's a great option for patients who aren't ready for surgery yet, and it's proving to be very effective at the treatment of cellulite on the thighs and buttocks."
What is it?
Profound is a high-tech microneedling device that uses radiofrequency heat to shrink and tighten tissue. What this means for you is younger, more elastic skin in areas such as the face, the thighs, the stomach… basically anywhere you want to see your skin get that "snap" back.
Profound can help you achieve the chiseled jawline you've been wanting; it can get rid of the jiggly skin above the knees; it can help prevent the need for a facelift down the road. Its most noteworthy feature, though, is its unmatched ability to fight cellulite. There really hasn't been a proven, clinically-effective treatment for cellulite on the market up until this point, but Profound is proving to be the option every plastic surgeon is talking about.
How does it work?
The treatment area is numbed with local anesthetic, and nitrous oxide can also be used to further enhance your comfort. The device pushes small needles deep into the skin which heat to a specific, controlled temperature. The heat stimulates collagen, elastin, and hyaluronic acid production (the building blocks of youthful looking skin).
Results
Results can be seen as soon as three to six months and last approximately 5 to 10 years.
Investment
Downtime is about one week with mild bruising. Pricing is customized based on the treatment area, but it starts at $3,500 for the face and $4,000 for the body. (Price includes consultation and post-treatment product regimen kit.)
⭐️ Insider Tip: CPS is giving away a free year of Botox! Click here to enter now; contest ends October 31, 2019.
---
If you want… Real fat reduction with minimal downtime
You should try… CoolSculpting®
"CoolSculpting just keeps getting better and better every year—it's not surprising that over 3 million successful treatments have been performed worldwide," says Emily Merrick, CPS's Master CoolSculpting Technician.
What is it?
By now, you've probably heard of CoolSculpting and the amazing way it contours your body without surgery or downtime. CPS's experts say CoolSculpting has always been effective, but now it's better than ever with new applicators, better technology, and more FDA-cleared areas to target than before.
How does it work?
After a thorough assessment, your "fatty area" is measured and marked. The perfect CoolSculpting applicator is chosen and lowered onto the area. Your fat is gently sucked into the applicator head and is cooled down to -10 degrees Celsius—just cold enough to kill fat cells but perfectly safe for your skin and other tissue. It isn't painful; the area goes numb during treatment and you can relax, read a book, or work from a laptop while killing your fat. The damaged fat cells are processed and removed by your body.
Results
Results can be seen as early as four to six weeks with full results at around 90 days.
Investment
There's no downtime. You can go right back to work immediately after or even work out the same day. Pricing starts at $750 for one treatment to one area and goes up from there. The final cost depends on how many areas are being treated and how many treatment sessions you will need to reach your goals (more than one session is typically recommended for best results).
---
If you want… Muscle tone and strengthening
You should try… CoolTone®
What is it?
CoolTone is a brand new FDA-cleared device by the makers of CoolSculpting that is shown to improve the tone, strength, and firmness of muscles in the abdomen, buttocks, and thighs. The technology itself has been around for a long time—the government looked into it to prevent astronauts from losing muscle tone, and it was tested on professional athletes to keep them in top condition.
How does it work?
CoolTone uses electro-magnetic muscle stimulation to induce thousands of muscle contractions in a single session – over 20,000 muscle contractions in thirty minutes. The process is simple: the device is strapped to your abdomen, buttocks, or thighs and begins sending signals to the muscles to contract. The body's response to these contractions is to strengthen its muscle fibers, resulting in improved muscle conditioning. Your abdomen, buttocks, and thighs are firmer and have a more defined and toned appearance.
Try it
Because this is a brand-new product, we don't have results and investment estimates to share. If you'd like to be one of the first to use this revolutionary aesthetic technology, CoolTone will be available at The Skin Center by Charlotte Plastic Surgery in fall 2019.
---
If you want… Vaginal rejuvenation
You should try… ThermiVa
®
"My patients are blown away by how easy this procedure is and how immediate their results are, Tiffany Moore, RN and ThermiVa Technician, says. "The lack of discomfort combined with zero downtime makes this one of our most sought-after treatments to help women reclaim their feminine wellness."
What is it?
ThermiVa is a vaginal rejuvenation device that helps with a broad range of feminine health issues, such as stress urinary incontinence (bladder leakage), loss of lubrication, loss of sensation, and inner & outer tissue laxity. The technology is similar to other radio-frequency devices in that it stimulates rejuvenation through the application of gentle, comfortable heat application.
How does it work?
Whether it's from childbirth, the onset of menopause, or even just general aging, a woman's intimate areas can change with time. The ThermiVa device is a great non-surgical solution—it applies gentle radio-frequency heat energy to stimulate internal and external tissue shrinkage plus an increase in the production of collagen and elastin. The results are immediate and overwhelming—most women report a return to feminine function, better sensitivity during intercourse, improved lubrication, and a more youthful physical appearance even after just one treatment.
The treatment is very comfortable and takes anywhere from 45 minutes to an hour. Your privacy and comfort is top priority during this treatment, and the sensation is often compared to that of a warm stone massage.
Results
The results are immediate. Three treatments spaced two to three months apart is recommended for optimal results with a maintenance treatment once per year afterward.
Investment
There's no recovery time—you can even resume sexual activities that same evening.
---
Do you want to learn more about these amazing non-surgical treatments? Schedule a no-obligation, free consultation by calling The Skin Center at CPS at 704-372-6846, or visit them online to sign up for their monthly emails, look for upcoming events and promotions (such as the amazing free year of Botox giveaway going on now!), learn about new treatments and technology, see real procedure demonstrations, shop the online store, or get to know why they're the experts in non-surgical aesthetics in Charlotte.