The Best of Summer Shopping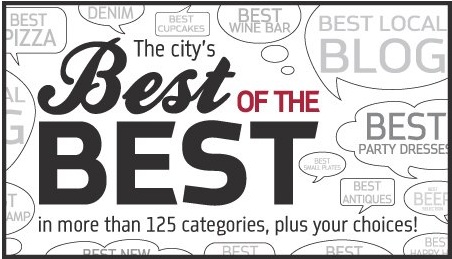 For those of you who haven't been keeping up (shame on you!) Charlotte Magazine's May 2010 issue was all about the Best of the Best in Charlotte. Of course, I flipped right to the best of the best in local shopping! After reading about all these great stores, I had to see them for myself, and I had the perfect excuse: checking out all the great stuff they've got in stock for summer. With a map in hand and a good pair of flats, (and of course my copy of Charlotte Magazine) I was ready for some serious investigation!

Hong Kong Vintage & Recycled– Winner Best Vintage Clothing
I must admit, while I like the idea of vintage shopping, you never quite know what you are going to get – and I am not one to spend a lot of time sifting through piles of old clothes. But Hong Kong doesn't disappoint! It was so organized and full of great summer finds – especially in the t-shirt and the accessories departments. Most of the t-shirts were in the $12 range, so stocking up for summer is affordable!
Paper Skyscraper– Winner Best Stylish Gifts
This store is a dream. I could spend hours in here. (And when I say I "could" I mean that I definitely have) If you're looking for a gift to give a graduate this spring, this is the place to find them something unique and creative (no, they do NOT need another copy of "Oh The Places You'll Go." Trust me.) Don't have endless hours to browse? They've got a very convenient shelf with a big sign reading "Grad Gifts" to make shopping for that student a breeze.
Laura James Jewelry– Winner Best New Boutique
Laura James has designed an accessory to go with any outfit you could possibly come up with – and I wanted them all. This is also a great place to find a personal, special gift for a graduate (hint, hint Mom!). Perhaps my gift idea for a stylish grad were the metal bracelets and necklaces that Laura can custom stamp with the grad's name, school or even their graduation date! Right now you can enter to win a $100 shopping spree at Laura James' cute boutique. Get the details right here.
K.La– Winner Best Boutique Clothing at Non Boutique Prices
Summer is definitely in stock at this affordable store! I love their collection of unique daytime dresses (light and airy – perfect for summertime), and their brightly-patterned light weight scarves. K. La is also a great place to stock up on bold statement jewelry, much of which is just $20-$40. Don't miss their table full of sunglasses – they are as adorable as they are affordable.
E Martini– Winner Best Bathing Suits
While perusing the racks at this SouthPark swim boutique, I couldn't help but be overwhelmed with the great selection they carry. I saw suits in every, price range, style and color of the rainbow. There was also a wide variety of cover ups that look more like cute dresses than something you throw over a bathing suit – in fact, there were more than a few I'd wear even if the beach is no where in sight!
Have you visited any of Charlotte Magazine's Best of the Best locations recently? Are you still steamed that we missed your favorite one? What styles are you most excited about donning this summer? Let us know your thoughts in the comments!