The Best of the Best
The awards have been given; now it's time to party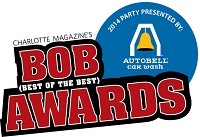 It was a photo finish for many, but myself and the other foodies of Charlotte magazine narrowed down the vast selection and chose the best restaurants in Charlotte via their respective categories.
If you haven't or hadn't picked up the May issue of the magazine and missed it, a few highlights for the staff picks and Best of the Best were Stagioni for Best New Restaurant; Bella Fresco for Best Gelato; Orrman's for Best Grilled Cheese; and Crepe Cellar for Best Brussels Sprouts.
Luckily for you, the focus of this year's Best of the Best party IS the food, so you'll have a chance not only to mingle, but to taste the fancy fares of some of Charlotte's best restaurants, many of which have won a Best of the Best award either this year or in the past.
This year's event which is sponsored by Autobell Carwash will take place on Saturday, May 31, from 7-10 pm at The Fillmore Charlotte. Tickets are $18 per person BUT, because I am so kind, I am offering a promo code which will get you 20% the entry price. Simply go to the BoB website and enter in code DINEBOBS above the green "order now" button (it says "enter promotional code" directly above). You're welcome.