The Best Private School Programs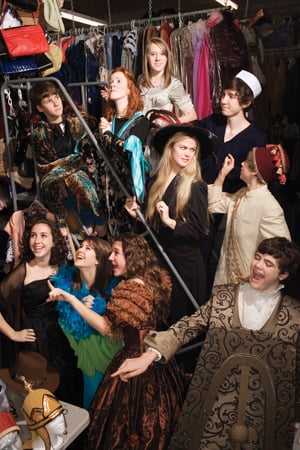 When it comes to your child's education, you want only the best. So instead of sifting through countless brochures and online media kits, we've found it for you. Our list of the best private school programs in Charlotte examines the leading drama and science programs, strongest sports teams, tech-savviest schools, and more. Because sometimes you need the CliffsNotes version. (See our chart: How the Area's Private Schools Stack Up)
By Michelle Boudin, Evans Craddock, and Annie Monjar
Band
Charlotte Catholic
Private schools are often much smaller than public, making it pretty tough to field an entire marching band. Not a problem at Charlotte Catholic, one of the only private schools in North Carolina with a marching band. So dedicated are the students—even though many play sports and participate in other extracurricular activities—that five made all-state band last year. Many audition and regularly play with the Charlotte Youth Symphony. How do they keep up their musical chops? One-on-one playing time with Charlotte Symphony players is part of the marching band curriculum. Next stop: in March Catholic heads to Ireland to play in Dublin's St. Patrick's Day parade.
Baseball
Charlotte Christian
It's had more graduates play NCAA Division I baseball than any other school in the state. Last year not one, not two, but twelve different national polls ranked Christian's baseball team in the top fifty (usually in the top twenty, if you're counting). The team is also the defending NCISAA champions and has won state titles nine out of the last eleven years. The head coach for twenty years, Greg Simmons, says it's a Field of Dreams thing. If you build it, they will come. "We have a great school, with a great foundation, so we get great athletes," says Simmons. That's one school hitting an awful lot of home runs.
Community Service Program
Charlotte United Christian Academy
It's not often that you find a school where your dedication to the local food bank has as much weight as your grade in bio, but CUCA asks its students to excel in both. In fact, the school's Warriors in Service Program requires that its high school students log 104 hours of community service during their four years, even giving out awards to students who reach more than 200 hours. The program puts students to work at organizations including the Red Cross and Crisis Assistance Ministry, giving them more opportunities to give back.
International Studies
Providence Day School
Earning just a high school diploma is so last year. Thanks to PDS's Global Studies program, upper-school students can apply to earn their Global Studies Diploma, too. Students in the GS program are required to take intensive classes on global issues and citizenship as well as comparative government and politics. To truly experience international study, students also participate in an exchange program during which they either travel to another country or host an exchange student. If the program itself is a bit too intense, students can jet off to one of the many guided trips, such as the art history tour of Italy or the upper-school summer trip to Costa Rica, a science-based tour that lasts eleven days and allows students to explore places like rain forests and organic coffee farms.
Community Service Program
Charlotte Country Day
For two days every April for twenty-seven years, Charlotte Country Day's upper school puts down its pencils and books and picks up its starting guns and stop watches for the Special Olympics Mecklenburg County Spring Games. Seniors help organize and run the opening ceremony at Bojangles Arena, where more than 800 athletes gather to light the torch for the two-day games on Country Day's campus. Students and faculty set up and judge almost fifty events, assist athletes getting ready for competition, and act as cheerleaders, bringing together the whole school for this hands-on, big-scale program.
Men's and Women's Swimming Program
Charlotte Latin
Latin's fifty-meter pool, owned and maintained by SwimMAC Carolina (where Olympic swimmer Cullen Jones trains), lets the whole school get its feet wet. Latin's facility draws competitive swimmers from all over the Mecklenburg area, and for good reason: the school boasts a legacy of nineteen state championships and twenty-eight high school All-Americans. But it's the team's easy daily access to the pool—not to mention a long tradition of hard training (and, of course, winning)—that have helped this swim program make a statewide splash.
Technology
Providence Day School
Everyone else is getting their news online, so what's stopping students? Well, nothing. This year, PDS upper-schoolers launched their first-ever online newspaper, The Charger, where students use tools like Flickr to run photo streams of the latest school happenings. And when these tech-savvy students aren't busy catching up on the news, they're using Google Docs to revise their English papers, creating blogs for science class, or turning in their homework via Turnitin.com. Uncertain about today's lesson? No problem. Some teachers are available on Skype to answer last-minute questions.
Science/Nature
Trinity Episcopal
Students at Trinity Episcopal aren't afraid to get their hands dirty. They slip on their wading boots and plastic gloves and head down to Sugar Creek one or two times a month to test water quality so they can learn more about local ecosystems. The intensive learning doesn't stop there—students tend to butterfly and herb gardens as part of Trinity's Garden Curriculum, which focuses on teaching responsibility and discipline. Not enough science time? Trinity's classrooms are host to experts such as National Geographic explorer Luke Dollar, a conservation scientist who's doing research in Madagascar.
Outdoor Education
Omni Montessori
At Omni Montessori, seventh- through ninth-graders put their classroom in order every day—in their case, by tilling the fields and feeding the hens. The Program for Adolescents at Omni Montessori brings kids to the school's thirteen-acre Land Lab, where they spend two afternoons a week in "occupations," such as sawing wood to build new fences or picking vegetables out of their organic garden to be sold at the Waxhaw Farmers Market. In the classroom teachers give context to lessons already learned out in the fields, such as soil chemistry or division of labor. The program teaches students the basics of commerce, something a take-home multiplication sheet just can't do.
Mock Trial
Charlotte Country Day
Students at Charlotte Country Day are allowed to get in fights at lunch. In fact, it's encouraged. That's because arguing strategically has them winning mock trials throughout the state. CCD has one of Mecklenburg County's most successful mock trial teams (out of both private and public schools), winning four out of five of last year's moot court competitions (mock court proceedings where students must argue both sides of a case) and recently placing fourth in the state in the mock trial contest.
Men's Cross-Country
Providence Day
"Is the streak alive?" Alumni care so much about this team and its decade-long winning streak that they check in with coach Ben Hovis each October to make sure PDS's men's cross country team is on pace with those that came before. This year the team won its tenth consecutive conference title. (The guys also won state titles from 2005 to 2007.) And they must really like each other—every Thanksgiving there's an alumni run to get everyone back together. PDS runner Lewis Woodard won the individual state title in 2004 and 2005.
Football
Charlotte Latin
This is the South, where high school football is as important to the fabric of life as barbecue and grits. And while Charlotte Latin actually had a losing season, it was way back in 2002. Ever since then, the program has taken off under head coach Larry McNulty. You might say: the Hawks have been NCISAA football champs five of the last seven years—including last year—and have played in the state championship game every year since 2003. Recent graduates currently play at the University of Pennsylvania, Duke, and UNC-Chapel Hill. There's even a Hawk alum, Chris Cantey, playing for the NFL's New York Giants.
Women's Softball
Hickory Grove Baptist Christian
The school may be small and the team young, but this team has already hit it out of the park. Since HGBC began offering varsity sports for its students seven years ago, the women's softball team has made the state playoffs every single year. And, oh yeah, they've won a few championships recently, too—including the state crown for independent schools the past four years.
Learning Disabilities
The Fletcher School
At The Fletcher School kids need to "see it, hear it, do it." It's a philosophy that has helped the school's students, who struggle with disorders including ADD and dyslexia, and it's working. Using tablet laptops (computers with special screens that already have outlines of the teacher's notes) to help with note taking, students here are exposed to the best in learning technology and also have the advantage of a six-to-one student-teacher ratio, making the learning experience much more personal. The techniques are clearly working: 100 percent of Fletcher students are accepted to college.
Broadcasting
Charlotte Christian
Don't be surprised if you see some students from Charlotte Christian on Saturday Night Live and others on NBC's Nightly News. Students who sign up for Knights Knews, a program that teaches students to produce weekly school announcements as well as sports and entertainment clips, produce their own YouTube channel, which is chock full of entertaining and well-produced videos. ("How to Greet People" and their own version of a Snuggie commercial are just two examples.) Every semester students cover topics including television news broadcasting, production, and moviemaking, and even learn how to edit film. And just like in the real world, admission into the program is very competitive.
Critical Thinking Program
Davidson Day School
There aren't many schools where second-graders analyze Wall Street or tenth-graders propose detailed solutions to logging in the Amazon. But Davidson Day's EXL Program gives students these real-world brainteasers and pushes them to come up with the answers. In K-8, students work in EXL Impact Groups to take on a particular challenge, like designing a business model for a toy company, or simulating the stock market. High schoolers independently pick a global issue (think terrorism or climate change) and then present a researched solution to the school's headmaster. And we thought algebra II was tough.
Visual Arts
Providence Day
A few years ago Providence Day decided to concentrate more on the process than the product. Translation: classes focus on making sure students are really learning the technique—be it painting, pottery, or photography—rather than just churning out something to enter into an art contest. Here, there's something for everyone. If you can't paint, try ceramics. If pottery isn't your thing, try set design. Plus, PDS teachers offer individualized attention, which means more one-on-one time. Students can take up to two classes a semester in visual arts, including art history, clay making, architecture (they learn to read blueprints and design their own homes), and photography (they use the school's dark room), interior design, weaving, and set design (students take field trips to local theaters).
Mentorship
Charlotte Preparatory school
Middle school can be a tough time to navigate for any kid. But each student at Charlotte Prep quickly becomes a big man on campus to at least one other student thanks to a unique mentoring program, BUD-E (Be Understanding Dedicated and Energetic), which helps students build character and leadership. For three years now middle schoolers have been paired with younger students in big-brother/big-sister fashion. Once a month the duos tackle different activities like creating video diaries, going on schoolwide scavenger hunts to foster teamwork, and doing other character-building activities.
Learning Disabilities (Reading)
Dore Academy
There aren't many programs with a student-teacher ratio of seven-to-one, but that's what Dore Academy offers students who have trouble with reading. The school, which focuses entirely on kids with learning disabilities, uses the Orton-Gillingham approach to teach dyslexic students. That means each lesson—based on books such as The Odyssey and The Great Gatsby—is taught three ways: students hear it, see it, and then actually do something hands on to make sure they truly understand what's being taught to them. For example, a teacher will say something aloud, write it on a smart board, and then instruct a student to use the word in a sentence out loud.
English as a Second Language
Charlotte Country Day
It's hard enough being a teenager these days. Now imagine going to high school in a foreign country. Charlotte Country Day makes it easier on English-as-a-second-language students because it's the only private school in North Carolina that offers an ESL program. Ten to twenty ESL students attend CCD each year, and the school offers them small private classes based on their individual English skill levels. The rest of the day ESL students attend classes with the rest of the Country Day kids. The ESL teachers also help students understand cultural nuances, including what to wear on a date and the meaning of "piece of cake."
Drama
Charlotte Christian
The Edinburgh Festival Fringe (aka the world's biggest arts fest) takes place in Edinburgh, Scotland, every year, with more than 2 million people attending. Among those who performed at the 2009 fest: a dozen of Charlotte Christian's best drama students. That's just Act One for this school. The audition-only drama team boasts several awards, including the 2008 North Carolina Theatre Conference Championship. The drama team is such a big deal that Charlotte Christian Theater has a season (at least nine different productions a year), it sells season tickets to shows, and it even has donors and sponsors. And the program's alumni seem to shine in the spotlight: a handful have gone on to NYU's prestigious drama school, and several more are in Hollywood working with agents.