The Case for Great Wolf Lodge
A cure for the common staycation and lingering existential crisis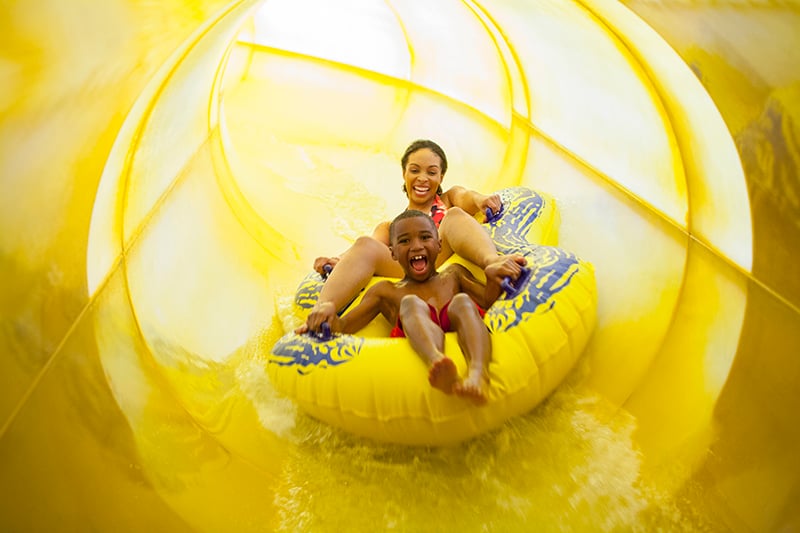 ALL NEW PARENTS have a memory from our pre-kid lives that, like a flashback in a movie, pops into our heads during trying times. The sort of moment that confirms what everyone told you about having kids that you simply did not—could not—believe would really happen to you. Mine is the memory of being barely 19 years old and boarding a plane bound for the Andean city of Cochabamba. I had little with me but a paperback copy of Lonely Planet Bolivia and a paltry budget, and I was totally alone.
Now, nearly two decades later, as my family prepares for our annual trip from our home in Huntersville to Great Wolf Lodge in Concord—20 miles, one overnight—I wistfully recall that casual ease and taste for adventure I once had. I'd had no idea that solo trips to places such as Bolivia would be a piece of cake for me compared to the endurance, perseverance, planning, and patience I'd need for a short excursion to Cabarrus County as a family of four. It doesn't get more humbling: Going to Great Wolf Lodge can kick my butt to outer space. Packing extra diapers. Planning around nap times. One year, I almost cried before arriving. But we keep going back, not only because it's so much fun—and it is fun—but because I have come to view it as my traveling-with-kids personal trainer.
For the uninitiated, Great Wolf Lodge is a national hotel chain centered around kid-focused, climate-controlled, all-seasons indoor water parks. The resorts usually have other attractions, including mini golf, ropes courses, multiple restaurants and cafés, arcades, and bowling alleys. There are currently 14 in the United Sates and Canada; Concord's opened in 2009. What Great Wolf sells is the promise of an antidote to boredom for the whole family under a single roof, without the expense and commitment of, say, Disney World. The catch? You can't use the water park unless you're spending a night at the hotel.
We expected, of course, to travel less when we first had kids, and that many adventures would have to wait until they were older; that it'd be more expensive to travel at all, ruling some locales out of the question. What I did not fully understand is that some parents of young children are not utterly walloped by the loss of freedom and flexibility in those early years. There are people who are, perhaps, only mildly walloped, and it's because they have help: Family members offer their time—woo boy, is that a biggie—or budgeting in a nanny is not a problem.
Things are very different if you want a change of scenery and are not those people. And for that reason, for the past five years, Great Wolf Lodge has become "our" trip. Great Wolf Lodge is cheesy, requires mastery of cognitive dissonance, and I completely love it. We have gone with an infant and toddler, the hardest year. We have gone with a toddler and preschooler, still hard. But each time, my husband and I enjoyed low-commitment escapism while still technically keeping an eye on our children. I don't know why this isn't on the marketing materials. Only once, this past year, with my kids now aged five and seven, did we go with two children who know how to swim, and for the first time, I felt a glimmer of confidence and freedom. We are, one day at a time, becoming people who can and will travel with children.
Every year, I get into the full vacation spirit and recommend that everyone in our family do the same. That means loading up on gas station Diet Coke and bags of Combos like we're trying to make it across three state lines before dinnertime, flip-flop feet on the dashboard, Led Zeppelin on the radio. Twenty-five minutes later, I like to cap it off with some light spousal bickering over where to park. But once we're in the pool, any annoyances and irritations fade away. Fake vacation, it turns out, can be just as satisfying and unexpected as real vacations.
Great Wolf Lodge's total devotion to theme starts in the multi-story lobby. There are fake pine cones on the lampshades, fake bears and wolves on the walls, fake log furniture, plaid everything. It manages to be completely charming and make me feel as if I've actually traveled somewhere, such as the Boundary Waters in Minnesota and Canada, or maybe an island off Maine. The rooms follow the same theme. But you are really there for the water park. With the exception of one outdoor pool, the pools and waterslides are all in a huge, vaulted indoor space.
In the decades I spent traveling abroad alone, I had to think about little more than my own backpack and having enough cash for a sandwich. But as hard as I've tried these past few years with kids, I simply haven't been able to shoehorn cheap, easy, and flexible into traveling with young kids. Maybe cheap, but rarely easy. Maybe easy, but not flexible. Never all three. There is no getting around lugging car seats, rental cars, picky eating, safe sleeping arrangements, and the cost of everything multiplied by four—forget airfares. I look forward to one day having the money and endurance to travel to far-off places with my children. But until then, I'll lean on my fake-carved-log crutch. It allows me the taste of that little bit of wanderlust I'll never lose an appetite for. Lonely Planet Concord Mills, take me away.
---
Here are my tips on maximizing your money and time at Great Wolf:
Access to the water park requires at least one night at the hotel. Room rates can easily reach $250-$400 a night, but we've never paid more than $200. To get this rate, subscribe to the emails. The emails are not annoying in volume, and contain coupon codes and specials. Expect to stay on a Sunday night or a weekday night to find rates in the $159-$179 range.
We always stay one night, but get nearly two full days of swimming. Here's how. Check-in is at 4 p.m., but that's when you get access to your room. You're allowed in the water park starting at 1 p.m. We like to arrive at 1 p.m., swim until check-in time, take a break, and then go back for more, including after dinner, as the water park doesn't close until 9 p.m. The next day, the pool doesn't open until 9 a.m.—this can be a bit trying with very young children who are bouncing off the walls at 6 a.m.—and checkout is at 11 a.m. But the great treat here for staycationers is that you can access the water park for the whole day you check out. We'll check out, go home for lunch and to let the dog out, and drive back for an afternoon and evening of more swimming. We've also found that one night with two days at the water park is plenty—you won't miss out on anything, but also won't get bored.
Great Wolf has several food options, some pricier than others, all better tasting than expected, but remember where you are (Concord Mills, home to every chain ever) and remember that every room comes with a mini-fridge and microwave. People get Panera delivered to the lobby. We always bring fruit and yogurt from home and store it in the fridge for breakfast. No judgment.
---
What you can expect:
Sweet relief from carrying 4,000 things back and forth from the car or room, the grinding agony of traveling with small children. Your room at Great Wolf is where you sleep. The indoor pool areas have changing rooms, good food, beer on tap, tables and chairs, lockers, towels, life jackets for all ages. You can bring your stuff poolside and stay all day. Fellow parents of small children know this is worth the trip alone.
A break from the vigilance of constant sunblock reapplications, the DMV line of outdoor swimming.
One small, shallow pool with slides and fountains devoted to very young children and their caregivers.
Signs encouraging you to buy things. The lodge has a ropes course, game packages, an arcade, kid spa packages, gifts, and stores, and a variety of other add-ons. We have never bought any of them, and are certain we didn't "miss" anything about the GWL experience on our trips.
The waterslides all involve climbing at least one flight of stairs and as many as three or four flights. How lazy do you want to be? This is a delightful vacation question for adults.
EMILY HARRIS writes for the New York Times and Reuters, among other publications. She can be reached at esabaum@gmail.com.