The Change Election
The young triumphed in Tuesday's city elections—and much of the establishment welcomed it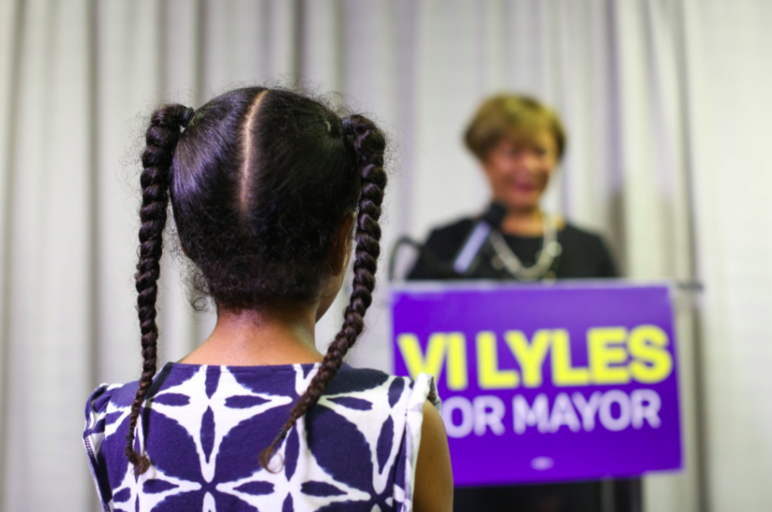 "It's a blue landslide," Larken Egleston, 35, the Charlotte City Council's new District 1 representative, remarked at 9:12 p.m. Tuesday as the election results flooded in. Egleston was a little sweaty as he entered a side room at VBGB Beer Hall & Garden at the AvidXchange Music Factory, where another young revolutionary, Braxton Winston, 34, was on his way to a solid second-place finish in the race for four at-large council seats. Egleston, unopposed in the general election after a primary triumph over longtime incumbent Patsy Kinsey, didn't have to worry about the results. So he was hopping from one presumed victory party to another on a muggy night.
The winners weren't that surprising, but their margins of victory were. The Charlotte mayor's race was expected to be a virtual dead heat. Democrat Vi Lyles, who soundly beat incumbent Jennifer Roberts in the primary, ended up beating Republican Kenny Smith—a well-funded, experienced, and intelligent candidate who ran an aggressive campaign—by several lengths: 59 percent to 41, and more than 22,000 votes among fewer than 125,000 ballots. A GOP that hoped to erode Democrats' lock on the council majority will endure another two years of nine Democrats on an 11-member board. Despite nasty weather and predictions of a widespread voter apathy bug, turnout hit 21 percent—far outpacing the rate of less than 15 percent in 2015, the last comparable election year.
Of course it was a change election in Charlotte. It was in other places, too. The main narrative that seems to be congealing today is that the election results in Virginia, New Jersey, and other states are a repudiation of Trump and Trumpism. That surely was a factor here, too. But it was more than that in Charlotte. Try as we might to view massive electoral changes as complicated and nuanced matters, this one probably wasn't.
"It's just really the—not anger, but disappointment over the reaction from the old City Council from how they handled the Keith Scott situation. I think a lot of this stems from that," Andrew Fede, a 33-year-old community activist, told me later in the evening at VBGB. "That was the only thing. If they had handled that correctly, Jennifer Roberts would (have won re-election), Patsy—these kids wouldn't have had a leg to stand on."
So you have Lyles, Charlotte's first black female mayor. You have five new council members, all under 40: Democrats Winston, Egleston, Justin Harlow, and Matt Newton, and Republican Tariq Bokhari. A sixth, 31-year-old Dimple Ajmera, won an at-large seat after her appointment as District 5 seat in January. It's easy to characterize their triumphs as a youth tsunami, and in a way it is. But something curious has happened in the last year: Many members of Charlotte's cultural and political establishments openly embraced the newcomers. On Tuesday night, Roberts spent much of her evening at VBGB with Winston, a man whom a little more than a year ago called for her resignation. Hugh McColl, as establishment as Charlotte gets, was a enthusiastic advocate for Winston from the moment the younger Davidson graduate decided to run. (What a pair those two make, the crotchety, white-haired banker and the dreadlocked hoister of the clenched fist.)
"It's a generation of people who have put in the work to prepare themselves for public service, and I think you've got a majority of the older generation now willing to pass that torch," Egleston told me. "And a lot of them, in a well-meaning way, have said, 'It's time for y'all to step up and do the work.'"
So now the work begins. Connoisseurs of diversity and civility could savor the crowd at the Winston party: older white and black men and women, the incumbent white mayor cheering for her black successor, members of Charlotte Uprising literally rubbing shoulders with the city leaders they had condemned to hell less than 14 months ago. Ash Williams, perhaps the most visible and vocal Uprising leader, took a seat just a few feet away from Roberts. Alvin C. Jacobs Jr., a photographer and activist, told me that the left-wing activist community was willing to accept ex-protester Winston's place on the council, at the heart of a city government it had vilified, as long as he understands what he's there to do. "Somebody's got to get elected," Jacobs said. "And I'm OK with that. Vi's not perfect, either. But we can't let that other guy in."
By the time the gravity of the shakeup had set in—and it took only two hours or so after the polls had closed—Winston had trouble finding the words to convey it. "I just think we exist within the whole continuum of this great experiment," he told reporters, choking up as, of all things, "More Than a Feeling" blared from the bar PA system. "I believe in this city, man. I believe in this state. I believe in this country. And I know I'm willing to do some inconvenient things to get this right." Just by running, he already had. For him and the other young public servants who won Tuesday, the next task—governing—will show how inconvenient they can make things for a city about to plunge into its own future, ready or not.