The Charlie Sifford Course: A Place for Everyone
Quail Hollow will receive all the national attention this month, but across town a nine-hole course with a remarkable history is named for golf legend Charlie Sifford—and it remains the course for everyone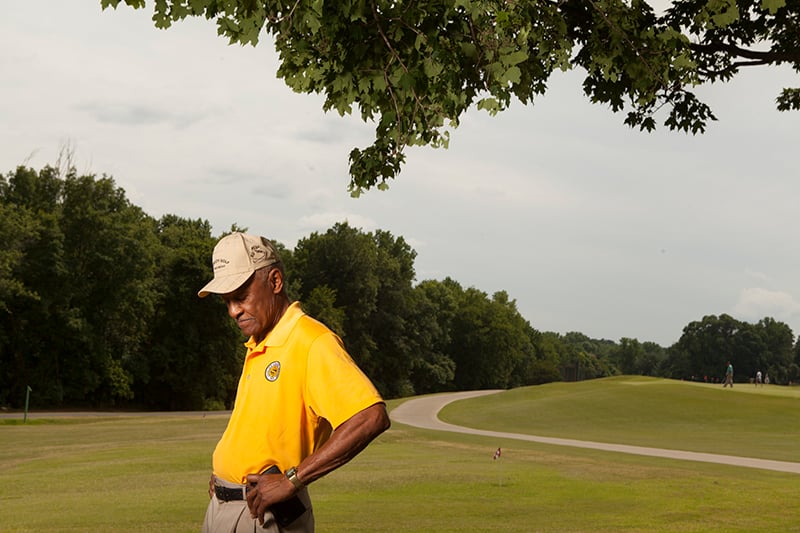 YEARS AGO, before the golf course was renovated and reconfigured, and before it earned a regal new name, Cletis Dozier came to Revolution Park because it was where he felt welcome.
Other golf courses in the Charlotte area might have had lusher fairways or smoother greens. Other courses might have been more prestigious and elegant. But in the 1970s, Dozier lived in the Westover Hills neighborhood near the Revolution Park course, just outside uptown. All of his friends and neighbors came here for golf and "fellowship," as Dozier calls the socializing he did while lounging in the clubhouse. He felt at home.
In a sport that skews white, Revolution Park was a haven for black golfers in the last half of the 20th century—a fact made even more interesting when you consider that for years before that, they were forbidden from playing here.
Just down the street were Southside Homes and Brookhill Village, subsidized housing communities where many who frequented the course lived. Interstate 77 prevented the fairways from advancing beyond nine holes. A bit down the road from the entrance was a dump. Revolution Park wasn't the most picturesque from the outside, but it was perfect, as far as the regulars were concerned.
"All the neighborhood guys would hang out and talk trash to one another and play golf and brag," Dozier says. "It was just sort of a gathering place for the African American guys who wanted to get involved with golf and have fun together."
In 2008, the county poured $1.5 million into renovating and reconfiguring the course. Several holes were altered. The most noticeable change was the addition of a practice area. And in 2011, the course received a new name: the Dr. Charles L. Sifford Golf Course at Revolution Park, a tribute to the Charlotte native who was the first black golfer to participate in a PGA Tour event. And with the newly nurtured course and spaciously groomed practice area came a new clientele.
On a recent weekday afternoon, as Dozier sat outside the clubhouse fellowshipping with three other black men, every tee spot at the driving range across the parking lot was occupied. All but two were white men, smacking golf balls as far as they could into an open field marked with distance placards. Cars zoomed by on the freeway just on the other side of a patch of trees, but the only sounds were birds chirping and the pings made when clubs made contact with golf balls.
At one tee, a lanky, black, teenage girl hit balls while her father filmed her swing with his cell phone. A gaggle of grade-school kids—all nonwhite—in a boxing class at the attached recreation center jogged out to the practice green and back. A pair of black teenage golfers took a cart out to play nine holes just ahead of a white couple in their 20s, the woman fixated on her cell phone.
Dozier, his long legs stretched out while he leaned back and a ball cap pulled low over his eyes, watched it all from his perch at the clubhouse on a hill. He's 70 years old now and calls his golf game "fair to partly cloudy," though his handicap of six or seven suggests his description is modest.
In about 40 years of frequenting Revolution Park, he's seen everything change. Everything except the most important reason he still comes, that is.
"Well, it's still our hangout," Dozier says. "It's just becoming more diverse in terms of clientele—which is a good thing. But it's still our meeting place, our hangout place."
***
HOW THE COURSE came to be named after the first black PGA Tour player, after starting as an all-white golf course, is a story of splendid retribution.
In 1929, a family donated the land for what was once known as Bonnie Brae Golf Course to the city. The donation came with one stipulation: It could be used by white people, only.
It stayed that way for more than 20 years until 1951, when a black former police officer named Ray Booton tried to play the course and was denied. He and 15 other black men filed a lawsuit that reached the North Carolina Supreme Court. The court ruled that black golfers could not be refused the right to play at a city-owned course.
In 1957, James Otis Williams was the first African American to play Bonnie Brae Golf Course. He was 17 years old and shot a one-over-par 37 on the nine holes.
James Black began working at the course in 1954 as a caddy when he was a 12-year-old boy. His family had recently moved from the old Brooklyn neighborhood in what is now Second Ward to Southside Homes off Remount Road because Southside offered new and exciting amenities: electricity and indoor plumbing.
As Black caddied to earn extra money for his family, he learned the game. The pros at the course allowed him to play—before it was officially desegregated—and nurtured his natural talent. In 1964, Black began playing on the PGA Tour. He played through 1966, sometimes forced to use his car as a locker room because African Americans weren't allowed to use the clubhouse at the host courses. He says he began carrying with him a special decree from the FBI that states he is an "outstanding citizen," in case he was pulled over by police when the real question was about his skin color.
Now 76 years old, Black has a round belly and a knack for turning conversation into a meaningful lesson about life. He still comes to Revolution Park, mostly to socialize at the clubhouse of the course named for a man he once played alongside.
"If you don't know the beginning, how you know what the end is gonna be?" he says. "My beginning was right here."
Black knows every nook and cranny of the course, can point out the tree that stands where the original clubhouse once was before it burned down, and how the first hole used to be where the practice area is now. He calls it the "best nine-hole course on the East Coast."
"And I've traveled all the way from New York to Miami," he reminds.
Black has seen the course change through time: from the racism of the days when it was the Bonnie Brae course, to its time as a safe enclave for black golfers for decades after it was desegregated, to the mix of golfers of all races who flock to the course now. He understands the allure of the game.
"Golf is the closest thing to religion that I know," he says. "I don't know anything that I have been exposed to that is as spiritual as golf is. That's so important."
***
THE BUILDING THAT ONCE HOUSED the clubhouse for Revolution Park is now the headquarters for The First Tee of Greater Charlotte, a youth golf organization that aims to introduce the sport and the values it teaches to children who might not otherwise be exposed to the game.
Jane Singleton Myers, the group's executive director, says 1,500 children from ages five to 18—35 percent of whom are not white—were a part of the program in Charlotte in 2016. The First Tee has six locations throughout Charlotte and uses nine core values—courtesy, honesty, and perseverance among them—to teach kids about the game and about life.
The First Tee is a vital presence at Revolution Park. It raised money to create the practice area, which is now one of the highlights of the course. The organization has integrated with the course so thoroughly that each of the nine holes at Charles Sifford Golf Course has a plaque near the tee describing one of the nine core values.
"It's a more attractive place, especially because of The First Tee and the quality of the practice facility," Dozier says. "It's wonderful."
A little less than 10 miles away, a new, behemoth Topgolf facility recently opened. It boasts of 100 climate-controlled hitting bays, 200 HDTVs, and a rooftop terrace. It is aimed at attracting millennials who want to drive balls from a futuristic structure and socialize while sipping pricey cocktails and bopping to tunes spun by a DJ.
In contrast, Charles Sifford Golf Course is still just a simple patch of land where anyone can use the practice area for free, or play nine holes for a reasonable $23 on weekdays.
Wes Jones, the course's general manager, says the course has become an attraction of its own—a place where it's difficult to find an open tee time if you don't reserve one in advance. There are no DJs pumping music, but sometimes Panthers players pop in after practice, Jones says, golfing alongside children from The First Tee. That's as rollicking as it gets.
"I guess the word is getting around Charlotte about the beauty of the practice facility and what have you, and, of course, the course itself," Dozier says.
So much has changed at Charles Sifford Golf Course at Revolution Park in recent years, but there's something constant about this little stretch of dirt along I-77, something that makes it a place for everyone, from golfers to "fellowshippers." Black thinks he knows what it is.
"It's more than a golf course," Black says. "It's a way of life."
Jodie Valade is a freelance journalist based in Charlotte. Follow her on Twitter @JodieValade or reach her at jovalade@gmail.com.
Note: A previous version of this story incorrectly stated that the county contributed $10 million to the renovation and reconfiguration of the course.