The Charlotte Spots Featured on Diners, Drive-Ins and Dives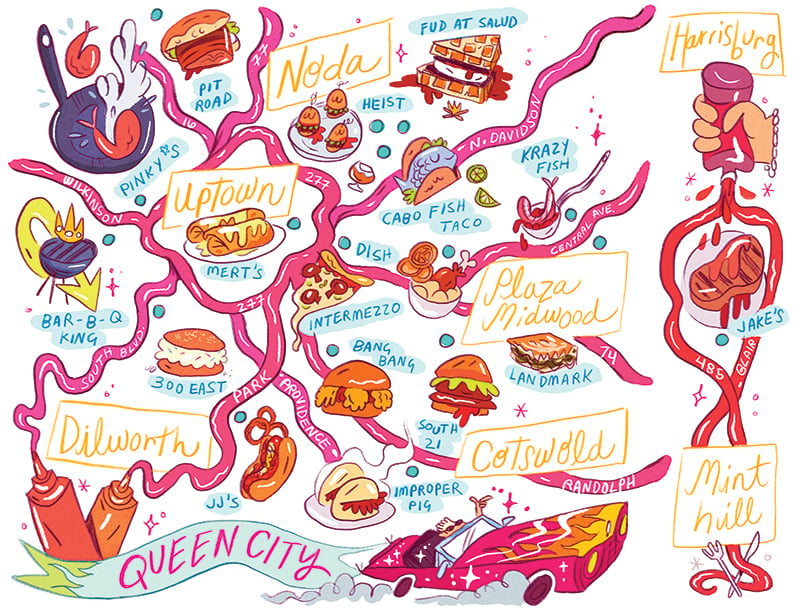 GUY FIERI, the highlighter blonde-tipped host of The Food Network's Diners, Drive-Ins and Dives, may not live in Charlotte, but he's certainly visited enough times to earn honorary citizenship status. He's done everything from making sausages at JJ's Red Hots to pondering Fud at Salud's wafflewich. Here's a list of places he's visited as part of the cross-country traveling show, and what he ate at each one.
STREAMING NOTE: Several seasons of DDD can be streamed on Hulu. Seasons ($19.99) and single episodes ($2.99) are also available on Amazon Prime.
---
Heist Brewery
2909 N. Davidson St., Ste. 200
704-375-8260
Fieri downed the brewery's "Burger Burger Burger" sliders and duck confit flatbread.
Episode: From North to South America
Air date: March 31, 2017
---
Fud at Salud
3306 N. Davidson St.
704-232-4943
The s'mores wafflewich was Fieri's bite at this funky, NoDa beer shop's deli.
Episode: Not Your Typical Joints
Air date: March 24, 2017
This concept has since closed, now occupied by Salud Cerveceria.
---
The Improper Pig
110 S. Sharon Amity Rd.
704-714-7878
Fieri fused cuisines at this Cotswold barbecue joint, opting for the Chaobao Taco (a steamed bun filled with pulled pork and hoisin sauce).
Episode: Beef, Lamb and Pig
Air date: Feb. 17, 2017
The restaurant has since moved to Rea Farms (9855 Sandy Rock Pl.).
---
Bang Bang Burgers
2001 E. Seventh St.
704-375-4505
At this spot in the heart of Elizabeth, he ate the pimento cheese- and fried pickle-topped patty.
Episode: Beef, Lamb and Pig
Air date: Feb. 17, 2017
---
Papi Queso Food Truck
Location varies
This amped-up grilled cheese food truck served its Pig Mac sandwich, a grilled cheese made of cheddar layered between béchamel macaroni and cheese, caramelized bourbon onions, and pulled pork.
Episode: Swiss, Sandwiches and Sausage
Air date: Feb. 10, 2017
---
JJ's Red Hots
1514 East Blvd.
980-225-8880
Onion rings and cheese-topped sausage with sauerkraut and onions were Fieri's go-to here.
Episode: Swiss, Sandwiches and Sausage
Air date: Feb. 10, 2017
---
Mert's Heart and Soul
214 N. College St.
704-342-4222
This episode included the Soul Roll, an egg roll stuffed with collard greens, black-eyed peas, seasoned rice, and diced fried chicken.
Episode: A Bowlful of Soul
Air date: July 17, 2015
---
South 21 Drive-in
3101 E. Independence Blvd.
704-377-4509
This Independence Boulevard mainstay (it's been in business since 1955) served up the Super Boy, a double-patty burger with homemade chili and coleslaw.
Episode: By Request
Air date: Feb. 8, 2010
---
Dish
1220 Thomas Ave.
704-344-0343
Anyone who has been to Dish has likely tried this stop's most well-known dishes: fried green tomatoes and chicken and dumplings.
Episode: Comfort Food Classics
Air date: Feb. 22, 2010
---
The Tin Kitchen
Location varies
704-750-0477
No stranger to food trucks, Fieri went for the buffalo-style cauliflower sliders.
Episode: Racing Through Charlotte
Air date: May 1, 2015
---
Pinky's Westside Grill
1600 W. Morehead St.
704-332-0402
Fieri had a ball with this west-side converted auto shop, recommending the corndog shrimp.
Episodes: Racing Through Charlotte
Takeout: Funky Finds in 'da House
Air date: May 1, 2015
May 22, 2020
---
Intermezzo Pizzeria and Cafe
1427 E. 10th St.
704-347-2626
This pizzeria with a long list of Serbian dishes found Flavortown with its grilled mushroom pizza.
Episode: Intercontinental Flavorfest
Air date: June 5, 2015
---
300 East
300 East Blvd.
704-332-6507
Savory and sweet dishes had TV time here: Lamb ragout and a homemade ice cream sandwich.
Episode: Indulgent Dishes
Air date: May 22, 2015
---
Krazy Fish
2501 Central Ave.
704-332-1004
Seafood gumbo is a fan favorite—a natural choice for the host. On the newer episode featuring the spot, Fieri featured a barbecue burger wrap crafted by the restaurant in an episode in which places shipped him new items to cook.
Episode: Indulgent Dishes
Takeout: Cross-Country Delivery
Air date: May 22, 2015
May 29, 2020
---
Pit Road Bar & Grill
2330 Tipton Dr.
704-373-9740
Fieri took a break from the racetrack to taste a steak filet sandwich and the Hot Lap sandwich.
Episode: Racing Through Charlotte
Air date: May 1, 2015
---
Jake's Good Eats
12721 Albemarle Rd.
704-545-4741
Like the rest of us, Fieri loved the maple-glazed pork chop.
Episode: Grilled, Smoked and Sauced
Air date: May 31, 2010
---
Bar-B-Q King
2900 Wilkinson Blvd.
704-399-8344
A barbecue chicken recipe from 1959 still made diners drool on DDD's first season.
Episode: BBQ
Air date: May 28, 2007
---
Landmark Diner Restaurant
4429 Central Ave.
704-532-1153
Fieri couldn't get enough of the spanakopita and "Thanksgiving on a plate" at this Greek family-owned diner.
Episode: Fresh and Funky
Air date: March 29, 2010
---
Cabo Fish Taco
3201 N. Davidson St.
704-332-8868
You don't have to travel to the coast to devour mango barbecue mahi-mahi tacos Fieri-style.
Episode: Bringin' It Home
Air date: May 17, 2010