The Cowfish Soft Opening, Frankies 710 Trattoria Grand Opening, and Michael Collins Whiskey Dinner at Whiskey Warehouse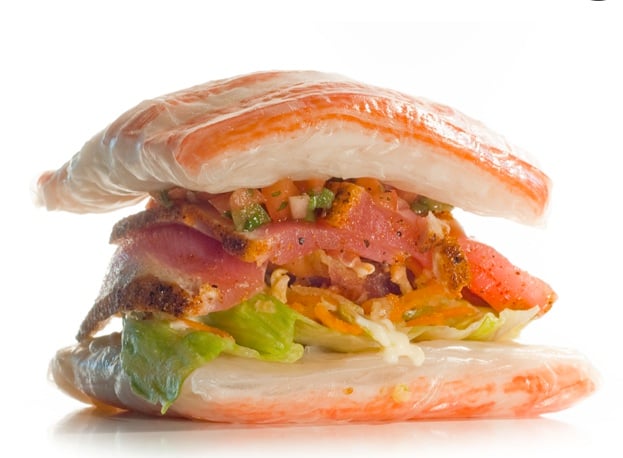 The Cowfish Sushi Burger Bar is opening soon in the former Counter location in The Village at SouthPark. From the owners of Huntersville's eeZ Fusion & Sushi, the menu will feature more than fifteen burgers as well as sushi rolls. And, of course, there will be Burgushi (pictured), which features sushi rolls made using burger components and burgers made using sushi roll components. Sound intriguing? You can now make reservations for the soft opening weekend of the restaurant on November 19th through the 21st. Click here to reserve your table.
Frankies 710 Trattoria, in the old Pie Town location, will be celebrating its grand opening this Friday, November 12th with dinner starting at 5 p.m. They open for lunch on Monday, November 15th at 11:30 a.m. On the dinner menu look for traditional Italian fare like the veal marsala ($16.95), the chicken piccata ($13.95), eggplant parmigiana (11.95), and lasagna al forno ($11.95). For lunch, you'll find smaller versions of those as well as lunch salads and sandwiches like a meatball sub ($7.95) or an open faced caprese sandwich ($6.95).
It may be last minute, but squeezing a whiskey dinner into your schedule should always be a priority. Tomorrow night (Tuesday, Novmber 9), Whiskey Warehouse is hosting a three course meal pairing "some of Whiskey's favorite dishes" with four Michael Collins Irish Whiskey cocktails. The event is $30 and reservations can be made by calling 704.334.7005.