The Deep Roots of Charlotte's Murder Spike
Ex-CMPD detective McFadden on race, crime, responsibility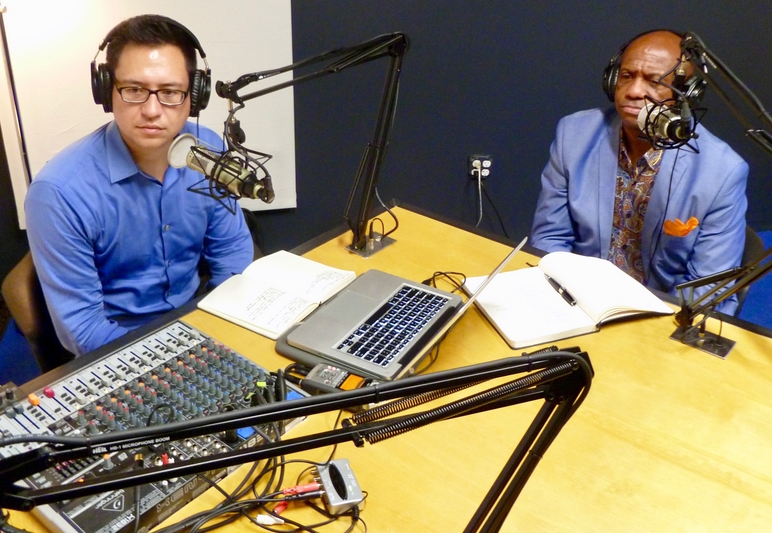 "I never heard the word 'mentor' until now," Garry McFadden, a retired Charlotte-Mecklenburg Police homicide detective, was telling us the other day as we taped the latest #discussCLT podcast episode. "There was no such word as 'mentor' in the '60s and '70s. We didn't have mentoring groups. We had men who engaged with young men, and you had people—that was your responsibility to do it, and you did it. Men were told, 'These boys need to be guided,' and they did."
There's a universe, and decades of history, within that paragraph.
McFadden is 57, a late-period Baby Boomer who joined the then-Charlotte Police Department in 1982 and retired in 2011—although he was quickly hired back on a part-time basis. His volubility and penchant for sharp attire—he showed up at Advent Coworking in a robin's egg-blue suit and orange pocket square—helped earn him a starring role on "I Am Homicide," an Investigation Discovery true crime show that will conclude its second season next week.
We chose to have McFadden on as a guest because we wanted his insight into the sudden rise this year in Charlotte's homicide rate. As of Wednesday, CMPD had reported 57 for the year. That puts us on track for more than 90, which would be the highest annual total since the 129 reported in 1993. Back then, the primary cause was obvious: crack cocaine. The reasons this time are harder to grasp—perhaps because their bases are systemic, generational, complex, and codified into law.
"What do we blame it on now? We blame it on conflict resolution," McFadden says in the episode. "People having disagreements." Political disagreements, arguments over a girlfriend or boyfriend, disputes over money, whatever you have: "All of these things are conflict. But do we know how to resolve them? That is the problem we're having now."
The solution? According to him, a kind of talking cure: "Let's have the honest conversations about why I am mad." The discovery of any large-scale civic problem in Charlotte—in any American city, really, but man, is this ever true here—leads to a convening of community and business leaders and elected officials and the release of a report that urges action that's seldom taken. But the conversations really need to happen at street level, between beat cops and gang members, between frightened parents and neighborhood association leaders, building "community," in the abstract sense, one relationship at a time. "Until we have those real conversations," McFadden says, "we're not going to get anywhere."
True enough, as far as it goes, and some encouraging discussions have emerged from the Opportunity Task Force report and the community forums CMPD has held since last summer; the police shooting death of Keith Lamont Scott last September touched off some, shall we say, spirited and informal conversations all by itself. (What McFadden describes also lies at the heart of community policing, an operational philosophy widely adopted in name over the last 25 years but unevenly applied in cities across the country.)
But it's important, too, to understand the history and context behind what's happening, and acknowledge that conversations and relationship-building alone won't undo the damage wrought by decades of economic upheaval and national policy.
During the taping, I tossed McFadden a broad-strokes outline of what's happened to and in minority communities since the 1960s: The Great Migration moved millions of African-Americans from the South to industrial cities in the North, Midwest, and West. In the 1970s, American manufacturing began to collapse, and black men lost their jobs in massive numbers. In the early 1980s, the application of War On Drugs laws sent tens of thousands of black men to prison for drug crimes—many of them nonviolent possession charges, many with excessive sentences. The last two generations of black men and women have had to muddle through lives with numerous heads of household serving time.
McFadden basically agreed. I asked him to fill in some of the gaps in that story. He responded with the answer quoted above. He grew up in small-town South Carolina, in a community with mostly intact nuclear families. He came of age in an era when a college degree and a decent-paying job after graduation was a realistic goal for someone like him. When it grew less realistic starting in the '80s, McFadden says, he didn't realize what he says was his responsibility to guide younger black people.
"When I wasn't bringing the other generation up, Garry McFadden was putting that other generation in jail," he says. "I never went back to get them."
That's a remarkable admission for a career cop. He's trying to make up for lost time by forming the kinds of relationships he says he failed to make earlier in his career. (He details those in the episode.) We have to come out from behind our walls, he says, and cultivate "non-traditional leaders … Both sides can educate each other."
Noble words, noble actions. But they need the right kind of soil to grow. As everyone in the city knows by now, we have some work to do there.