The Deeper Lesson For Charlotte In #Scootergate
Transportation choices are great. But some people don't have any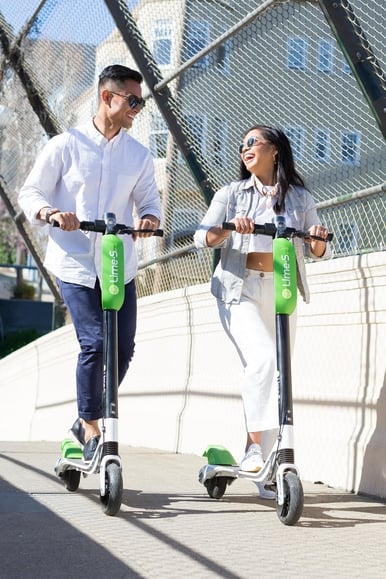 The Charlotte Scooter Imbroglio, a.k.a. #Scootergate, appears to have been settled to everyone's satisfaction. Lime, formerly LimeBike, launched its scooter-share program two weeks ago—without a city permit. The city shut the program down. Lime responded by asking its customers to submit form emails to City Council members. "We need your help!," Lime said in an email to its riders. "The City needs to hear from you just how important dock-free smart mobility is." Paeans to the importance of dock-free smart mobility jammed council inboxes, and council members—especially Tariq Bokhari, a first-term Republican—took to Twitter and told the presumptuous startup to knock it the hell off. Not since Quadrophenia have scooters inspired such hostility.
All's well. The city reached a deal with three scooter operators, Lime included. They began their pilot programs Monday. For the time being, Charlotteans can scoot at will.
Yet the speed of all this is making me worry a bit—not the speed of the scooters, but of their implementation. It seems hard to believe that Uber and Lyft have operated in Charlotte for only about five years—what did we do without them?—and the newer app-enabled options of dockless bicycles and scooters only in the last few months. There's nothing wrong with any of these options in and of themselves, and operators are quick to emphasize that their innovations are just ways to provide people with a greater range of transportation options—which they do.
A problem arises, though, when ride-sharing and dock-free smart mobility turn into tools used to shoot down funding for transit systems that potentially benefit everyone. A few weeks ago, Nashville voters rejected a more than $5 billion expansion of the increasingly traffic-choked city's transit system, and one of the opposition camp's main arguments was that buses and trains represent outmoded technologies on the verge of extinction in the face of "paradigm-shifting technology." They're talking about app-based ride-sharing, dockless bikes and scooters, and, of course, driverless cars, which transit futurists speculate will remake not just transportation in cities but the cities themselves—"transform the city into a joyful mess of throughways and byways optimized not for cars but for people," according to a piece in Wired this week.
For the people who can afford to entertain those options, that is. An Uber or Lyft ride to the airport costs roughly $20, which is not exorbitant but not usually in the workable range of the poor. LimeBikes and Lime scooters, for instance, charge a base $1 fee plus 15 cents per minute—affordable, sure, but generally an option only in areas such as Uptown, South End and NoDa, where you don't have to compete with Independence Boulevard or Albemarle Road-caliber traffic. Without those options, you're back to the binary choice that predates the smartphone: car or CATS, either bus or light rail.
As the scooters buzz their way into Charlotte's streets, CATS is trying to update its system to match the bustle of 21st-century Charlotte. CEO John Lewis recently reworked bus routes to direct fewer of them to the Transit Center in uptown, an inconvenience that added time to trips that never had to go near uptown. The old route system is, Lewis said recently, one of the reasons why CATS bus ridership dropped by 20 percent in 2017. The other main reason is gentrification—the poor are having to move out of the city. Put another way, it's not that people are choosing options other than the bus. Housing costs are forcing them to move to where they can't use it.
This sounds to me like evidence that cities such as Charlotte need to invest more, not less, in their transit systems, even as the wunderkinds of the tech age invent new ways for us to move ourselves. The new paradigm that gives the well-off more options can close off the poor to any.