THE DISH: What Doesn't Charlotte Have?
Chef Robin Anthony, the mastermind behind Omakase Experience, helps plug the gaps in the city's growing food scene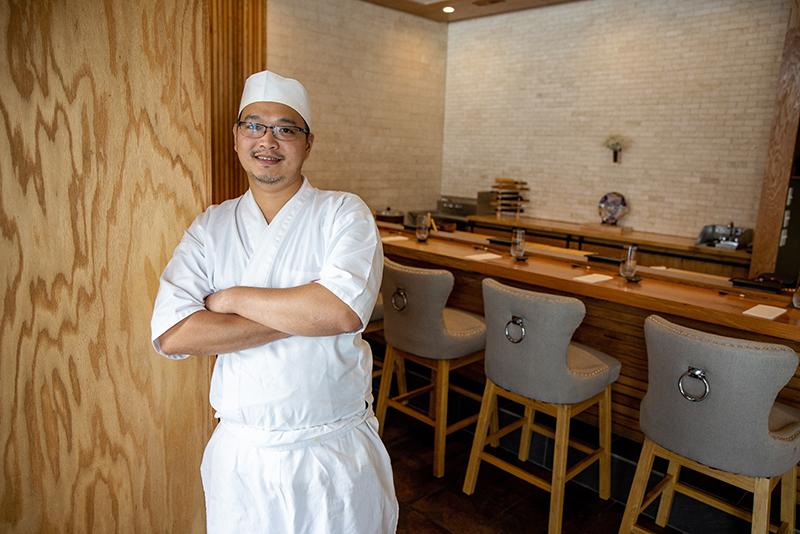 Two years ago, I heard that a certified sake adviser planned to open a sushi restaurant in Ballantyne. I wasn't sure what a certified sake adviser was or what one did, but I wasn't aware of any others in Charlotte. This was someone I wanted to meet.
I went to Prime Fish and watched Chef Robin Anthony pair the Japanese rice drink with sushi the way a sommelier pairs wine with cheese. His sushi is Edomae-style, which is what you'd have in Tokyo, not the overly sauced, often deep-fried rolls we eat in America. This is how sushi is supposed to taste. "You know your nigiri has been cut perfectly when it fits in your mouth in one bite," he told me through his interpreter. "It means you have the right amount of rice with the correct cut of fish." 
This was someone who wanted to expand Charlotteans' palates. Our city needs more people like him, with an eye for what we don't have and might (or might not) love, instead of chefs who see what works and try to duplicate it. That's not how food scenes evolve. It's how they stagnate.
A year after I got the tip about Prime Fish, Chef Robin brought Omakase Experience to Providence Park. The $300-per-person price tag sounded excessive, but once I saw the ingredients, knife skills, and precision that went into plating this 16-course meal, it made sense. When he opened in June 2022, his waitlist was already up to 400 people. 
The 32-year-old regularly surveys the city's culinary landscape and asks himself, What doesn't Charlotte have? We have plenty of Asian fusion, but we still lack a proper Indonesian restaurant. So this fall, he's opening Prima Rasa at The Arboretum. It won't just be the first exclusively Indonesian restaurant in Charlotte; it'll be the first in North Carolina.
Prima Rasa means "prime taste," and it'll be an extension of the Prime Fish brand. The setup will be similar to Viva Chicken, where guests order at the counter, the atmosphere casual and family-friendly. You won't see much of Chef Robin at the restaurant once it's open, though. He'll act as a supervisor while his team from Prime Fish leads the kitchen. Two Indonesian-born chefs have created a menu of Indonesian street food: chicken skewers; curry chicken; and rice, noodle, and soup dishes.
They'll have a few beef and shrimp dishes, but no pork options. Pork isn't common in Indonesia, a predominantly Muslim country. Chicken will anchor most of Prima Rasa's menu, and appetizers will include more adventurous selections like fried tofu stuffed with veggies and ground chicken and meatballs wrapped in quail eggs. "A lot of Indonesian food comes with a fair amount of sides, like rice chips," Chef Robin tells me. "It's like an Indonesian version of barbecue."
Prima Rasa is targeting a fall opening, but Chef Robin's not finished. He's already teasing a new food concept for early 2024. He won't share the details yet but promises it'll fill another gap Charlotteans might not know existed.
TAYLOR BOWLER is the lifestyle editor.