The Education of Jennifer Roberts
A closer look at the mayor at the center of the nation's most fiercely fought civil rights battle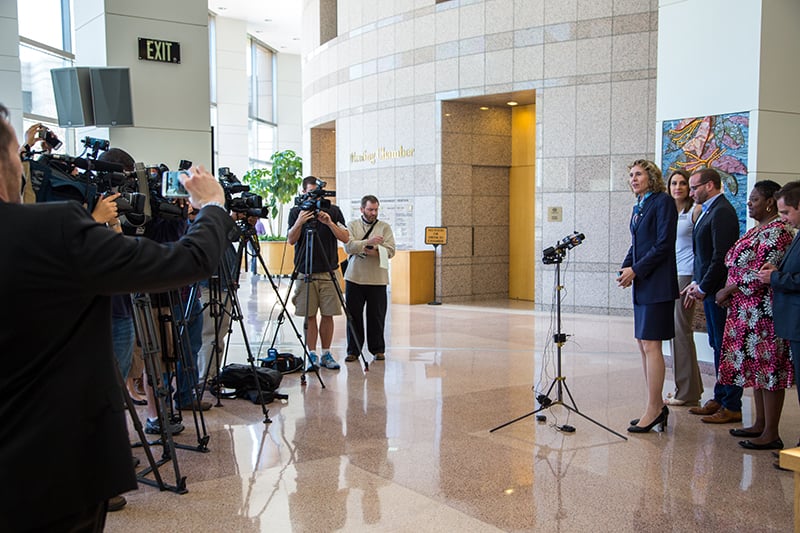 THE MAYOR OF CHARLOTTE folds her lean, six-foot-two-inch frame into a chair in her office on the 15th floor of the Government Center, with its expansive view of the city and the land beyond it. It's only 114 days into her term, and she's wrestling with a problem any mayor would spend a career hoping to avoid: businesses and events leaving or refusing to come to her city, and the notion that she bears at least some responsibility for it.
"I would never want to wish economic harm on my city, because these are real jobs and real people," Jennifer Roberts says, speaking deliberately.
Her political opponents say she's caused this herself—that she's "calling in air strikes on her own position," in the words of one. But Roberts argues that economic damage to Charlotte—or any other big North Carolina city—eventually hurts the rest of the state. "So we're all in this together," she says, loosening up a bit. "That's the irony. People who think you can isolate one or the other don't realize …"
There's a knock at the door, which is open. Gregg Watkins, Roberts' primary assistant and communications manager, tells her that a local online reporter has a question about her relationship with the governor. "Do you want to talk to him for a minute," Watkins asks, "or just blow him off?"
"I mean, it's a professional relationship, no more, no less," Roberts tells Watkins.
"I could e-mail him," Watkins offers, referring to the reporter.
"I mean, we've never been buddies."
"How about, 'We've had a professional relationship for years, and I expect that to continue'?"
Roberts, who tends to walk, talk, and think quickly, nods. It's taken a few seconds, but her mind has shifted into fifth on this one. "Yeah, that works.
Just e-mail that back: 'We've had a professional relationship for years. I expect that to continue.' And when he was here for PayPal's announcement [to bring an operations center to Charlotte] we were focused on the same objective: Making sure we show the company we're going to do everything we can to make sure they have a good experience, and we were united on that goal. We didn't talk about anything else. I tried to get some time with him, but he didn't have time. So"—she sighs—"'We have a professional relationship.'"
Watkins scribbles on a pad. "So, 'expect that to continue,' and 'look forward to working with him on challenges and opportunities facing …'"
"… and continuing to bring jobs to Charlotte," Roberts says emphatically. "Grow jobs."
"Alright," Watkins says, wearily. "Thanks." He and his boss get back to work.
***
IT'S THE AFTERNOON of Wednesday, March 30, one week after the North Carolina General Assembly passed a bill that placed Charlotte at the center of the nation's most contentious civil rights battle, over whether governments should adopt laws that protect gay and transgender people from discrimination. Five weeks earlier, the Charlotte City Council had passed an ordinance that would have enacted such protections. The legislature's bill nullified Charlotte's ordinance and effectively barred any local government in the state from ever doing anything like it—plus other, unrelated provisions that reinforced the state's power over cities and counties.
The backlash to the legislature's passage of House Bill 2 was swift and severe. PayPal, which on March 18 had announced plans to bring 400 jobs to University City, abruptly withdrew them. States and major cities banned their employees from nonessential travel to North Carolina. Performers, including Bruce Springsteen, Pearl Jam, and Cirque du Soleil, canceled their shows in North Carolina. The cascade of reactions touched off a statewide round of finger-pointing over who was to blame, the Charlotte officials who pushed the ordinance changes, or their state government counterparts who championed the law that undid them.
Some believe the fault lies with Roberts, in her office on the 15th floor. Some believe it lies with Pat McCrory, the governor who signed HB2 into law—and who occupied this same office from 1995 to 2009. It's one of the great ironies of this moment in the city's history: As Roberts, the new mayor, tries to absorb the national implications for Charlotte of a law McCrory signed, she's operating within a mayoral template McCrory set.
Starting with him, a Charlotte mayor could no longer be a mere figurehead who attended ribbon-cuttings and presided over meetings, while letting the city manager do the bulk of the work. The city grew too big, too dynamic. A modern-day Charlotte mayor is expected to play an important role in economic development, community relations, interaction with state and other local officials, and more. It's formally a part-time job with pay to match and little responsibility. In reality, it requires more than full-time hours and carries a symbolic weight far beyond its official duties.
Roberts, 56, knew this when she decided to run for mayor of the city where she grew up. She puts in 60- and 70-hour weeks and doesn't mind or, by all appearances, wear out. A liberal Democrat in a majority-Democratic city, she expected some friction between her administration and the Republican governor and GOP-dominated General Assembly. But she never expected anything like this. "We're very different people," she says of McCrory, "but it's never been antagonistic." It is now. (The governor's office did not respond to this magazine's request for comment about his relationship with Roberts and the city.)
The battle over LGBT protections will likely come to define Roberts' tenure as mayor, another distinction she neither expected nor wanted. She's no career politician. She first ran for public office 12 years ago, well into her 40s; she won that race and eventually served for eight years on the Mecklenburg County Board of Commissioners. A former diplomat and academic, she's renowned as an exceptional listener and has generally favored a by-consensus, sensitive-to-concerns approach to government. But these days, political opponents pillory her as a radical who pushed an extremist agenda on her city.
A longtime advocate for the public school system she graduated from, she wanted to use her mayoral cachet to develop out-of-school programs for at-risk children and serve as a powerful ally for Charlotte-Mecklenburg Schools. She also wanted her city to see a competent, trustworthy public servant in the mayor's office after the disaster of Patrick Cannon, a fellow Democrat who served four months as mayor before his arrest and subsequent guilty plea on bribery charges in 2014.
Roberts can still accomplish that. But for now, HB2 hangs over everything. Just before sunrise that Wednesday, as she drives her pickup truck to a television station for a live interview, she tells me about some advice former county commission chairman Parks Helms gave her early in her political career. "If you want to be really popular, just don't do anything, because nobody will have anything to hold against you," she remembers Helms saying. "If you want to take a stand on some things, you're going to make some enemies."
"That's so true," Roberts says now. "People are complex. … That's what makes politics messy and democracy messy and human relations messy. But you have to just take the journey and know that in the end, what you're aiming for reflects your values."
***
"COME ON," the mayor tells me, beckoning from the corridor outside her office. "Gotta go. No dilly-dallying." It's 10 a.m., and she's made a commitment to deliver lunches for Friendship Trays, a meals-on-wheels program for the elderly. She's done this before, but this is her first time as mayor. In the Government Center's underground parking lot for officeholders—"The Bat Cave," she calls it—a photographer and I hoist ourselves into her Ford F-150 Mega Cab, a road monster that comes in handy for her family's frequent hiking and camping trips.
I point out that, as the liberal mayor of a large and growing city, she probably doesn't fit the profile of the average F-150 Mega Cab owner. I'd expect her to drive, I don't know, a Prius. She laughs. "I am most comfortable in hiking boots, a fleece vest, and hiking shorts," she says. At East Mecklenburg High School, where she was valedictorian of the Class of 1978, Roberts—then Jenny Watson—was a star in volleyball, basketball, and track. She went to UNC Chapel Hill on a prestigious Morehead Scholarship and played varsity volleyball there until her graduation in 1982. She was team captain her senior year; in her office hangs the framed front page of a Chapel Hill newspaper, dated October 21, 1981, that shows a 21-year-old Jenny preparing to spike a Wilson into some unfortunate opponent's face.
Another of her assistants, Amanda Burch, joins us on the short ride to the nonprofit office in South End. The staff greets her, gives her and the other volunteers a quick rundown of the procedure, and sends us on our way with four lunches in Styrofoam containers and a list of addresses. Roberts stops to shake hands and take photos with the staff, volunteers, and a visiting Boy Scout troop. (One Scout asks her, "Who's the mayor of North Carolina?") On her way out, she greets another volunteer, Deloris Davis, who's manning the phones.
"Well, I think you're doing a beautiful job," Davis tells her.
"Thank you!"
"You've got a lot on your plate."
"It's a big city."
The delivery addresses are all off Wilkinson Boulevard in west Charlotte, the part of town where African American families displaced by urban renewal in the 1950s and '60s tended to land, and where the crack cocaine-fueled violence of the 1990s was worst. There's some improvement in spots—a shopping center with a Super Wal-Mart as its anchor, a planned Goodwill Industries of the Southern Piedmont complex near uptown—but it's still largely the way it was 20 years ago. You'll find lots of aging brick bungalows out this way, and some vacant lots.
Roberts turns right off Wilkinson at Ashley Road, right by the Wal-Mart. She points: "I had a sign in that yard! They were very nice. I walked this neighborhood when I was campaigning." The first person doesn't answer the door. Roberts leaves lunch in a cooler outside. "Sometimes people have mobility issues," she says.
We keep moving. On Carlyle Drive, we approach the home of Doris Frazier and her daughter Rose. It's a small, tidy bungalow with a split rail fence and neatly trimmed shrubs in front. The mayor scoops a newspaper from the yard and taps the "shave and a haircut" rhythm on the door. Doris answers in pajamas and a red bathrobe.
"Well, hi, there! Ms. Frazier? I got your newspaper!"
Doris peers outside, blinking at the sunshine, and exclaims, "Y'all got a whole group!"
"I've got reporters following me around because they want to see what a mayor does all day," Roberts says. Hint, hint.
Nothing.
"The mayor does a lot of things in our community," Roberts says, with a little more emphasis, "and I'm honored to serve you."
It starts to sink in. "Now, what'd you say?"
"I am the mayor of Charlotte," Roberts says, even more loudly.
Doris cocks her head. She wears a quizzical look.
"I'm Mayor Jennifer Roberts." She's practically shouting now, bending down toward the much shorter woman. "You see me on TV sometimes?"
Doris's jaw drops. Her mouth forms a perfect oval of astonishment. "You're kiddin'!" Doris looks at me. "Is she tellin' the truth?" I assure Doris that she is.
"Well, I am so sorry you're seeing me lookin' like this." Doris backs away from the door and pulls the robe tighter around her. "I'm so embarrassed! I've never been so embarrassed in my life."
"That's OK," Roberts says. "You're in your own house! You're allowed to be in your jammies!"
We make one more delivery, to an 86-year-old woman in an affordable apartment complex on Midland Avenue. We find Evelyn not at home but marching through the parking lot with the aid of a walker. She wants to talk. She grabs hold of Roberts' hand and grips it, hard, for all of the 10-minute conversation, most of it monologue, much of that unintelligible. Evelyn does not seem to grasp, or care, that Roberts is the mayor. She's just a nice lady who's brought her lunch. Finally, we tear ourselves away.
"She was too cute. So, we're done," Roberts says in the truck. "She had a strong grip! Oh, my goodness."
We go back to the office, where the mayor has a half-hour before a lunch meeting. She checks her voice mail. First message: "Ah, Jennifer, this is Hugh McColl …"
I ask Roberts if she knows what the retired Bank of America CEO, the man largely responsible for having turned a drowsy, mid-sized textile city into modern-day Charlotte, is calling about. She shoots me a "don't play dumb" look.
"Oh, yeah."
***
POLITICALLY, NORTH CAROLINA is two states: Cities that are diverse, progressive, young, growing, and Democratic; and suburbs, exurbs, and country that are mainly white, traditional, aging, declining economically, and Republican. The canyon between the two grows wider by the year.
Roberts is the daughter of the first kind of North Carolina. Her main political problem is that she, along with mayors of cities throughout the state, operates under, and often at the will of, a state government dominated by the second. There's no indication any of that will change soon, even though Democrats make up 40 percent of the state's registered voters, compared to 30 percent for the GOP. (The rest are unaffiliated or Libertarian.)
Her frustration with the imbalance bubbles up after lunch on March 30. Roberts has just finished an in-office interview about HB2 with a reporter from The Atlanta Journal-Constitution, and she's chatting about it afterward with Watkins and another assistant. Roberts mentions a recent speech by Tom Lambeth, the longtime Z. Smith Reynolds Foundation director and former aide to Governor Terry Sanford. The theme of Lambeth's speech: What happened to the North Carolina we used to know?
Now, in her office, Roberts lets her exasperation fly. "We've been hijacked by the legislature. … Just look at the registration versus the numbers! They don't match! It doesn't represent us, clearly," she exclaims. "They've drawn the lines to disenfranchise people. So it's not our state. We don't recognize it anymore, and the people who are leading us are drunk with power. They are."
If that seems strident, consider what "the people who are leading us" say about her.
"When Charlotte Mayor Jennifer Roberts teamed up with a convicted child sexual predator to pass a radical bathroom policy allowing men to use girls' locker rooms and bathrooms, the Governor warned her the legislature would take immediate action to protect North Carolina families."
That was part of an official statement from the office of state Senator Phil Berger of Eden—the Senate's president pro tem, the most powerful position in the General Assembly—after PayPal decided to back out of its Charlotte development plans. (The "convicted child sexual predator" refers to the former president of the Charlotte LGBT Chamber of Commerce, who was convicted of fondling a teenager in 1998, when he was 20.)
"I do not predict anything with this legislature anymore," Roberts says. "Nothing would surprise me."
Whatever else Berger and her political foes can say, they can't call Roberts an outsider to her state. She was born in Raleigh on April 18, 1960, the daughter of William Randolph "Randy" Watson, a sales executive for Westinghouse, and Julianne Kauffman Watson, a homemaker originally from Florida. Randy Watson's Westinghouse job took the family from Raleigh to Pittsburgh when Jenny was a year old, then to Atlanta when she was seven, before they settled in the Lansdowne community in south Charlotte in 1971.
These days, Lansdowne virtually disappears in the great residential sprawl of south Charlotte. Back then, "it wasn't rural, but I'm telling you, we lived on the edge," says Edwin Peacock Jr., owner of a financial services company and, like Roberts, a former Mecklenburg County commission chair. "This was far out of town." The Watsons and Peacocks lived within about 500 feet of each other, and they belonged to a nearby swim club where the parents would play mixed-doubles tennis while the kids splashed in the swimming pool. More than three decades later, in the fall of 2015, Peacock's son Edwin III would be Roberts' Republican opponent in the mayor's race.
Roberts remembers spending afternoons at Lansdowne Elementary, where her older brother, Bill, shot bottle rockets in the open field, and she and her siblings played basketball at the nearby hoops. She was always the tallest girl in school. "I could never hide," she says. "People are always telling me, 'Wow, you don't look that tall on television.'"
The Watsons' move to Charlotte coincided with a profound development in the lives of both the city and its future mayor. That year, the U.S. Supreme Court upheld a decision that approved busing as a way to fix racial disparity in Charlotte-Mecklenburg Schools—creating a busing system that would operate in Charlotte for the next 28 years. Jenny rode the bus from the edge of town to First Ward Elementary uptown, an eight-mile trek, then McClintock Middle and, eventually, East Meck. She says the experience helped her understand people from different backgrounds and their needs, especially the value of quality public schools to families that can't afford private ones—something that still shapes her philosophy of public service.
Public schools arose as an issue in the mayor's race against Edwin Peacock III last year. Roberts stressed support for schools in her campaign, and Peacock and others questioned why a Charlotte mayoral candidate would do that—CMS operates under the state and county, not the city.
Four months into her mayorship, Roberts shows some impatience with this argument. "When you're the mayor of a city, you talk about the vision for your entire city," she says, firmly. "Constituents don't want you to silo yourself.
"It's what mayors in America talk about. The criticism that 'it's not your lane'—that's a wonk criticism, because the average person doesn't think about lanes that officials have. They think that you should be helpful for your community. Period. You should lead. You should talk about the things that matter."
***
ROBERTS FIRST RAN for public office because schools mattered to her.
After college, having earned degrees in English literature and math, she worked for two years as a math teacher at a high school in Connecticut. Then she went even farther north, to the University of Toronto, where she earned a master's degree in Modern European History. Roberts grew fascinated with international relations and diplomacy, how different countries could interact on trade and other issues despite bedrock cultural differences and language barriers—especially in the mid-'80s, when the Cold War was still the predominant global issue.
After Toronto, she earned another master's, in International Affairs, from Johns Hopkins University. Then she worked as an international business consultant before joining the State Department as a foreign service officer in 1990, stationed in the Dominican Republic. She still speaks fluent Spanish. "That's what I thought I was going to be," she says, "in the foreign service my whole life."
The main problem with that plan was Manley Roberts. The two had met as UNC undergraduates in a philosophy of religion class, but they didn't get to know each other well. They reconnected through mutual friends in Washington, D.C., around 1986, when Manley was practicing law and Jennifer was at Johns Hopkins in Baltimore. Their first real date, Manley recalls, was a day of cross-country skiing in the George Washington National Forest in Virginia, followed by a party with some of Jennifer's friends from Hopkins.
They played Gipsy Kings records. "Everybody was dancing," says Manley, now a partner in the debt finance group of McGuireWoods, a corporate law firm with offices in Charlotte. "She was smart. She was funny. She had a great ability to laugh and enjoy life. She also had a great passion for the outdoors, plus her spirituality, compassion, deep sensitivity to art and music. … We just had a lot of common things in our lives."
The relationship deepened, even as Jennifer remained in the Dominican Republic. Manley moved to Charlotte in 1992, and they decided it was time for her to come home, and for them to marry. The wedding was May 8, 1993, at The Chapel of the Cross, a historic Episcopal church in Chapel Hill.
They bought a house on Clement Avenue in Elizabeth, where they still live.
Even after the move, Roberts thought and acted globally. She was the director of the Mayor's International Cabinet, now called the Charlotte International Cabinet, for about five months; then she worked in international banking for First Union for a few years; then as director for the Charlotte World Affairs Council, a UNC Charlotte outreach program; and, starting in 2002, as an adjunct professor in international studies at UNCC. Her children—daughter Montana, now 19, and Manley Jr., now 16—made her turn to issues closer to home.
In 2004, Roberts took a semester off from UNCC. She was serving as a room parent at Montana's magnet school, Smith Academy of International Languages (now Waddell Language Academy). She thought the school was under-supplied and its teachers overworked—while county commissioners, led by Republican Chairman Tom Cox and a GOP majority, had kept CMS funding steady for three years as the school district's student population rose.
Cox declined to seek reelection that year. At 43, with no prior political experience, Roberts filed to run for the seat. Her main plank was straightforward: her "belief in public education and a strong public school system," she said at the time. To the extent that she had a broader platform, it was down-the-line Democratic, embracing the idea that public spending on county services was critical to meeting social needs and lessening the income gap between rich and poor.
In a seven-way race for three at-large seats, Roberts finished a strong third behind two other Democrats who had extensive experience in public service, Parks Helms and Wilhelmenia Rembert. The party regained control of the board, and Roberts was on her way.
***
SHE HAS to wait until late afternoon to get back to Hugh McColl.
"Right. Right … Look, the City of Charlotte is not joining any lawsuits, right? That's not our place to do that," she tells McColl over the phone. "What I've been saying is that we continue to be an inclusive city and a welcoming city. Our values are no different today than they were four weeks ago, when we passed this after extensive public discussion and an election and a campaign that also included support for this equality and inclusion …"
They talk for a little more than 10 minutes, the banking giant who helped make Charlotte and the mayor who's trying to limit the damage to it. "Well, thanks for the thoughts," Roberts says finally. "I'd just give them a call back and say, 'Our values are the same, and we're still open for inclusive business, and we will continue to treat people with dignity and respect.' … Alright, well, thanks for standing up for common sense, and let's hope that catches on somewhere around Raleigh at some point soon. … We'll keep in touch. Alright. Bye-bye."
She hangs up and exhales. "He's trying to decide whether to call the Wall Street Journal back. He says, 'Oh, I don't want to make this a national thing.' I said, 'It already is a national story, and yes, you should call them back.'"
Later, McColl relays to me the essence of what he told the Journal: "What I said was that I thought [HB2] was a dumb idea, and I still think it's a dumb idea. It's bad for the city and state. One thing that makes Charlotte great is openness, and as long as we can attract young people, we'll be successful. If we can't, we'll be unsuccessful—and one thing young people don't like is for anyone to tell them how to live."
***
POLITICAL POWER is tricky. It's hard to know when to gently cajole, gradually building support among the people you represent, and when to use the power of your office to hammer an idea through. The balance can be difficult. If you go too far one way, you're seen as a tyrant; too far the other, you're perceived as ineffectual.
Through her eight years as a county commissioner, five of those as chair, Roberts usually worked from the gentle-persuasion school, and the results were mixed. She was chair so often because, by custom, the majority party's top vote-getter occupies that seat. One thing Roberts has always been able to do is win votes. She has two huge advantages as a campaigner: likability—you'd be hard pressed to find anyone, even political opponents, who dislikes her personally—and a seemingly inexhaustible supply of energy.
During her mayoral campaign, she traversed the city, attending community meetings and barbecues and walking door-to-door. That helped her build broad support that overtook incumbent Mayor Dan Clodfelter and Edwin Peacock III, whose support was more concentrated. "She's one of the best campaigners in Mecklenburg County, maybe in the state of North Carolina," says Parks Helms, the former county commission chairman. "She's very sensitive to the people who come to her."
Perhaps, at times, too sensitive. The affability and convener-in-chief qualities she displays in public don't necessarily work in the arena of hard-nosed, pragmatic political maneuvering. The county commission she joined in 2004 was stocked with seasoned, aggressive local politicians, including Republican Dan Bishop, now a state representative and co-sponsor of House Bill 2. Roberts, with her background in academia and diplomacy, seemed overmatched at times, which made Helms question whether she was ready for the chair when she emerged from the 2006 election as the top vote-getter.
Helms suggested she take the vice chairmanship for a year and let him continue as chair. They met at Helms' law office on Morehead Street to discuss it. "No, Parks, I think I'm ready," Roberts remembers telling him.
"And he said, 'Let me show you something,'" Roberts tells me. "And he walked me into his file room, and he had all these filing cabinets, and he said, 'All those documents are county documents. This is a really hard job.'
"I said, 'I really appreciate it, Parks; I'll think about it.' I called him the next day and said, 'Parks, I still think I'm ready.'" She laughs and notes, pointedly, that she often tells that story to women's organizations.
"I didn't mean to be patronizing," Helms responds. "What I said was, 'Jennifer, if I could be chair for the first year of the term until you can become fully aware of what the demands are …'" Helms ended up supporting Roberts as chair, and the two remain friends.
Regardless of their source, Helms' concerns about Roberts' readiness to lead weren't unfounded. For the rest of her time on the board, she was criticized even by some allies for inaction and weak leadership in a controversy over the sheriff's job, a botched countywide tax revaluation, and an ouster from the chairman's job by Harold Cogdell, a fellow board Democrat who joined forces with the Republican minority. Cogdell was widely criticized for his gamesmanship, but the episode contributed to a perception that Roberts, though intelligent and conscientious, lacked political muscle.
She admits one major political flaw, which may help explain the perception. She and I are discussing a recent radio interview about HB2, in which she was caught off guard by aggressive questioning about other cities' protections for gay and transgender people. She stumbled over the questions—prompting a state GOP release that claimed she couldn't name a single city that had adopted the same transgender protections as Charlotte.
"See, I overthink the questions," she tells me, launching into a rapid-fire recitation. "He said, 'Does it have the transgender part?' And I started thinking, 'Well, they're so different and complex. Ours had [provisions for] commercial vehicles for hire.' … So I'm thinking like a lawyer: 'Well, they're not exactly the same, but they're similar, and they include the T in LGBT, and so, yes, they include the facilities, but does every single one talk about taxis?'"
A bit taken aback myself, I ask her if overthinking, "analysis paralysis," is one of her problems.
"Yes. Yes," she says. "I have had to work on that. I was a professor, I have two master's degrees, and I always see the complexity of an issue. And sometimes you just have to be clear and firm—and summarize. … I have a hard time giving a one-sentence answer."
Which makes it surprising that her most significant act as mayor has led even friends such as Parks Helms to accuse her of exactly the opposite—of acting rashly by pushing the nondiscrimination ordinance. They argue that Roberts, who's built her political career on sensitivity and conciliation, was too headstrong and blinkered to heed Governor McCrory's warning to City Council members before the February vote that passage would lead to legislative action.
"You can take on issues if you really believe in them. … The public will allow you to do that. But there is a very fine line, and this is one of them, where you have to be very delicate and careful about the way you bring it about," Helms tells me. "As good and fine a person as Jennifer Roberts is, she failed to have the political experience to see the impact of passing that ordinance at that time."
Edwin Peacock Jr., though he stresses his personal respect and affection for Roberts, is even harsher in his criticism. "She should have talked to the General Assembly and the governor—not saying they would have agreed with her, but maybe they could have worked something out in advance," Peacock says. "This is the first time we've had a mayor that's done economic damage to the state and city, and it could have been avoided."
Not surprisingly, Roberts doesn't buy it. Given the record of the General Assembly since it acquired Republican super-majority status in 2013, there's little chance legislators would have compromised on anything LGBT-related. More than 200 local governments have passed similar protections, including 17 of the nation's 20 largest cities, so just how "radical" was the Charlotte ordinance? She had made it clear during the mayoral campaign that she supported the changes, and what message would retreat have sent to the people who voted for her?
And above all, she says, on civil rights, "You don't have partial equality. You have full equality." She thought it was an issue worth making enemies over.
***
IT'S 9 P.M., and Roberts has finished her first meeting of the Regional Conference of Mayors, a periodic dinner gathering of mayors from all around the Charlotte region: Belmont, Gastonia, Concord, Statesville. They hold it in the main conference room at the Government Center. Even after 14 hours, she's not quite ready to go home. She wants to bring a new friend, freshly elected Salisbury Mayor Karen Alexander, up to check out her office.
Even in her mid-50s, Roberts displays a gee-whiz goofiness in moments such as this, as if, even with the tumult of HB2 and canceled concerts around her, she's still thrilled just to be the mayor. She turns the lights off in her office so Alexander can view the Charlotte skyline at night: "Isn't that cool?"
It's finally time to go. She steps briskly toward the Bat Cave and the F-150, her footsteps echoing in the empty hallways. She's carrying Styrofoam containers of food again, this time for her Manleys. "Otherwise, I'd be going home and cooking from scratch, which is never fun at this time of night," she says, then consults her watch. "It isn't even 10 o'clock yet! It's an early night."
A few hours before, as Roberts prepared for the meeting, she did something out of character: She yawned. "I'm hungry," she remarked to Watkins, who was helping her prepare. "It's a pretty long day. But nothing unusual."
"Yep," he said. "Pretty much the same as yesterday and tomorrow."
"And the day after that," she replied, "and the day after that …" They took the elevator down to the second floor. Roberts, who seemed energized again, strode into the conference room, extended her hand, and began introducing herself to the mayors.
Greg Lacour is a contributing editor for this magazine. Read his political coverage and other commentary in "The Buzz" section of www.charlottemagazine.com.
---
This article appears in the July 2016 issue of Charlotte Magazine
Did you like what you read here? Subscribe to Charlotte Magazine »
---