The Ex-Factor: Don't Spend Valentine's Day (Night) Alone
A list of anti-Valentine's parties on February 14—and you can literally trash your ex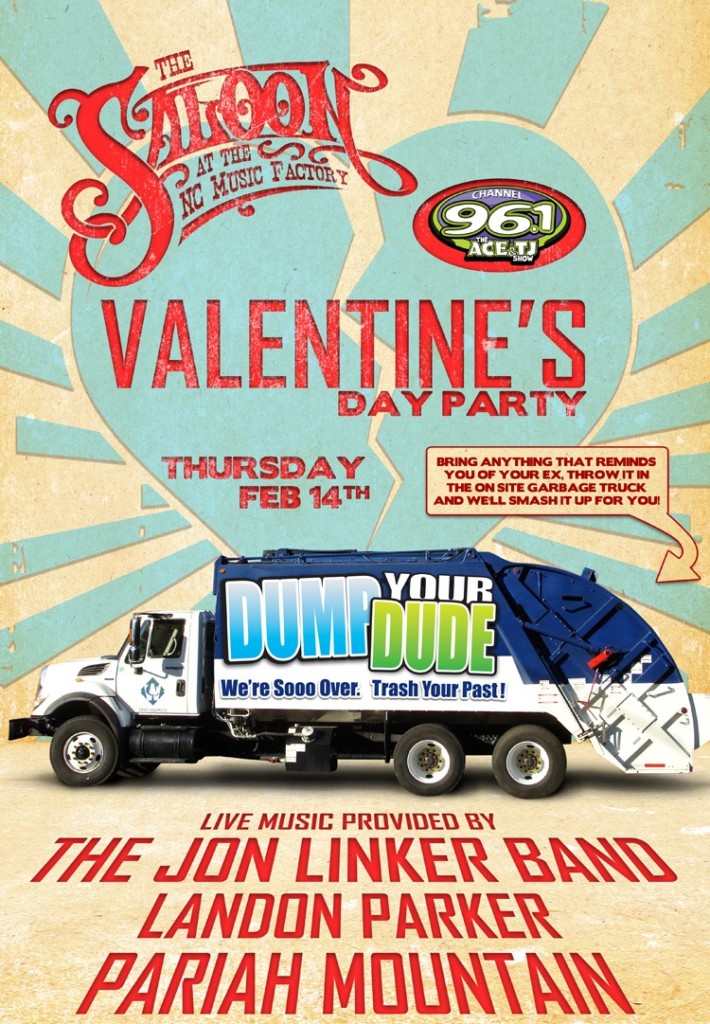 Are you single on this Valentine's Day? Not feeling the love? Don't care to hear your coworkers talk about romantic plans they've made with their significant others? Well, here are some anti-Valentine's Day parties, so get out, celebrate being single, and make your bitterness at least be bittersweet. Drink responsibly, no drunk-dialing or -texting, and please don't harm your ex.
Thursday, February 14
Shred Your Ex
Bring a picture or something that belonged to your ex and the bartenders will shred it for you. Prizes will be given away, and drink specials include $1 draft beers, $3 bleeding heart shots, and $5 Ciroc drinks. Music by DJ J Good. 8 p.m. Free. Prohibition, 200 N. Tryon St., prohibitionclt.com.
Dump Your Dude
Bring all of your ex's stuff or anything that reminds you of him/her and throw it into a huge dump truck that awaits outside the bar. Then come inside and enjoy live music by The Jon Linker Band, Landon Parker, and Pariah Mountain. 8 p.m. Free. The Saloon At The NC Music Factory, 900 NC Music Factory Blvd., thesalooncharlotte.com.
Love Is For Suckas
Enjoy free Ciroc drinks and hookah until midnight, and a $3 "love potion" drink special. Music by DJ Shaun Nyce. Hosted by Sport E. Odie. Presented by The Firm. 10 p.m. Ladies free all night; cover charge for men. Societe, 1202 Charlottetowne Ave., societecharlotte.com.
Stupid Cupid
Go to the place where spending money gets you love…from dancers. Enjoy half-priced access to the Sky Lounge. 9 p.m. Admission cost varies. The Men's Club of Charlotte, 444 Tyvola Rd., mensclub.com/charlotte-mens-club.
Verify dates, times, prices, and other info at the web addresses listed for each event.

Be sure to bookmark www.charlottemagazine.com/Blogs/Dusk-Till-Dawn to stay plugged into Charlotte nightlife. Follow me on Twitter @HollidayInk; email me at jarvish@grownpeopletalking.com.