The Good Kid: A Sports Writer's Son Becomes a Basketball Star
Langston Wertz Jr. has covered high school sports in Charlotte for 27 years. Now he's covering his son, a rising basketball star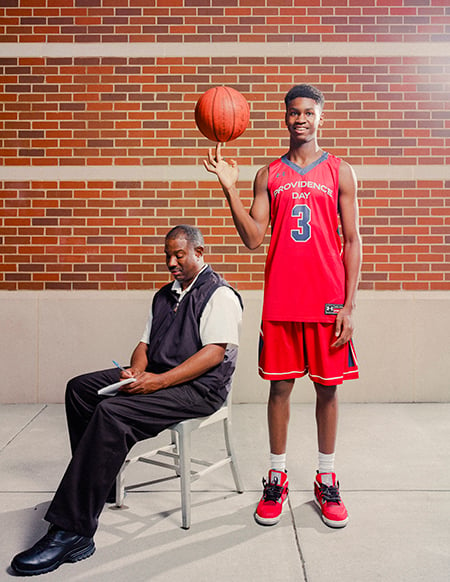 LANGSTON WERTZ JR. took his final exam at UNC Chapel Hill on a Friday in 1988 and was at work at The Charlotte Observer by Monday. He's covered high school sports for the newspaper ever since.
Now, his son, Langston Wertz III—or Trey, as everyone calls him—is becoming one of the top high school basketball players in the city. A 6-foot-4 guard at Providence Day High School, Trey is a 16-year-old sophomore who already has a scholarship offer to play at the University of Richmond. In February, his team won the N.C. Independent Schools Athletic Association basketball championship.
What's it like for the Observer's main preps writer to be the father of one of the top players in Charlotte? And what's it like for Trey to grow up with a sportswriter dad? Charlotte magazine sat down with father and son to find out.
Langston Wertz: I've been downtown (at the Observer) covering Charlotte high schools since '89. Once I got married, I was doing some Hornets and traveling a little bit, and I was doing (the University of) South Carolina and Wake Forest, and (North) Carolina, but having to travel so much. My wife, Whitni, was kind of like, "Either you're going to do the big-time sportswriter thing, or you're going to be married to me." So, I said, "I'm going to be married to you." I just kind of steered myself that way. And, I like covering high schools. I know that's kind of weird. Most people say, "Why don't you aspire to something else?" But I like covering high schools. It's fun.
Charlotte magazine: What was it like, having a sportswriter father?
Trey Wertz: At first, I kind of like tagged along with him when I was younger. Probably started around age seven. I'd tag along, going to all the games. That was pretty cool, because most kids don't get to just go see a lot of different high school games and see a lot of up-and-coming stars that now you see playing professional and college. Then, around when I was 11 or 12, it was kind of like commonplace (for me) to see his name in the newspaper. People recognize you more. Are you Langston Wertz's son?
CM: Who are some of the players you both got to see?
LW: It's funny, because in the last 10 to 15 years, Charlotte has had a run of talent like I've never seen before. (Trey), he's seen guys like Stephen Curry, and there's some other guys not quite as well-known, but who have gone on to play professional sports. And then there are so many big-time tournaments that come here. And because he's with me, he sees behind the scenes and he gets to meet all these guys. He's just been around a lot of athletes in his career, and he's been able to meet a lot of people.
That's actually how he came to Providence Day. He would come and be a water boy during games when he was little when I was covering games.
He'd hand out the water on the bench to guys. He just really liked the basketball coach, Brian Field, and he always wanted to come. He went to middle school at United Faith Christian Academy, and that was coached by Muggsy Bogues. Muggsy Bogues is like an uncle to Trey. He worked Trey out when he was nine, is that right? [Wertz turns to his son.]
CM: You know Muggsy through work?
LW: Yeah, yeah. I knew him, and I just said, "Muggs, can you work my kid out?" And he started (when Trey was) nine. Muggsy took him in and would come pick him up, have him over to spend the night at his house. So, he's like family to us. It's been neat that he's had these experiences.
CM: Trey, when did you start playing basketball, and when did you realize you might be pretty good?
TW: I started playing around (age) four. I got a Little Tikes hoop for Christmas, and I think that's when I first shot the ball. It was around, I'd say (age) nine, he (my dad) took me to a tryout for an AAU (Amateur Athletic Union) team called QCAA, and I made the team. And that year, I was the best player on the team. From then on, I was the best player up until sixth grade. Then, I kind of knew I could do something with it if I kept working hard.
I've worked out with Muggsy, Stephen (Curry), Antawn Jamison, Anthony Morrow. First time, it was like kind of a wow. Wow, I'm actually here, working out with these people. But now, it's kind of like we're both friends; we just have regular conversations. They try to bring me in so I'm not just like a stranger to them, I feel like not uncomfortable when I'm doing stuff with them. It's just like they're regular friends and we're regular people together. Muggsy, we actually text each other a lot.
CM: Langston, when did you first realize he was pretty good at basketball?
LW: He was playing Y ball when he was seven or eight, and they played on nine-foot goals, and every week he'd get 25 or 30 points. He could always shoot. He got the little hoop and we used to work on his shooting. I'd work on him with his form. He always wanted to shoot on a 10-foot goal, but Dell Curry, Stephen Curry's father, said never let him shoot on a 10-foot goal. Never, ever, ever, ever. So, I always made him shoot on eight-foot goals in the front yard, so he wouldn't reach way down and throw the ball at the rim. He always shot it with form. Then, when he got to the Y, he couldn't miss. I remember I called Dell and I said, "Thanks for giving me that piece of advice, because he doesn't miss."
CM: Trey, how has it helped your basketball career to have a sportswriter father?
TW: It definitely helps, because he brings so many different connections that most kids wouldn't necessarily get. He knows, since he's been working for 25 years, he's seen all of it and knows what it takes to be good. He's seen the ups and downs of people, the mistakes and what they've done well. It can only help.
CM: What's the biggest thing you've learned from covering high school sports so long?
LW: Make the right decisions. That's what I always tell you. [He turns to his son.] Make the right decisions. I always tell him the person who's going to ask him to do the dumbest thing is going to be one of his good friends. It's going to be one of your best friends who asks you to do something, and that's when you have to make that decision.
The hardest thing for me is, I just worry that people are going to think that I'm being biased toward him, because I write for the newspaper. I really go out of my way, last year and probably even more so this year, because he's starting to be one of the better quote-unquote players around, to be fair. I try not to write about him. Have other people write about their team. But there's going to be times when I have to write about him, and I just have to treat him as anybody else, and be professional and be fair. I remember Larry Fitzgerald's dad, the wide receiver for the Arizona Cardinals, he's a journalist, and he covered his son. I actually called him a couple years ago and asked him, "How did you handle that?" He probably doesn't even remember me. I just remember he said, "I just treated him like anybody else. He was Larry, the player; then we got home, and he was Larry, my son."
I just try to do that.
CM: Have you had to cover a game he's played in?
LW: I have. I just looked at it as a game. … If he hits the game-winning basket and I'm covering the game, I'll say, "Hey, Trey, tell me about the basket." I have to do that. Hopefully, there will be a time when I have to, and I just have to be professional. Hopefully, people will look at it like I'm doing my job. I know he catches a lot of flak that he doesn't know about because he's my son. I hate that for him. But that's part of it. I think he handles it pretty well.
Everybody went to school somewhere; everybody has a favorite team. I'm just like anybody else. When you go to do your job, you have to put all that aside and do your job. I think I'm able to do that. I've covered a lot of people I'm related to over 30 years. A lot of people I'm related to. I can name names, but I won't. A lot of people would be surprised by some of the names that I name.
A son is different, I know. But I'm just saying that I've handled covering relatives before, and nobody knew it. The difference is, now people know it. It's also kind of hard when your name is Langston Wertz and there's a Trey Wertz. It's not like I'm Chris Brown. He kind of looks like me, too.
CM: What's the biggest thing you've learned about being a successful high school player that you can pass along to your son?
LW: If you want to be good at it, you've got to work at it. The best athletes I've seen, work. I mean, they really work. You have to sacrifice a lot. A lot of times, your friends are at the mall or at parties, and you can't be. Sacrifice. Just takes a lot of sacrifice to really be that good at something and also maintain your academia. To his mom and myself, the most important thing is that he gets a great education. That's why we're at a school like Providence Day. And take it to the next level and get a great education in college. We want him to go to a great school, because you stop playing basketball at 23, 24, and a lot of people in my family are living until 90. There's a lot of room in there where he's going to have to do something other than dribble a basketball.
CM: How would you feel if your dad had to interview you for a story?
TW: I never actually thought about that. It would be definitely weird, for sure. I truly don't know how I'd react to it. But it would definitely be kind of weird and uncomfortable. You just never think of your dad interviewing you and not as your father, but as someone working.
LW: It would be weird.
CM: Could you keep a straight face?
TW: I don't know.
LW: You have to. Hopefully, it'll happen, because if I'm interviewing him, that means he did something well. So hopefully it'll happen.
CM: How would you feel to know that someone else at the Observer was writing about Trey?
LW: I'd be happy, because that means he's doing something good. I think he's getting to where he deserves to have a feature story written about him. He's a really good player, he's a really good kid. He's a really good student. I'm just really proud. He's the kind of guy, if I was writing a story about him, I'd go home and tell my wife, "That's a good kid."