The Good, the Bad, and the Charlotte Way
Thoughts on the arrest of our mayor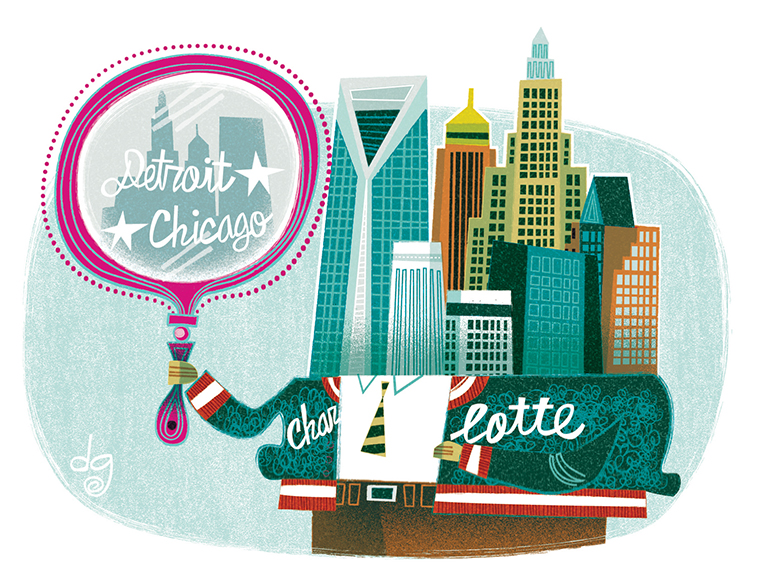 From the looks of things, January 17, 2013 was a miserable day in Charlotte. A relatively warm morning turned into a cold afternoon. The rain came down in sheets. And according to the FBI, then-City Councilman Patrick Cannon took the first of several bribes from an undercover agent he believed was a real estate developer.
The deal, according to the FBI, went down in a ritzy apartment in SouthPark wired for audio and video. Every detail was captured. First, the agent pushed $12,500 in cash across a coffee table. Then Cannon nervously looked out a window. Then he picked up the bills and fanned them next to his ear. It had all the makings of a bad improv sketch.
The FBI called this quid pro quo, saying Cannon had asked for the money in exchange for helping the "developer" smooth over the thorny process of rezoning and permitting. But the day after accepting the cash, Cannon wanted to make sure that it wouldn't be perceived as quid pro quo. "I certainly cannot have my reputation, my value, and my ethics put on the line," he told the agent, according to the FBI affidavit.
One line in particular caught me— something Cannon allegedly told the agent as he tried to explain himself. "I'm not one of those Chicago or Detroit type, uh, folk," he's quoted as saying. "That's not how I flow." The implication is clear: People believe that's how deals get done in big-city Chicago and Detroit, but those same people see Charlotte in a different way. It's sunny here. It's friendly here. It still feels like a small town. Charlotte is much too nice for such nasty business.
So how do you see Charlotte now?
Of COURSE this episode is not good for Charlotte. But think about that: Good for Charlotte. What does that even mean? Are we genuinely concerned about a government that is corrupt, or are we more worried about looking bad on the nightly national news? And who is Charlotte, exactly? And what other city says that? Certainly people in San Francisco don't walk around saying, "Dirty Harry wasn't good for San Francisco," or, "Rice-A-Roni is so good for San Francisco!" Referring to something as good or bad for Charlotte is like referring to yourself in the third person—which, by the way, is something Patrick Cannon liked to do when referring to Patrick Cannon. Just throw all of the newspaper headlines, conversations, and punditry concerning Cannon into a pile: This can't be good for Charlotte, Charlotte collectively said.
Whether something like this is good for Charlotte gets to the underlying issue: We are obsessed with the way we look. That obsession may have peaked with the Democratic National Convention in 2012, but we still get weekly doses of mirror-staring. Consider, even, the story that had people buzzing just a week before the Cannon bomb dropped: a Huffington Post listicle titled "15 Reasons Why Charlotte Is The Weirdest." Charlotteans responded on social media as if Mrs. O'Leary's cow had just kicked over a lantern in an uptown barn.
Even the position of Charlotte mayor—a part-time, only-votes-to-break-a-tie, doesn't-run-the-city-on-a-day-to-day-basis position—is mostly about perception. Maybe it's apropos that, according to the FBI complaint, then-Mayor Cannon took a $20,000 bribe in February inside the mayor's office on the 15th floor of the Government Center uptown. The view from up there is spectacular. It makes the person behind the desk seem all the more powerful.
The fallout from Cannon's arrest and resignation may be well-deserved. With an investigation ongoing as of press time, it's hard to tell whether this is a one-time thing or Charlotte is a little too good at smiling while hiding its flaws. Maybe this episode will make us take a more honest look at ourselves and figure out the cost of constantly putting our best face forward. Maybe that'll happen. Or maybe that's not how we flow.