The history of Charlotte beer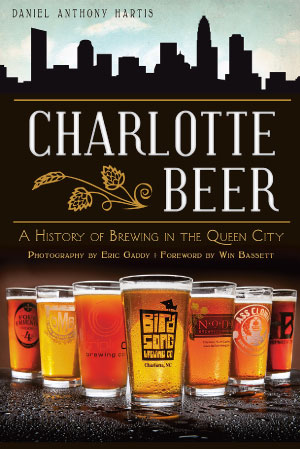 There's no question Charlotte's local beer scene is as hot as it's ever been. But it's taken a long time to get here, as many have paved the way for this current craft explosion.
That's just part of what Charlottean Daniel Hartis explores in his book "Charlotte Beer: A History of Brewing in the Queen City."
Hartis runs the popular local site CharlotteBeer.com (check it out if you never have, it's full of great information), which has been up for a little more than two years. He was approached by The History Press (which has published similar historical brewing books on Baltimore, Asheville and Charleston, among others) to see if Charlotte had enough of a history of brewing for a book.
"At that stage, I knew little about the breweries here prior to The Olde Mecklenburg Brewery coming in 2009," Hartis says. "After some research, however, I learned that we certainly had enough of a history of brewing here in the Queen City, and that I wanted to do my part to share that."
Through extensive research, Hartis traced Charlotte's brewing history from Captain James Jack (a legendary local historical figure who Olde Meck's Captain James Jack Pilsner is named after) all the way up to the most recent local breweries that have taken the city by storm.
Hartis said one of the most interesting things he discovered while researching and writing the book was when he met Jack Dillard, founder of the Brew Pub Poets Society. Dillard created the Brew Pub Poets Society as part of a marketing campaign for Dilworth Brewing Company.
To become a member of the society, all you had to do was write, and then recite, a poem about beer. Local celebrity members included longtime WCNC weatherman Larry Sprinkle and Charlotte Observer columnists Lawrence Toppman and Tom Sorensen.
I've had a chance to check out the book, and just like a good local beer, it's hard to put down. There's a ton of local craft history I had no idea about, and it was interesting to read about the Charlotte beer scene in the 1990s, which seemingly were ahead of their time.
"For me, the 90s breweries were particularly interesting because they represented that first big wave of craft breweries, not just here in Charlotte but nationally," Hartis says. "I'd heard some names like Dilworth Brewing and Southend Brewery, but knew very little about their owners, their beers and their stories. It was fun to meet and speak with some of Charlotte's earliest brewers of craft beer."
You can order the book on CharlotteBeer.com or through Amazon here, and Hartis will also be signing copies of the book this Saturday, April 13 at Park Road Books. If you can't make that, additional signings will take place at Custom Home Pub's Natty Greene's Tap Takeover April 25 and the Total Wine on Providence Road May 17.