The Home Birth Debate
Mamas-to-be are ditching the hospital in favor of giving birth at home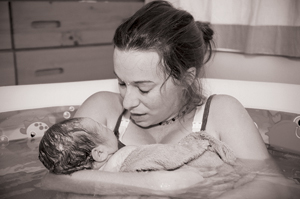 The bedroom used to be reserved just for the baby-making part. But nowadays, the bedroom is being used more frequently for baby birthing. According to the Centers for Disease Control, the number of women laboring and giving birth at home has steadily gone up every year for the past ten years. It's no surprise that the home-birth trend has taken off; Gisele Bündchen's and Ricki Lake's recent home births were highly publicized. (Lake even made a documentary, which critics are praising, about her experience.)
Jocelyn Rodriguez gave birth to her daughter Chloe in her Concord home. "My mother had three home births and my sister had one, too, so I was used to natural births," says Rodriguez. "I knew I didn't want to fight my way through a natural birth in the hospital. I didn't want all the tests, the fetal monitoring." So Rodriguez set up an inflatable pool in her game room in anticipation of her water breaking and hired a midwife to oversee her labor.
Hallie Lyon, a certified nurse midwife who works at Charlotte OB/GYN, one of four practices in town that has a midwife on staff, says she understands why some women want a more natural approach when giving birth, and adds that hospitals are OK with that. "I think women want to experience natural childbirth to let their bodies do what they feel like they were naturally made to do," she says. "But they feel like in the hospital setting they won't be supported—that they'll be strapped down to monitors."
Home births in the United States increased 20 percent between 2004 and 2008.
But hospitals provide alternative birthing options for moms-to-be, she adds. "We've made such great strides to have things for women. We even have Jacuzzi tubs," says Lyons, who advocates hospital births over home births due to the potential risk of complications that may arise during labor. "If something goes wrong at home, the mother and baby first have to get to the hospital instead of already being there."
Sarah Bemis-Coate gave birth to her daughter in her own bed six years ago and says most women who opt for home births have a low-risk pregnancy. Bemis-Coate knew she wanted a home birth after studying different cultures in an anthropology class in college. She went to midwifery school and now runs Charlotte Natural Birth Group. "We have all kinds of people … from liberal hippies to very conservative religious people who have joined the birth group," she says.
"You don't have to look for it in anthropology textbooks anymore. It's gone mainstream!"