The Idea House
Charlotte architects create a riverfront oasis in the South Carolina Lowcountry that's built to inspire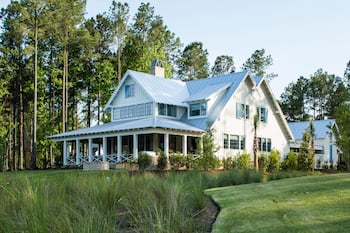 Each year, Southern Living puts together a project team to design and create an Idea House. The house provides inspiration for people building a new house, renovating an existing property, or freshening up a single room. Ken Pursley and Mark Kline, of Charlotte-based Pursley Dixon Architecture, served as the architects for this year's Idea House in Palmetto Bluff, South Carolina. Atlanta-based Suzanne Kasler completed the interior design. Pursley shared with us about the process and inspiration.
What guidelines were you given, and how long did you have to complete the project?
Pursley: Palmetto Bluff has a thorough set of guidelines and a distinctive vision for its community. We were challenged with finding the right balance of expressing our creative notions while still being respectful of the existing context. Compared to a typical project, it was a very condensed timeline. The project was designed in a month and built within six months.
What inspired the floor plan and design for the house?
Pursley: The house has two faces to it, a water face and an entry face. The intent with the entry face was to be welcoming but modest. Once you enter, the house opens up and reveals the more open water face. The architecture was inspired by a mixture of early carpenter gothic churches, which are vertical and aspirational in proportion; and southern fish camps, which incorporate low-slung porches and gathering spaces that are amply shaded from the sun. By combining the two influences, we have tried to create a home that strikes an appropriate equilibrium between elegant and cozy.
The entryway's lower ceilings create an intimate space to welcome guests.
The back porch offers abundant space for entertaining.
What feature of the house are you most proud of?
Pursley: I like that the kitchen, living room, and master bedroom all have a direct connection to the covered porch and unobstructed water view. This was a challenging feat for such a narrow lot.
Large living room windows offer marsh views.
The kitchen opens off of the living room and leads to the porch.
When people visit the house, what do you hope they take away?
Pursley: That a humble home can live graciously.
The Idea House is open for public tours, Wednesday-Saturday, 10 a.m. to 4 p.m., and Sunday, noon to 4 p.m. The tours continue until December 14, and tickets cost $15. For more information about the house, video tours of each room, floor plans, and product information, click here.