The Ideal Girls Weekend is Only Two Hours from Charlotte
Need a girlfriend getaway pronto? Sip, chat, relax, or get outside and get active while enjoying the charms of the Old 96 District in South Carolina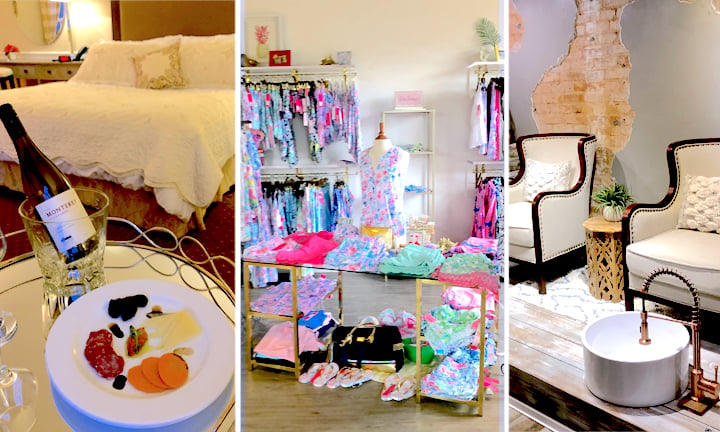 Girl time is special. It's so special that, sometimes, it warrants a whole weekend away.
Anchored by the charming towns of Greenwood and Abbeville, and nestled in the upper-western part of South Carolina, the Old 96 District is home to unique shopping, great dining options, relaxing spas and salons, and even great outdoor adventures, for the more active gal pals.
In a short, two-hour drive from the Queen City, a great girls' trip awaits in the Old 96.
Shop unique boutiques
Happen upon that perfect something for your home or wardrobe at several of the area's unique shops and boutiques.
Located close to the Arts Center and Museum, where you'll find exhibits from local artists, Main & Maxwell showcases everything from paintings, pottery, and handmade jewelry to glass-blown shot glasses and other great local and regional crafts. At Breezy Quarters, find your new favorite scent, soap, and lotion.
If your group loves antiquing, this list of places to pick around is sure to keep you busy!
Relax
Go for some long-overdue pampering at a spa and make appointments at The Spa on Maxwell.
A registered nurse and her son run this peaceful space, offering medical spa treatments, plus pampering options like sea salt exfoliating scrubs and essential oil body wraps.
Pro Tip: Book salon/spa appointments for Friday afternoons and Saturday mornings before you arrive—you'd hate for there to be no availability!
Sip & Snack
Kickers, the "lil' place with big taste," is an area mainstay for good reason.
Locals and visitors alike rave about the friendly service and wide array of quick-bite offerings, from light (think: Thai chicken salad) to heartier items for more of a splurge. Sandwiches, salads, soups, wraps, and unique specialty items all make menu appearances.
House-brewed beers and elevated pub fare made with local ingredients are served at the Good Times Brewing Company/The Millhouse, located in a renovated textile mill. Pizza options, sandwiches, wraps, and pasta all earn rave reviews.
Pro Tip: Don't pass up on the crispy, irresistible onion rings at Kickers, even if you just share an order at the table!
Explore
Venture outside the Queen City staples and explore new lakes and fun away from the big-city crowds.
Sprawling over 200 miles of untouched nature and freshwater shoreline, Old 96 District offers tons of water-based outdoor activities like scuba diving excursions that uncover a sunken two-seater Cessna plane.
For a dose of farm fun, stop by Emerald Farm, where you can mill about the goat and livestock farm (they even have llamas and peacocks). Make an appointment in advance for a guided tour, and pet the friendly goats. Take away some great handmade goat's milk soap at the gift shop, too.
Pro Tip: Ask about the model train in the antique shop!
Stay
It's time to book that long-overdue girls' weekend. For an elegant stay that won't make you miss your bed one bit, Lady Amelia's Bed & Breakfast Inn is an adorable historic 1894 home basically primed for a girlfriend getaway.
Run by a French-Canadian couple with a passion for cooking and B&Bs, this spot is just 20 minutes from Uptown Greenwood. The restaurant's seasonal menu averages about $20 for an entrée, and it's worth it—people in neighboring counties drive over to Lady Amelia's just for dinner.
The inn grounds also feature an antique shop, so souvenirs aren't hard to find in the Old 96 District—the tough part is choosing among them!
Click here for more ideas for a great girls' getaway in the Old 96 district.